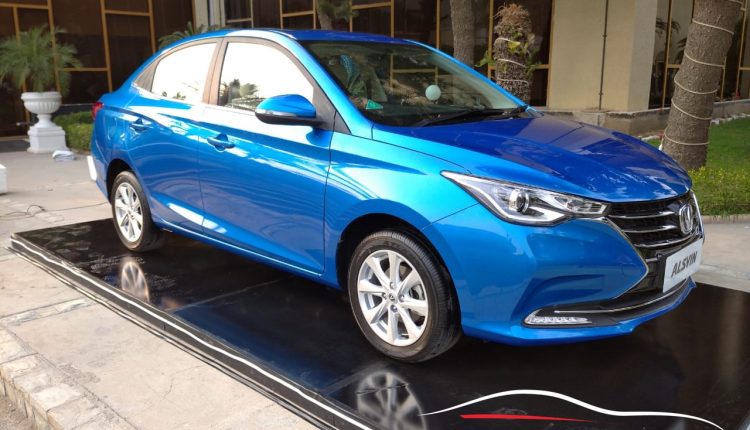 BREAKING-Changan Alsvin Prices Announced
The day is finally here, and Changan Pakistan has announced the pricing for one of the most anticipated cars of 2021, "The Alsvin". The official pricing was revealed on Changan Official Facebook page at midnight 12AM. Although it was late night and the public was already asleep or getting ready to sleep, the pricing announcement made them awake, and we saw an extensive discussion on social media as well on  Pakwheels.com Forums. 
Changan social media page released a 40-second video clip briefly going through the various variants of Alsvin with pricing.
Revealed Prices of Alsvin: 
Chagan Pakistan released official details about the vehicle almost a month ago, and the only thing left was the price. As we already know the Alsvin will be offered in three variants, pricing is an under.
1.37L Base model with 5 speed Manual transmission @

 PKR 2,199,000/-

1.5L COMFORT with 5 speed Dual Clutch Transmission @ 

PKR 2,399,000/-

1.5L LUMIERE with 5 speed Dual Clutch Transmission @ 

PKR 2,549,000/-
All above pricing is EX-Dealership. General booking will start from 14th January 2021 onwards with an advance booking amount of Rs 750,000/-. Alsvin comes with a 3 year /100,000 kilometers warranty whichever comes first.
Colour options are Steller White, Lunar Silver, Galaxy Black, Cosmic Red , Nebula Blue and Space Gray. Detailed specification can be seen below. (Click below image to enlarge )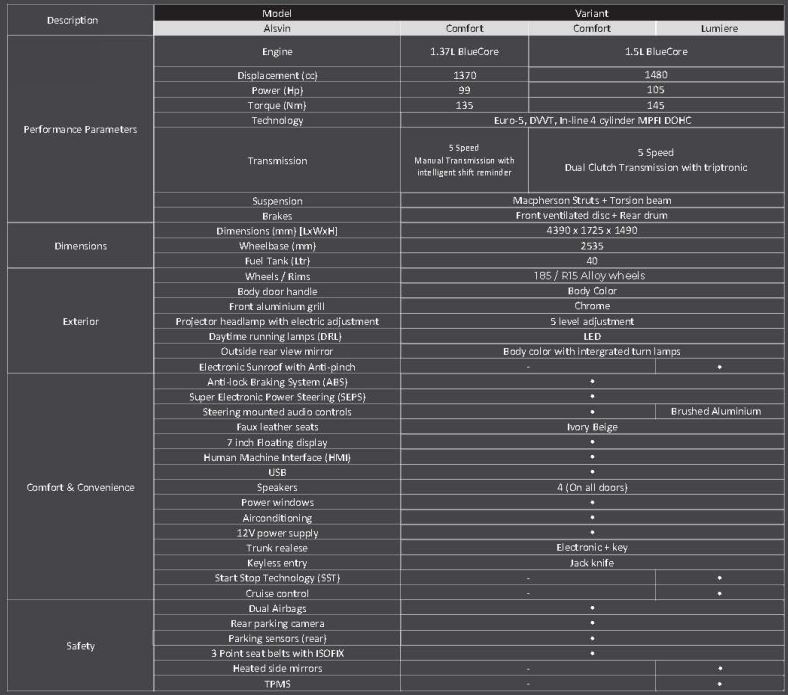 Alsvin is a great addition to our local market. As always customers are always skeptical about new brands, resale value and brand identity before signing the cheque, regardless of how good a vehicle is. Suzuki Ciaz is an example. It all depends on how well Changan/ Master motors take this opportunity. Alsvin will fill the gap between the hatchbacks and City and Yaris sedan as far as pricing structure.
Competition in Market: 
Alsvin might not hurt the newly released Toyota Yaris that easily [ Brand Identity] but would definitely give new buyers an option to choose from. As of decade-old Honda City, Alsvin is going to be a real threat. Additionally, the price of Alsvin would lure customers away from Picanto and Cultus, and 2 generations old Swift and the main reason would be "DIGGI WALI GARI". It would be exciting to see how Proton price their upcoming Saga sedan after Alsvin pricing.
After-sale service, support, customer satisfaction, and a friendly and welcoming dealer network, the sales and marketing strategy will only guide and help Changan succeed. As of now, Changan has around 17 dealerships, with 11 in Punjab, 4 in Sindh, 1 in KPK and 1 in Baluchistan. As Alsvin is targeted towards budget car buyers, Master motors might have to increase their dealership footprint for maximum reach and success.
Furthermore, Having more features MUST NOT compromise the fit & finish. Yes, competition is good BUT quality matters and not the quantity. As a buyer, you must also not just get attracted for specific features, and this applies to any make and model for sale in the market. The existing player has to take this game now seriously, as the market is de-monopolizing.
Changan is declaring Alsvin better than the competition, including JDM's [ Japanese Domestic Models ]. As always, ONLY time will tell about the long term reliability, acceptance and success of Alsvin.
Good Luck Alsvin and all potential buyers & Stay Tuned to Pakwheels for in-depth review.