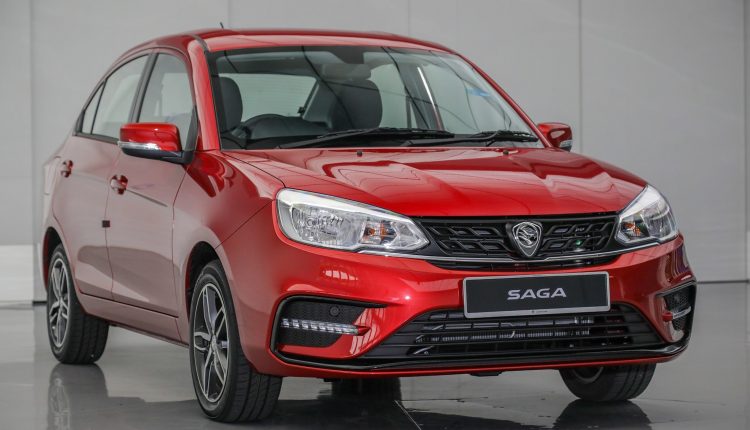 This is When Proton SAGA is Coming to Pakistan!
After Proton X70, there are strong reports that Proton SAGA will also arrive in Pakistan next month. Here are summarized information for our readers: 
> Proton SAGA will be available for sale in 3rd or 4th weeks of December 2020.
> It will be CBU/ import from Malaysia.
> Al-Haj Group is the local partner.
> As per Auto Policy, the company will import 100 CBU units for launch purposes at subsidized 50% duty structure.
> Proton is planning to launch SAGA as CBU in three variants for the Pakistani market, i.e., Standard Manual, Standard Auto, Premium Auto.
> The Premium Auto will be the top of the line version.
> As of today, there are 4 dealerships planned and will be operational in the next few weeks.
> There are 2 dealerships in Karachi, 1 in Lahore and 1 in Islamabad.
> The company will add more dealer network soon.
> SAGA will go on display sometime mid-December 2020 for public viewing.
Local Assembly: 
> Once the company will sell 100 CBU units, it will take further order, after establishing the local CKD assembly. 
> Any further import of the same model above 100 units, will attract full duty and that would not be cost-effective.
> From June 2021 onwards, a local assembled SAGA is planned. It also depends on how the public responds to the launch.
> Means expect a longer wait time in the case you missed the introductory units.
> SAGA will come with 3-year /100,000 to 5 year / 150,000 kilometres warranty depending on components along with first three complementary services [no labour charges]
> The CBU units will be very well equipped and built, time will tell if same goes for CKD.
> Proton/ Al-Haj must make sure that they sell these units on the advertised price, and dealers don't take any advantage and exploit customers for premiums.
> These 100 units will be well equipped and there is due chance, the dealer plays fishy and funky and grab all these units and then try to sell it over black money.
> As a buyer, please stay away from any such unethical business practice/transaction.
Now let's goes over the technicalities of SAGA. It will be long, so if you are interested, then you must read it.
Proton SAGA: 
Saga sedan was and is part of Malaysian culture and heritage. The reason is the accomplishment Proton made in the shape of Saga being the first locally produced vehicle and declared as the first national car. Saga aim was to be a budget car, and it became hit because of its cheaper price comparing other cars like mostly from Japan. Every other household in Malaysia in one way or another experienced the Saga, same as most of us have experienced Suzuki Mehran in our lifetime.
The first generation Saga came in 1985, based on Mitsubishi Lancer platform. The same model remained till 2008, and during this lifetime it came with various variants. From 2008 till 2016 second-generation remained for sale, and it was designed by Proton in its entirety using Proton FLX platform. 2016 onward is the 3rd and the current generation Saga, and it received a major face-lift last year in Malaysia.
How popular Saga is in Malaysia can be seen from the fact that Proton sold 38,144 units in 2019. Just for reference sake, when Mehran was alive, which was the most popular car in Pakistan sold around 36000+/- units on average per year. The Malaysian population is 6 times less than Pakistan.
In Pakistan, we will be experiencing the face-lifted Proton Saga, code name P2-13A. Let's go over it.
Footprint of Proton SAGA: 
Size and segment will be in B-segment, although it would be the smaller comparing the other vehicles in this category. We can call it B-Segment "small" or maybe an A-segment car. For reference, it is smaller in size than PKDM Yaris sedan or the PKDM City. Proton Persona, which is another model, would be the right model head to head if we talk about dimensions.
Let me share some numbers so that you can visualize it. SAGA/CITY/YARIS [ in mm] ; Length-4331/4390/4425
Width-1689/1695/1730
Height-1491/1480 /1475 Wheelbase-2465/2550/2550.
Trunk space in litres -420/506/476
Engine and Transmission of Proton SAGA: 
In Malaysia, the SAGA comes with Proton own developed 1332 cc inline 4-cylinder 16 valve DOHC VVT engine. This is the only engine option. For the Pakistani market the engine would be same but with slightly reduced displacement and that would be 1298cc.
This engine is rated at around 95HP and has 120NM of torque. Proton will be doing this to reduce the cost of import and to keep the taxes duties on the lower side. It is not clear if the displacement is reported lower on documentation OR the engine itself has seen any hardware downsizing as far as volume.
As of transmission, there will be an option of a 5-speed manual or a 4-speed automatic. Just for additional info, the pre-face-lift model used to come with CVT, but replaced in the face-lift. This automatic transmission is Hyundai sourced and exact same is available in Kia Picanto.
For SAGA it is programmed and tuned and a marked improvement, comparing the previously used CVT. Fuel economy figures are between 14 to 16 kilometres per litre on average as per Malaysian specs.
Drivetrain and other components: 
There will be hydraulic power steering as Standard. McPherson strut front while Torsion beam on the rear as far as suspension. Disc brakes on the front while drum on the rear. The steering wheel will have tilt adjustment.
The SAGA will also come with Eco-Drive assist indicator. When the drivers' throttle input is with the maximum efficiency, a green light will glow in an instrumental cluster, and this will help the driver to achieve maximum fuel economy.
Variants of Proton SAGA:
Proton will offer three variants in Pakistan. Standard with a manual transmission, Standard with Auto and Premium with Auto. The Standard with manual and Standard with Auto will mostly share the same features, the Premium which is only available as Auto will have some extra frills.
Exterior: 
Halogen headlights standard. Elongated LED daytime running light mounted on the front bumper will be available on premium version only. The standard wheel size will be 185/60/14 for Standard manual/ auto model, and it will be the steel wheels with covers, the Premium variant will have 15″ two-tone Alloy wheels. The fuel tank will have a 40 litres capacity.
Sorry guys no accelerated perfection in the shape of shark-fun-teena, you can enjoy the pole type radio antenna. The trunk will come with an integrated lip spoiler as Standard. Remote operated trunk is standard. The side-view mirrors will come with turn signal/ indicator lights.
Interior of Proton SAGA: 
Well, SAGA is a budget car, and there is nothing too fancy here. The black tone interior and greyish headliner in Standard; hence a simple design. Multi-information display with analogue speed and rpm gauges. Power windows are standard, and side-view mirrors are standard. Seats are fabric for all variants and will come in two different textures but will be of a darker shade.
The driver seat will have seat height adjustment on all variants. LED interior dome lights and the vanity mirrors on sun visors. Manual heating/ cooling and ventilation system are standard. The rear seats are bench type and can be a folder for extra cargo capacity.
As of infotainment, the Premium model comes with 7″ touch screen centrally placed floating head-unit which has smartphone compatibility and mirroring function. The premium model also comes with steering wheel controls for the audio and connected phone. Bluetooth connectivity comes Standard on all models.
The Standard manual and auto variants will get a simple standard audio head-unit, there will be no steering wheel control for it. The premium model will have total 4-door-mounted speakers; the other versions will get only 2. 1 Data USB on base model while the other two will get 1 data and two charging USB ports and will be between the two front seats and for rear passengers.
Safety: 
Two frontal airbags standard on all versions as well as ABS, EBD with Brake assist. Hill Hold assist will only be on the premium version. Seat belts for all passengers while the availability of ISOFIX points for a child seat. Rear parking sensors will be standard on all version but the premium model will also get on the front as additional. The backup camera is also in the top variant which has a 7″ LCD. Immobilizer and anti-theft alarm will be standard.
Unfortunately, the Stability control and traction control system will only appear on the premium model, and this is the way it is also in Malaysia. I wish Proton make it standard all across the lineup. Saga earned a 4-star rating in ASEAN NCAP crash testing.
Verdict About Launch and Price of Proton SAGA:
The launch is expected sometime in December 2020 and Proton, and Al-haj group were working on dealer selection and training. Proton is planning to open dealership all across the country and initially all metro cities. The topmost multimillion-dollar question we always have "PRICE".
The reduced displacement should give you some idea about the direction Proton is looking into. I predict and expect base price to be around 2.2 Million +/- for the Standard manual while the Premium Auto will be around 2.4 Million. The cost of the Standard Auto will sit in between. I believe that the Premium Saga will be cheaper than the base 1.3L Yaris GLI. Please keep in mind, the pricing idea is just my personal opinion. Nothing is official at this time.
For a budget car buyer, SAGA will be a good addition, especially keeping in mind that it will be a CBU unit at launch. The exterior and interior styling is subjective, and to some, it might not appeal that much for being too bland and old school. It will for sure, add another option to chose from under Rs2.5 Million, which currently only have options in the shape of hatchbacks.
Potential Effects of SAGA on Local Market:
The price of SAGA might lure customers away from Picanto and Cultus and 2nd generation old Swift and the main reason would be "DIGGI WALI GARI". But it all depends on how well Proton and Al-Haj take this opportunity because even Picanto has a tough time dealing with the all-time leader Suzuki in our market because of various reasons.
Saga can and will fill the gap between the hatchbacks and City and Yaris sedan as far as pricing structure. Rest it's the test for Proton. As always for a new car brand in the country, it will not be easy to attract the consumer away from the Toyota Yaris sedan or decade-old Honda City, although both will cost higher than Saga.
The sales and marketing strategy, after-sale service, support, customer satisfaction and friendly and welcoming dealer network will only guide and help Proton to succeed.
For more news, views and reviews, keep visiting PakWheels Blog.