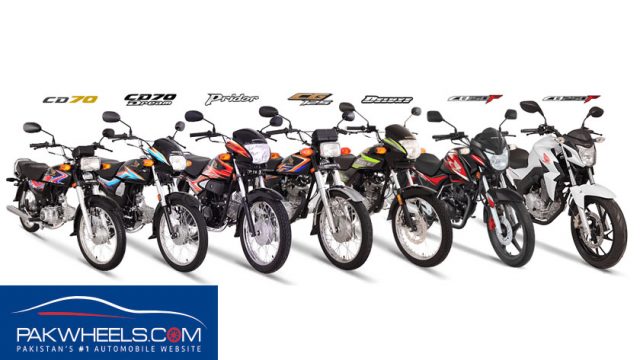 Pakistan's leading bike manufacturer, Atlas Honda's net profit for the time that ended on 30th September 2018 is down by 15%.
In a notice sent to Pakistan Stock Exchange (PSX), the company revealed that its net profit for the time that ended on 30th September 2018 (H1) has been dropped by 15% to PKR 1.941 billion whereas, on the other hand, in the same period of the corresponding year it made PKR 2.241 billion.
Moreover, the net sales of the company was up by 12%, however, the gross profit has been declined by 7%. Not only the net profit is down in H1, the quarterly profit for FY 2019 has been dipped by 52.8 percent to PKR 746.857 million. Furthermore, the Earnings per share of the company is dropped to PKR 18.77 from PKR 21.68.
The company in the last three month shipped 266,029 bike units.
Read Also: Honda Atlas increases prices of its cars, effective from 22nd Oct 2018
Aside from the local bike maker, the car makers have also posted their net profit. Pak Suzuki's profit is down by 91% to PKR 95 million in the quarter that ended on 30th September 2018. Toyota IMC's net profit is down by  3% to PKR 3.5 billion.
Moving onwards, Oil and Gas Development Company Limited (OGDCL) has also posted its net profit and according to it, company's net profit is up by 57% to PKR 26.73 billion. Amid all the decline in profits, earlier, Atlas Honda increased the rates of its bikes by up to PKR 4,000. The new rates are as follow:
Honda Bikes
Old Prices
New Prices
Difference
Honda CD-70
PKR 65,500
PKR 65,900
PKR 400
Honda CD-70 Dream
PKR 68,900
PKR 69,900
PKR 1,000
Honda Pridor
PKR 90,900
PKR 91,400
PKR 500
Honda CG-125
PKR 110,900
No change
No change
CB-150F
PKR 172,000
PKR 176,000
PKR 4,000
CB-250F
PKR 640,000
No change
No change
That's it from our side, drop your thoughts in the comments section below.