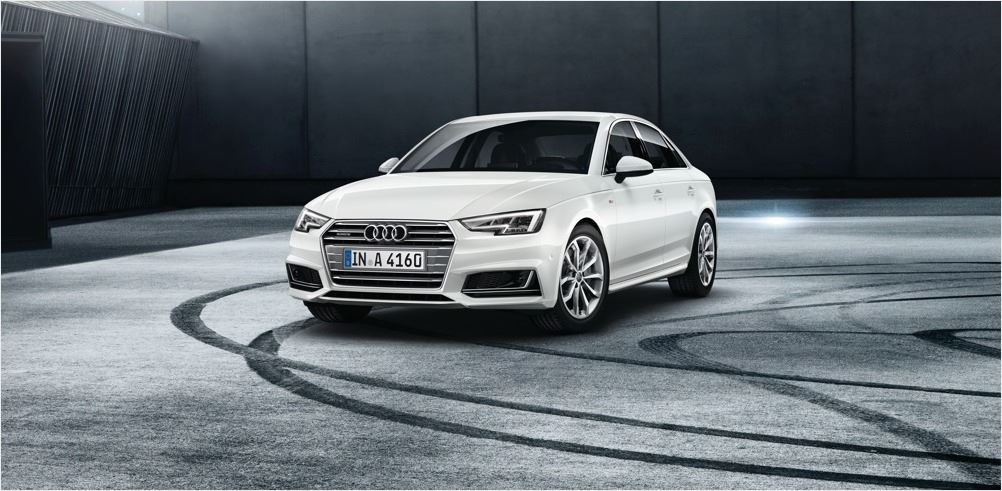 Audi Pakistan Will Start Delivering Its 2016 Audi A4 From February 2016 Onwards
The all new 2016 Audi A4 has been launched and Audi Pakistan is pumped up about their new offering as well. The deliveries of the new A4 will start from the start of 2016 in Pakistan.  The new A4 saloon is priced at PKR 5.8 million according to different sources. New A4 has far more sleek and aggressive styling than its previous iteration. Previous version of A4 lasted from 2007 to 2015. It was a high time Audi came up with the new A4.
A4 has been one of the best selling cars of Audi, and has been in production since 1994. It was of an at most importance that Audi brought it's A game. And from the looks of it, Audi has delivered. The real road tests will be available only when the new car is made public. But on paper, new A4 definitely looks impressive.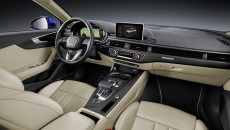 One might think all the luxuries will cost you extra on top, but that is not the case. There is a long list of standard equipment that will be available on all trims of 2016 A4. If you are an audiophile, you can enjoy the 755 watt, Bang & Olufsen in your new A4. The entertainment system is top of the line model with 3D Sound, a 16 channel amplifier and 19 speakers. Also the interior is laced with wooden trims. Seats are electronically controlled and come with lumbar support. There is no point talking about things like seat fabric, you know it's going to be great and you can be sure Audi is not going to cut corners.
Audi will be lunching the 2016 A4 with its Audi Drive Select and Driver Information System. Audi Drive Select is:
"Audi drive select integrates the technical components that determine the quality of the driving experience, the engine, transmission, steering (optional), shock absorbers (optional) and the sport differential (optional). Audi drive select enables drivers to adjust the characteristics of the technical components."
You can control the way your Audi drives, just with the touch of a button. With the button on the center console, you can adjust the ride stiffness, the steering stiffness, the gear changes and the engine characteristics. The driver can select preprogrammed settings from 'comfort', 'auto' or 'dynamic', depending on what kind of ride s/he desires. ADS is usually an upgrade and is only available in conjunction with dynamic steering, damper control and/or sports differential. But for the new A4, it is a standard feature. Other driver aids include Audi Park Assist with camera.
Car has the updated front, that is much aggressive than previous A4. New front grille, new bumper and new all LED headlights. Rear lights have dynamic indicating, meaning the side turn indicating LED lights sweep from inside to outward, and not just flash. Also, the sunroof is a standard feature, along with 17 inch light weight alloy wheels.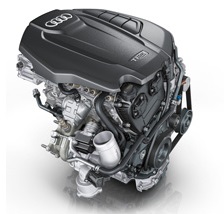 As far engine options are concerned, all engines are equipped with Audi's TFSI technology. Engines are supercharged and are tuned to provide smoother power delivery. Upcoming A4 will also have start-stop system as standard. Two engine variants that will be offered are, a 1.8l TFSI and a 2.0l TFSI. There are chances only 1.8l will be available in Pakistani market, considering it would cost less than the 2.0l variant. 1.8l produces slightly more than 165 BHP and 320 Nm of torque. So there is plenty of power to go around. Some have mentioned that 1.4l TFSI engine will be available in A4 as well, specially for Pakistan. It is the same engine that comes in Audi A3. But that is yet to been seen.
As far its competition is concerned, around the same price bracket, you can get yourself a new Mercedes C-Class. New C180 is priced at PKR 6.2 million. It also has a 1.8l petrol engine. On the other hand, you can get yourself a BMW 3 Series, if you fancy something sporty. BMW 316i is priced at PKR 6.5 million; more than both Audi and Mercedes. It is a matter of choice which German luxury car you fancy. But as far features and prices are concerned, it looks like Audi takes the cake. Beauty is subject, so there will always be those who think BMWs are hideous and Mercedes are gorgeous, and same can be said about the Audi. Some would love it, some won't. But if you measure the worth of features it offers in that price, one can argue it is the winner.
But these are not your only choices, you can also go for Japanese luxury imports if you don't fancy a German car. Japanese cars have always been considered more reliable than cars from any other country. So there are who would prefer spending money on Japanese imports than other cars. Also, another thing is that Japanese cars have better resale market in Pakistan than German cars. You can get rid of a Japanese luxury car far easier than a German car. Although keep in mind, you will only have options of slightly used Japanese imports compared to the brand new off the showroom experience Audi can provide.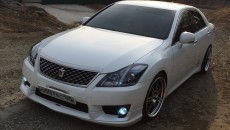 So if you are into Japanese imports, you can get yourself a beautiful Toyota Crown Athlete, if you are willing to spend a little more. In 5 to 5.5 million, you can buy a 2012 Toyota Camry Hybrid. Same year Toyota Mark X can also be bought around the same price as German cars are available. But as it's mentioned before, these cars won't be brand new, and mostly few years old.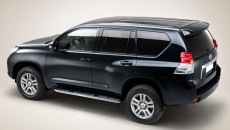 Also, people in Pakistan prefer spending money on SUVs than on sedans. If someone is going to spend around 6 million on a car, there is a high chance he is going to get himself a couple of years old Toyota Prado. Mindset and general trend of the auto consumers matter a lot. And it is true that most people would prefer buying a Toyota Prado, than a German saloon, even though the Prado is going to be few years old.
So no doubt, Audi is competing in a tough auto market in Pakistan. They need to convince Pakistani buyers that they are not making a mistake by buying a 6 million Audi. New buyers need an assurance that they won't be left stranded; that Audi won't pack up their business and leave Pakistan. After sales support can be a make or break deal for Audi. Mercedes has been selling their cars in Pakistan through local importers and dealers for a long time now. They have stronger market than Audi. But good thing is, Audi is fighting its way. They haven't given up just yet. They are not selling one or two last generation models of their cheaper vehicles. But from Audi A8 to Audi Q SUV, they are selling as much as it makes sense to sell in Pakistan. You can't expect them to lunch R8 as well, although that would be pretty epic. All this competition is a good thing, especially for the customers. It will make Audi bring their best to local auto consumers in a competitive price. And considering that the 2016 Audi A4 is laced with impressive features, we wouldn't be surprised if we start seeing some more Audis on the roads in near future.