A few years back in 2011 BMW was putting on immense hype for their brand new range of i Series electric and hybrid vehicles, there was particular hype around that time of their new and upcoming mid engined hybrid "supercar", a concept version of the i8 was even the star car in Mission Impossible 4. Everyone thought the i8 was going to be a more modern version of BMW's iconic mid engined M1. In this regard, the first concept car was shown all the back in 2009, but it wasn't until 2013 at the International Motor Show in Germany that the final production version of the i8 was publicized, and it truly left the motoring world staring in awe. Fast forward a few years and the i8 hasn't been doing particularly well, just take a look at used BMW i8′ on Autotrader UK, there is a fair of them on sale at well below their list price. All this begs the question, why? Before we try to answer this question, it is important to observe why would you chose a BMW i8 over something like a 5.2 liter naturally aspirated V10 Audi R8.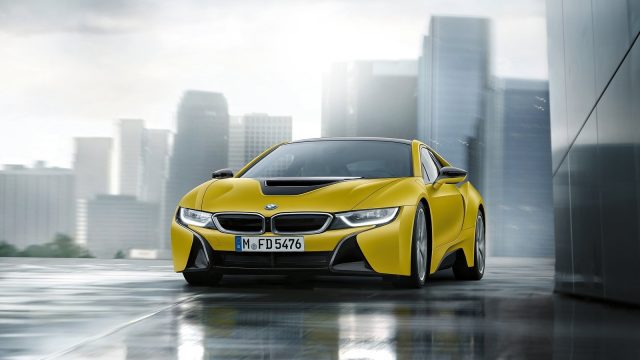 Styling
Styling is one of the BMW i8's strong points, when the car first came out back in 2013 many people were not only calling it the best looking BMW ever but going as far as to claim it to be one of the best-looking cars ever made. The BMW i8 was the first car to look almost identical to the concept car that previewed it, and if you are a petrol head then you know manufacturers usually get the public hyped by showcasing a concept car with ludicrous features such as gull wing doors or quad exhaust tips among other silly shenanigans, but when it comes to the actual production version; we find that it's been watered down to look like any every other dull generic vehicle on the road today. They say, that beauty is in the eye of the beholder, but we haven't met anyone yet that doesn't like the look of BMW i8. You even get proper supercar like features such as butterfly doors and a raspy exhaust noise, but more on that last bit later.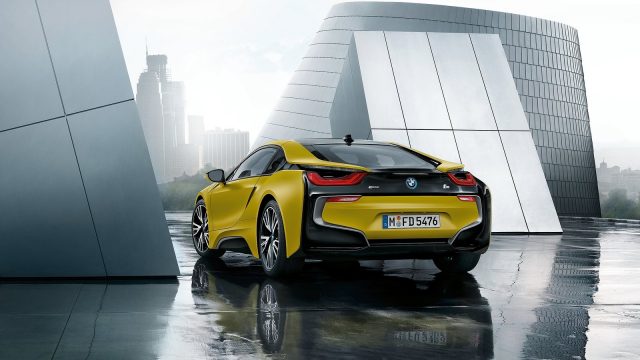 Engine, Performance & Fuel Efficiency
If you were perhaps thinking 'Supercar' by looking at the exterior of i8 then sadly you will be disappointed because the i8 comes equipped with a 1.5 liter turbocharged 3-cylinder engine from a mini cooper. Though despite its small size the hearty three cylinder engine still manages to produce 228 horsepower, add that with the 129 horsepower electric motor mounted on the front axle, and you get a total of 357 bhp and 420 lb-ft of torque being pushed through all four wheels. Thanks to the instant torque from its electric motor, and the mostly carbon fiber construction, the i8 is able to sprint to 100kph in 4.4 seconds and go on to an electrically limited top speed of 155mph. Now for $150,000 you are probably thinking that's pretty sub par performance for a supercar, and you'd be right those performance numbers are actually slightly slower than BMW's M3 that costs less than half the price of i8. But performance isn't the main goal of the i8, if we take a look at most hybrid supercars today then the majority of them cost upwards of 1 million dollars, the i8 was designed to be the first affordable hybrid supercar, a trend we are only going to see grow exponentially now given the strict new laws on carbon emissions within Europe.
BMW claims that the i8 will be able to easily return a class leading 92mpg  and be able to deliver a total driving range of 310 miles in "everyday conditions". However almost all journalists have reported that the i8 isn't able to get anywhere close to claimed mileage figures and report an average of around 38-40 mpg. That still isn't to bad considering the fact that you would be lucky if you managed to get double digits in an ordinary supercar. The BMW i8 is also able to travel about 22 miles at speeds up to 75mph by only using the electric motor. Recharging times are around 1.5 to 2 hours, but thanks to the combustion engine that constantly charges the batteries under conditions such as braking you shouldn't really feel the need to do this too often if at all.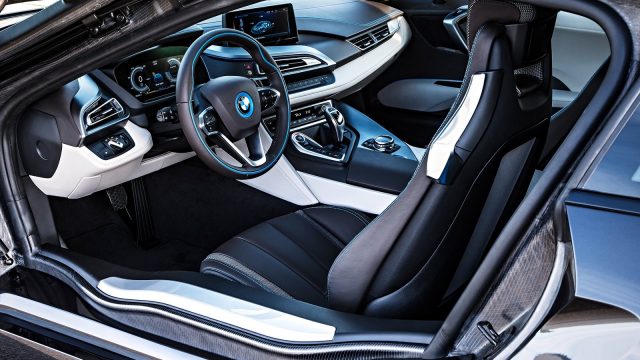 Interior Quality, Comfort & Features
The interior of the i8 despite the relatively small exterior size is pretty spacious and well layered, it even has rear seats though those aren't really fit for anyone besides small children. Keeping in line with the environmentally friendly nature of the 'i' range, the i8′ interior is upholstered in leather that was created with a natural treatment process and numerous interior trim components made from recycled fabrics. A large 8.8-inch screen mounted on top of the center console runs BMW's iDrive infotainment system, and all the buttons along with controls are angled towards the driver to make for a more immersive driving experience. Standard features on the i8 include 6 way power seats, 3 stage heated seats, leather wrapped steering wheel, 8.8 inch touch screen infotainment system, a heads up display, cruise control, 11-speaker Harman Kardon sound system, automatic 2-zone climate control and park distance control.  Optional extras on the i8 include a choice between larger 19 or 20 inch wheels, LED headlights with cornering lights, leather engine cover, and blue colored seat belts.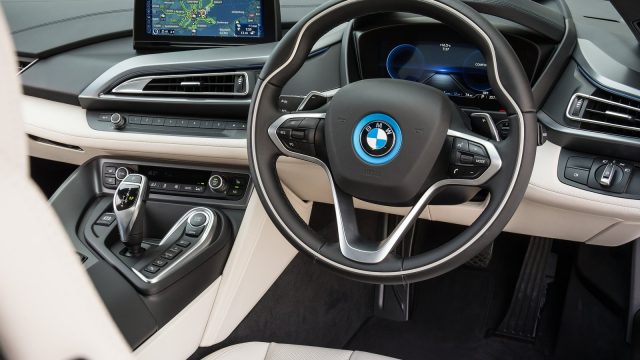 Verdict
The BMW i8 is different car altogether, its the first in-line of a new era electrically assisted supercars, and yes like most supercars the i8 isn't something that your really going to be able to drive in Pakistan, no matter how usable the i8 appears at the end of the day it is still a low slung fragile supercar. But that hasn't stopped a lot of people from buying one, there are quite a few BMW i8's within the country, heck there is even one being daily driven by a student in my university. The BMW i8 truly is a budget hybrid supercar.