One of the most beloved Formula 1 drivers 'Felipe Massa' announced retirement from the sport this week. The Brazilian racing driver is loved for his personality and passion for the sport around the world. The 2016 Formula 1 season will be Massa's last racing season. The Formula 1 veteran has been racing in the sports for last 15 years. He is one of the oldest drivers on the grid, along with Jenson Button.
Massa who is 35 years old now saw heartbreaking ups and downs in his Formula 1 career. He has driven for Sauber (2002, 2004–2005), Ferrari (2006–2013) and now lately for Williams (2014–2016) in his Formula 1 career.
In 2008, while racing for Ferrari Racing Team, Massa almost became the world champion, but the championship was snatched from him in the last lap of the last race. He was competing with McLaren rookie Lewis Hamilton for the world championship spot. Lewis was able to overtake Timo Glock, who was racing for Toyota, right in last corner of the last lap of his home race the Brazilian Grand Prix. Massa became World Formula 1 Champion for only 20 seconds before Hamilton overtook Glock to take required points for the championship win.
Later in 2009, Massa suffered a life-threatening accident, at the 2009 Hungarian Grand Prix, when the Rubens Barrichello's Brawn F1 lost a suspension spring and hit Massa in the head. Massa suffered a fractured skull. That killed Massa's hopes for any championship luck for the rest of year. Massa joined the racing once again in 2009. But people argue it was not the same Massa, who had been winning races and scoring points.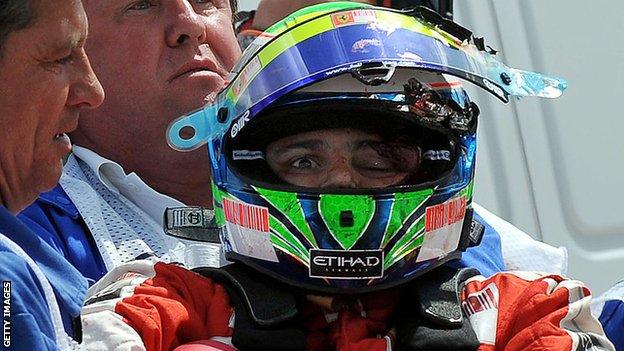 That accident had some negative impact on Massa and his driving skills. But Ferrari kept faithful to the old dog until he decided himself to leave for Williams F1.
Massa is considered to be one of the better drivers of the sports. But he was never the best, unfortunately. But that doesn't mean that he didn't deserve to be on the racetrack. Massa has always been a solid and reliable team player and has helped Ferrari twice to win World Constructor's Championship. It can be argued that Massa choose the perfect time for the departure. He is 35 years old, had a great time in the game, won many races, and many hearts. Instead of dragging himself from pit garage to pit garage for a drive next year, he has decided to take a bow with grace and respect. He will surely be missed and loved for his cheerful character and on the racetrack behavior.
In his retirement announcement, he said:
To be in F1 for 15 years. I am very proud to have been here so long. Even if I lost the championship by one point, I managed to achieve many dreams. I achieved more than I ever expected.