Pakistan Automotive Manufacturers Association (PAMA) has released the sale and production figure of cars for December 2017, and it is not looking promising. Honda Pakistan sold just 2,464 units (Civic and City) in December, while it sold 3,208 vehicles in November 2017—in simple terms the company sold 744 fewer vehicles in December compared to November. However, on Month-on-Month (MoM) basis it is a 10 percent increase in the sale of Honda cars (City and Civic).
Also Read: Toyota Pakistan revises prices of its vehicle lineup
In the 1300cc category, Pak Suzuki vended 381 Suzuki Swift hatchbacks in December 2017; however, in the preceding month of November, it managed to sell only 342 Swifts. So it means that the company sold 39 excess vehicles in December.
Moving onwards, the sale of Toyota Corolla has also dipped in last month of 2017. IMC Toyota sold 3,807 units in December and 4,537 in November. It is a 19 percent dip in sale of Corolla models. Now coming to the 1000cc category of cars, in this particular category Suzuki has also performed remarkably well, the company managed to ship 2,758 units of WagonR and 1,499 units of Cultus. It is to be noted here that Pak Suzuki sold 642 excess units of WagonR in December. Additionally, it is an increase of 49.89 percent on the MoM (Dec16vsDec17) basis in the sale of WagonR, which is indeed praised worthy.
In the 4×4 category, IMC Toyota sold 230 units of Fortuner. Furthermore, in 4×2 class Honda sold 749 units of BR-V, the company vended 499 less BR-V units in December than November. Aside from less sale of Fortuner in December, IMC is all geared up to launch its diesel variant in Pakistan, let's see how it performs in the local market.
Lastly, people bought 3,390 units of Mehran—One of Pakistan's iconic vehicles.
Apart from Suzuki, no other company has managed to sell more vehicles in December. Talking about overall condition of the first six months (July-December) of the current fiscal year (FY17-18) compared to the first six month (July-December) of previous fiscal year (FY16-17), cars saw an increase of 20.41% (103,432 units vs 85,901 units).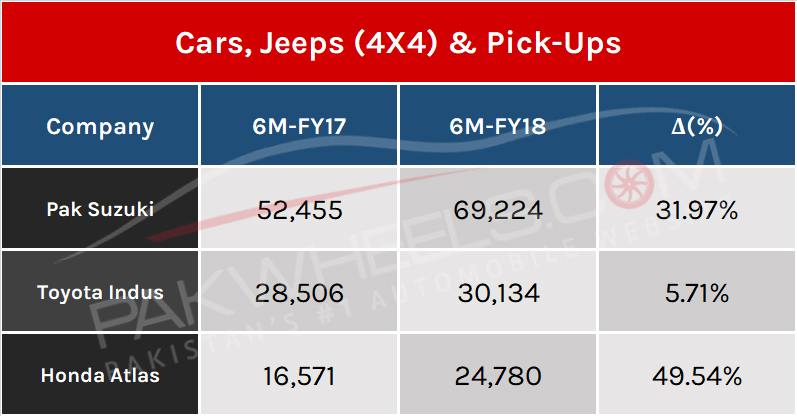 That is it from our side, share your thoughts in the comment section below.