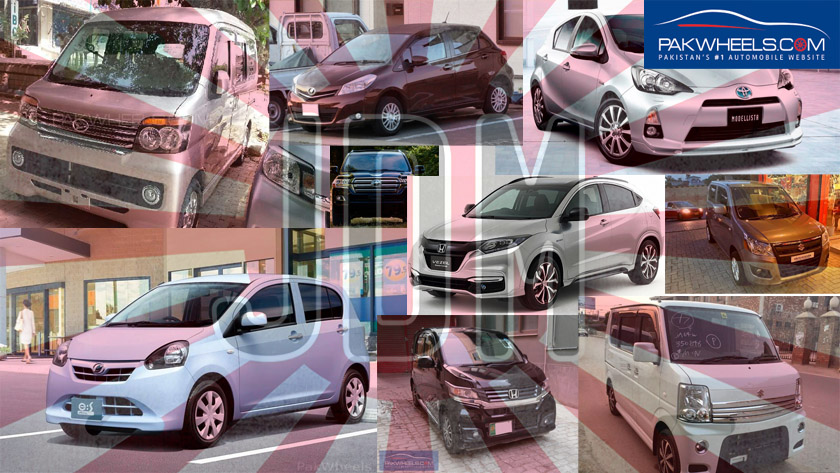 Challenges of owning a Japanese car in Pakistan
While a Japanese car is built to a higher quality standard and offer a wide variety of trim and personalization options, its suitability as used imports in Pakistan has been a long-debated issue.
Road-Suitability
Despite their higher build quality, the suitability of JDM vehicles in Pakistan is questionable.  With specs tuned to the road conditions of Japan, these cars struggle to adjust to the local driving environment in Pakistan. Road clearance is an obvious issue, specifically with economy sector models that scrape speed bumps often with only two passengers onboard. Other recurrent issues include the choking of catalytic converters (locally referred to as 'cat'), due to the lower quality of fuel that has a higher manganese content which oxides to leave a deposit in the engine.
Condition and Safety
The market for economy sector JDM models is entirely value-driven, thus market demands necessitate the import of the cheapest cars possible, which often suffer from mild to severe accidental damage, fail to pass stringent emission-tests in Japan or are otherwise undesirable for resale. PakWheels recently issued a Consumer Alert on such cars since they pose a grave risk for Japanese car buyers.
Cars with such defects are purchased on an 'as-is' condition and often undergo extensive engine and/ or bodywork in Pakistan before being put on display. Navigation and audio-visual entertainment systems are often removed and/or replaced with lower-quality versions. The practice of tampering with the odometer to bring up a suspiciously low mileage on the display is rampant. Other common issues include the replacement of tires with more worn-out ones and the removal of stock or aftermarket rims, in addition to other modifications and accessories installed by the previous owner.
Read More: 660cc cars becoming popular in Pakistan
The only way to gain access to information of the condition in which a Japanese car was auctioned, is by gaining access to its Auction Sheet. Unfortunately, these records are typically accessible from the official source for only up to 90 days, which barely covers the time it takes for the car to get shipped to Pakistan and undergo basic touchups before ending up in a resellers' showroom. To assist used Japanese car buyers, PakWheels offers a free Auction Sheet Verification service which allows users to access this document for a period of up to ten years from the date of the auction by simply entering the chassis number of the car. See our "How-To Guide" on Auction Sheet Verification for more information.
Maintenance
Replacement parts for Japanese cars in Pakistan are notorious for being overpriced and hard to find, especially outside major cities. Finding a skilled mechanic who is aware of, and skilled at doing maintenance and repair can also prove to be a challenge. Mechanics are also known for charging exorbitant prices for even basic diagnostic tests on car computers that can easily be done by attaching an OBD (Onboard Diagnostic) scanner to the car computer that displays information via a smartphone app. If you're looking for an OBD Scanner, check for their availability on the PakWheels Store.
While there is no support from Japanese car manufactures for cars exported outside of Japan, if you run into other maintenance issues, the PakWheels Technical Discussion Forum is a great resource to gain help from our community of friendly motorists who may be able to offer advice from their experiences with the same model.
Cost of Ownership         
In addition to the expense of overpriced replacement parts, the insurance cost for these cars drives up their total cost of ownership. Citing the high cost of maintenance of a Japanese vehicle, local insurance companies charge higher premiums which significantly add to the cost of owning these vehicles in Pakistan. These higher premiums are detailed in the searchable PakWheels Car Insurance Guide.
While vehicles imported from Japan are built to a higher standard than their locally assembled counterparts, offer better feature packages and safety mechanisms, the risks associated with buying them from the local market are significant. For those on the lookout for a Japanese vehicle, obtaining a PakWheels CarSure Inspection report is helpful in assessing the quality of the vehicle, but the ultimate responsibility perhaps lies with import regulation authorities that must verify auction sheets at the point of importation into Pakistan and issue a rating accordingly. This must be done to ensure that cars with significant accidental damage are flagged accordingly, enabling consumers to make an informed decision on the overall safety, long-term reliability and monetary value of their prospective purchase.