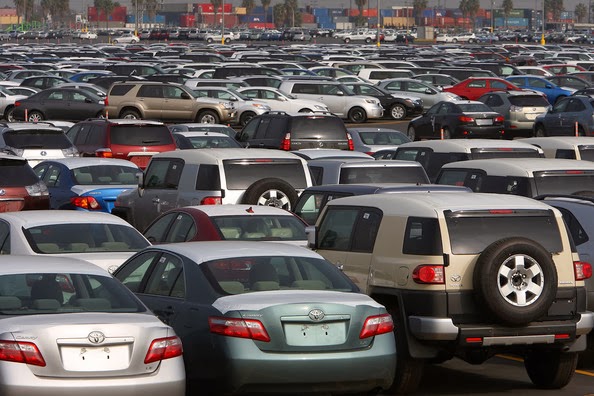 Commerce Ministry Yet to Form a Plan to Curb Influx of Used Imported Cars
The Auto Policy 2016-21 dictates that the Ministry of Commerce would make a framework to curb the illegal imports of used cars from Japan. But the ministry is yet come up with standard operating procedures that would control the misuse of import policy and would restrain the influx of used imported cars that we are seeing recently.
Also Read: Volkswagen Likely to be the First One to Enter Pakistan Under New Auto Policy
In the last fiscal year, we spent more than Rs.75bn on imported cars. Around 53,600 units of used cars were imported in FY2015-16 whereas in FY2014-15, it was only 32,100 units. That is an increase of almost 67pc. And a major portion of these imported vehicles has been imported through the misinterpretation of the import policy. Pakistan Association of Automotive Parts & Accessories Manufacturers (PAAPAM) also contacted Khizar Hayat Gondal, the Secretary Commerce, and asked him to make sure that no one gets an unfair advantage in the new auto policy.
Currently, the cars can be imported through three ways.
Personal baggage
Gift scheme
Transfer of residence
All of these legal methods were devised to help overseas Pakistanis who were moving back to Pakistan. But the third party importers have been abusing these schemes for their personal gains. Instead of bringing used cars to Pakistan through proper channels and paying due taxes, many importers are using Pakistani passports of various citizens to import these cars.
Also Read: Pakistan Spent Rs75bn on Imported Cars During FY2015-16
Things were fine until 2004, but the pendulum started to swing heavily in favor of importers in the Import Policy Order 2005. The local auto industry has also suffered the brunt of the lobbying done by the used cars importers for the amendments in the original Import Policy Order. Mumshad Ali, Chairman PAAAM, said in a statement that money spent on the imports of used cars last year was enough to establish two Honda Atlas Cars Pakistan sized assembly plants, with 25,000 cars be locally assembled at each plant.
The influx of used imported cars has also proved to be a major point of hesitation for the potential foreign investors as well. Volkswagen and Renault along with Nissan and Datsun want to enter Pakistan in some form, but used car imports are proving to be a deal breaker. If the government is serious about more investment in the auto sector, maybe it's time that the concerned departments and ministries (especially Commerce Ministry) start taking the issue seriously and put a stop to illegal car imports.