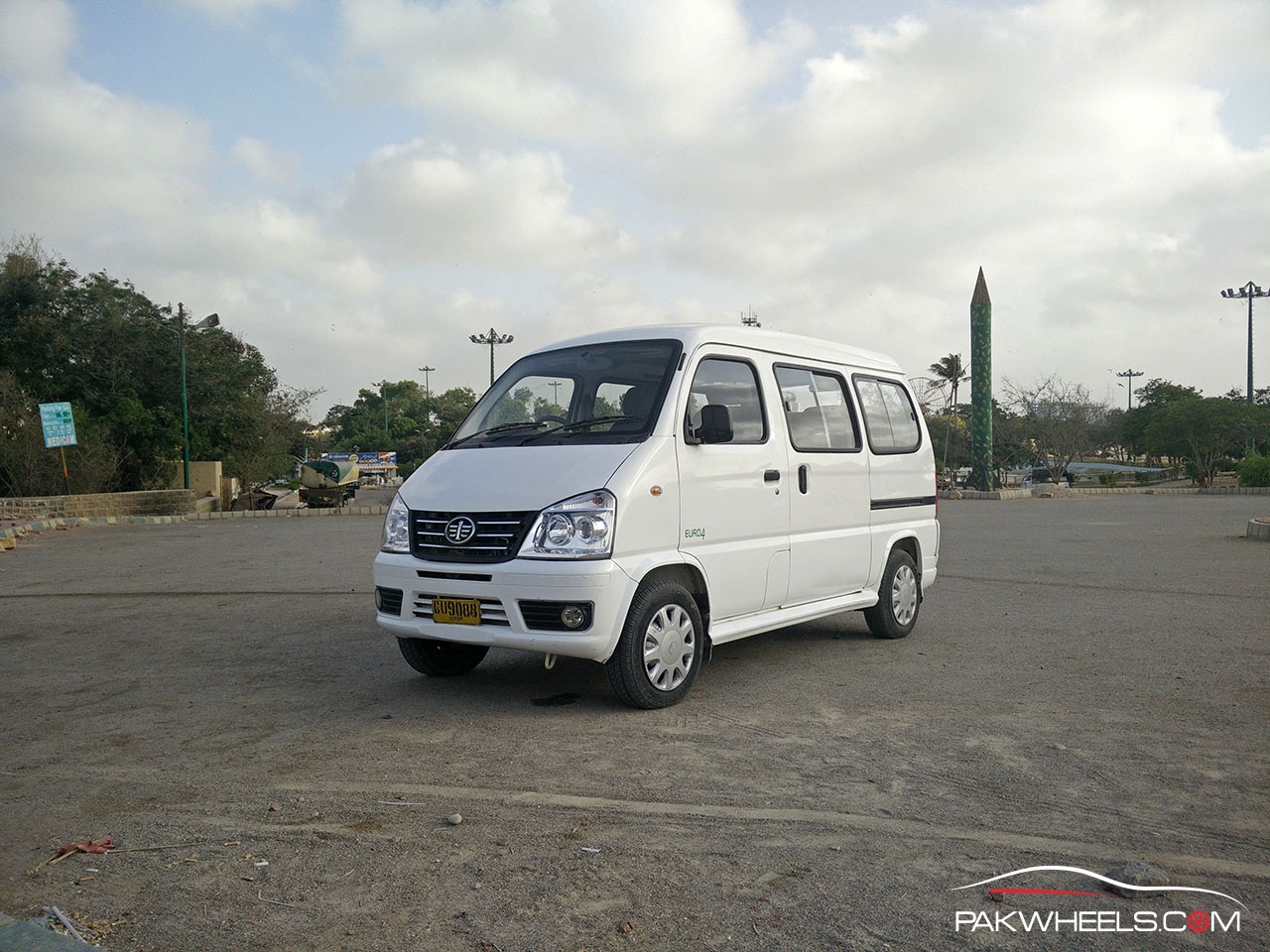 FAW X-PV Review: A Solid Contender To Suzuki Bolan
FAW Pakistan introduced the FAW XPV minivan in April of 2012 as CBU and started assembling it after sales got traction in September of 2012. The X-PV is a 1.0-liter 7-seater minivan by FAW, which was launched in competition of Suzuki Bolan – the undisputed market leader of the minivan segment of Pakistani market.
The minivan or MPV segment of the Pakistani auto industry is a very important segment due to two-main reasons. First, the people of Pakistan value family system and usually live in big/joint families and more often than not service of a bigger vehicle is warranted. Second, the commercial areas in Pakistan are congested and bigger trucks/vans always get a problem of mobility and maneuverability. It was natural for FAW to enter the consumer segment after a success in commercial vehicle segment with a practical and affordable vehicle.
The MPV market is primarily dominated by Suzuki Bolan with very few other manufacturers selling new MPVs such as DFSK, Sogo, Changan, etc. Other than those, other options includes used Japanese MPVs from manufacturers like Suzuki, Daihatsu, Honda, etc. Our review will mainly make inline comparisons where necessary with the Suzuki Bolan as the price difference is not much and both automakers have a nationwide 3S dealership network. Also, our readers have requested us to make comparison with the Bolan too.
This was a brief introduction of the FAW X-PV and the minivan market. Let us now move on the actual review of this vehicle.
Author's Note: FAW wanted us to review their X-PV minivan and wanted to provide us a new vehicle, but we insisted to get a used vehicle since we wanted to check its durability also. Honoring our request, FAW provided us with a factory maintained Dual AC X-PV which had a little over 40,000 kilometers on the odometer. So this review is of a used, but factory maintained X-PV. We had the vehicle for a couple of days and in those days; we drove it for 310 kilometers or a full tank of petrol.
EXTERIOR
Considering our options, the FAW X-PV is a relatively good looking minivan. The X-PV doesn't look ugly neither it looks too obtrusive on the road, unlike its JDM counterparts. The front has crystal headlamps and a chrome grille to complement them. The rear also hosts a pair of high quality crystal tail lamps. On the side, the vehicle is like any other van of this category with sliding doors which sport plain black door handles. The windows on the rear end of the X-PV are also sliding, which is a nice feature to have for the passengers in the 3rd row. Unlike its counterpart from Suzuki, the door handles don't feel too delicate. The quality of sheet metal on the body is far more superior to Bolan. It also provides a better finish too. The overall paint quality and bumper fittings were pretty good considering the mileage of the car.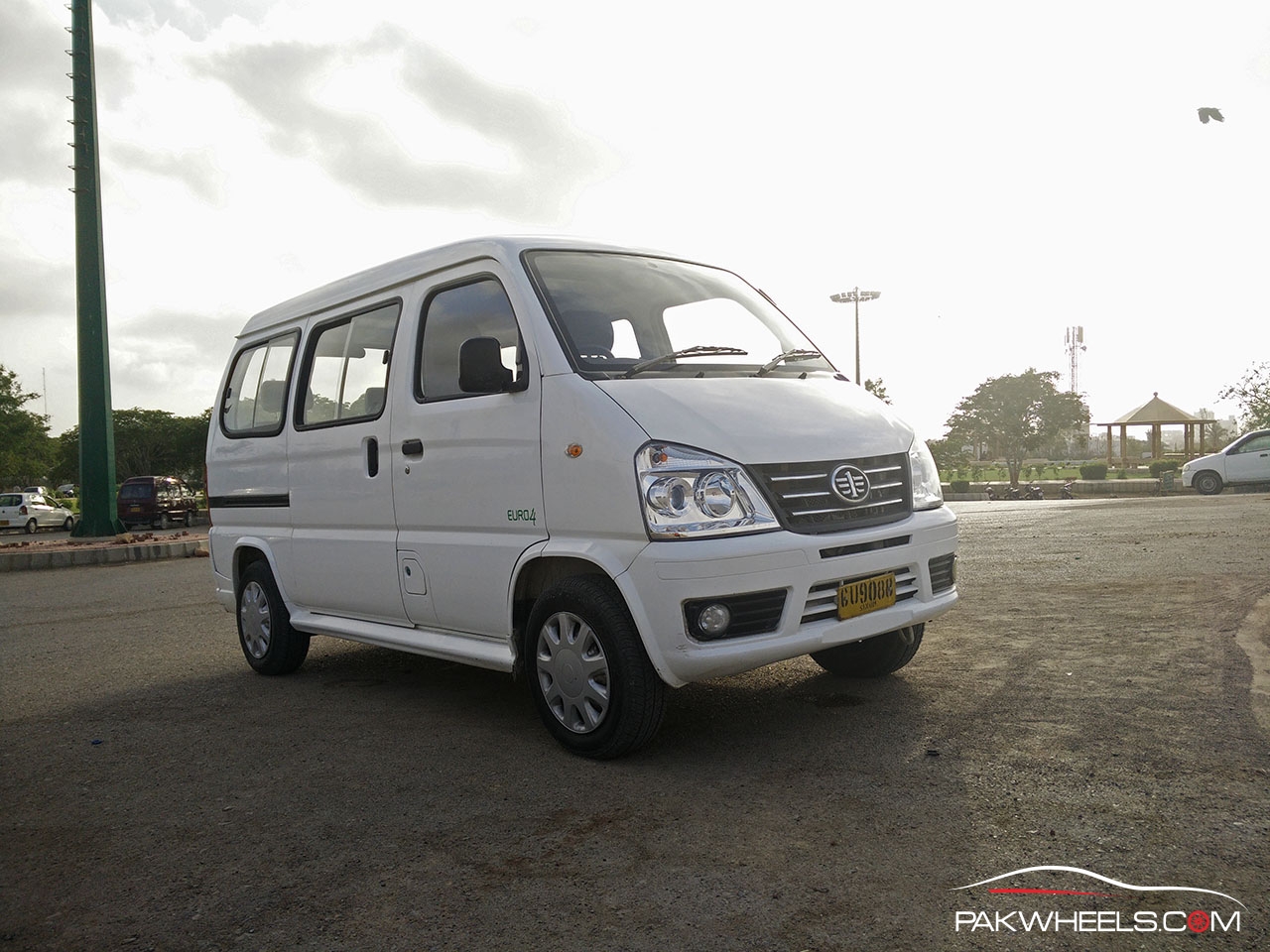 X-PV comes equipped with 13-inch steel wheels covered with wheel caps with 165/70/R13 tubeless tires. The tire size is reasonable if we consider the size of this van. In Suzuki Bolan, however, the tire size is 12 inches, which is rather small for the vehicle.
INTERIOR
I learnt driving on a Suzuki Bolan and having driven the family Bolan for five years; I was inured to the bland and basic interior of the minivan from Suzuki and naturally wasn't expecting an aesthetically pleasant interior on a locally assembled minivan. But the two-tone grey and silver dashboard of the X-PV made me think otherwise. Although, it is not something made using the plastics of the highest quality and you can see plastic wastage bits here and there, but the design is modern and it has a pleasant feel to it. On the driving seat, you wouldn't feel as if you are sitting inside a minivan rather the feeling quite car-like.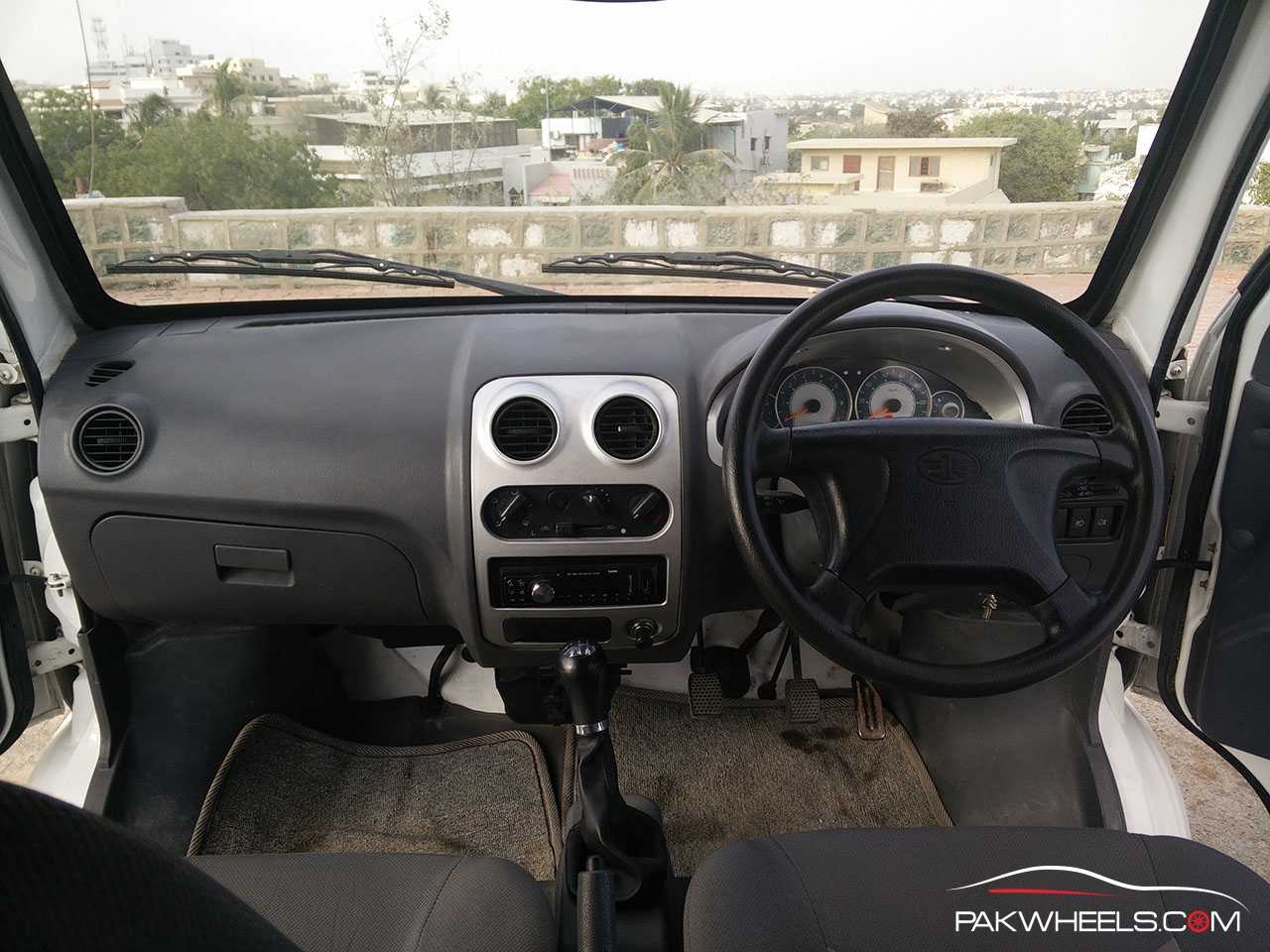 Door panels are fairly pleasant too. The door panels are made up of plastic with fabric upholstery, unlike the cardboard-Rexene door panel you get in the Bolan.
Instrument cluster of the X-PV features a speedometer, tachometer, fuel gauge and temperature gauge along with an analog odometer which lacks a trip meter. A lack of trip meter is very inconvenient and impractical, especially in a vehicle that has commercial usage too.
The X-PV comes with a USB-MP3 player from its home country with an added feature of front auxiliary input coupled with two speakers at the back that wouldn't appeal to any audiophile but then again, the car is not meant to be a rolling DJ rig.
Unlike the FAW Sirius and FAW V2, the wiper and light assemblies are in their right respective places according to Pakistani standards.
X-PV comes installed with 7 seats as standard, while the Suzuki Bolan comes with 5 seats as standard. Seats of the X-PV are comfortable too and actually did not remind me of my school days. The front seats are adjustable, unlike the Suzuki Bolan. You can recline the front seats and adjust seat position. The back seats can be folded too to make more space for any kind of luggage.
PERFORMANCE
The 1.0 liter 4-cylinder of the X-PV is based on Daihatsu technology and produces 59-horsepower and 84 Nm of torque while being Euro-IV compliant. The engine is linked with a 5-speed manual transmission with relatively tall ratios if you compare it with the 4-speed manual transmission of the Suzuki Bolan, which is linked to a 37-horsepower Euro-II engine.
The measly engine is capable of pulling the car with 7 people on-board and AC turned on but you would not feel any thrill, which is quite understandable. You don't buy a van for thrill unless you live in Japan. We had to constantly push the car above 3,000 RPM range to get the most out of the tiny engine. The power at low RPMs is not decent at all primarily because of the tall ratio gearbox.
Performance of brakes was above par and I can easily say the brakes work as good as any small car. The car stops in time and does not bounce from the front like the Suzuki Bolan does. Perhaps because the X-PV has front disk brakes and Bolan has front drum brakes. You can easily trust the brakes that they would stop the car when you need them to do so.
With our driving style of 3000 RPM and above, AC on all the time and 6 people on board, we managed to get a fuel average of 9 kilometers per liter. However, we talked to a few owners of X-PV and all claimed a fuel average of between 11 and 13 kilometers per liter. So your mileage may vary according to the kind of load you put on the car and your driving style.
We had the Dual AC variant X-PV and the AC worked as it should have. Even on a typical summer day in Karachi, the X-PV didn't let me and my friends sweat in the car. I wouldn't call the performance of its AC chilling, but you wouldn't feel hot inside the car as long as it's running. On signals and traffic jams, the performance of the AC reduced significantly.
COMFORT & HANDLING
I've never sat in a vehicle with leaf-spring suspension and called it comfortable. And I wouldn't call X-PV comfortable either when it comes to ride quality. The ride is bumpy and you can feel all the bumps and unevenness of roads directly in your ribcage. The cushioning of the seats subdues the effect to some extent but it does not eliminate it completely.
There is ample room inside the car. You can seat 8 adults without breaking a sweat in the X-PV but for those who like to make it to the Guinness; this vehicle will not disappoint you. You can fold the rear seats too to make space for luggage if you are traveling with 5 people on board.
Most minivans have problem with floor and front seats over heating on long drives as the engine is usually under the floor. On the X-PV, the front seats remain rather comfortable on long drives as they are installed with heat shields similar to those that come installed on the manifold of your car.   However, the floor of X-PV becomes scorching to the extent that you can bake cookies over it as there is not insulation under the carpet to prevent that. We communicated our concern to FAW Pakistan and they responded positively about it. According to FAW, they were aware of the issue and found a solution for it. FAW will provide insulated floor carpeting in all brand new X-PVs from next month or so.
X-PV comes with a rack and pinion manual steering system, which is not very comfortable but does its job well and lets you maneuver the vehicle with easy in tight corners of tight street. Although, you'll need both of your hands if you try to turn the steering when the vehicle is stationary.
Handling and road grip wise, the car performed above average. I took it to the speeds of 100 km/h and I wouldn't recommend anyone doing that. My whole body started shivering with the fear and vibrations. But up to the speeds of 65 km/h, the vehicle remained pretty stable. I even tried to take a sharp turn at 70 km/h and the vehicle turned instead of flipping over – a very common fear of van drivers.
VERDICT
When it comes to minivans, there are very limited choices available, especially if you are looking for something at a good price point with 3S dealership network. The FAW X-PV is an overall good minivan with a lot of things to offer when compared to Suzuki Bolan at an added price.
The standard Suzuki Bolan costs 754,000 rupees and while the standard FAW X-PV costs 869,000 rupees; 919,000 rupees if you want the Dual AC one.
At a price difference of 115,000 rupees, the FAW X-PV offers you a bigger, more powerful engine, 5-speed gearbox, disk brakes, bigger and stronger body, bigger wheels and better tires, 7 seats, a proper interior and 3-year or 60,000 kilometers warranty.
The FAW X-PV is an overall better vehicle as it offers more value for money and a relatively better driving and ownership experience.
I hope I have covered everything in this review. If you think I have missed anything, you can always hit me up in the comments and I will be more than happy to answer your queries.