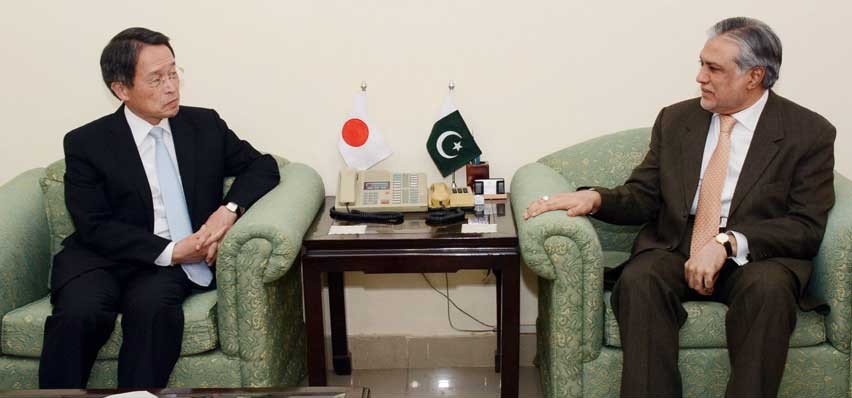 Finance Minister Ishaq Dar has said that the new auto policy will attract foreign investment. The Finance Minister was talking to Mr. Takashi Kurai, the newly appointed Japanese ambassador, on Monday. The new Ambassador paid a courtesy visit to the Minister, and it was agreed to extend all possible support to enhance Pak-Japan economic collaboration.
The one of the most important topics discussed at the meeting was the investment plans of the Japanese auto companies in the wake of the auto policy announced by Pak government. It is not a secret that the Japanese have lobbied hard to make sure the new auto policy protects the interests of existing Japanese manufacturers.
Also Read: Is This The New Suzuki Alto That Will Be Replacing Suzuki Mehran In Pakistan?
The Minister told the Japanese envoy that the new auto policy can provide an immense potential to all sorts of new foreign investments. He presented the case of Yamaha's launch last year as a proof of trust foreign investors have in Pakistani market. Although it's a fact that Yamaha had to jump several loops and see a government change before it was able to operate in Pakistan, it was actually Mr. Dar who gave them the green light.
The Minister further told the Japanese envoy that the new auto policy will provide level playing field to all the contestants and that Japanese investors are welcome to invest in Pakistan. He also told the envoy about his meeting with Japan International Cooperation Agency (JICA) in Frankfurt. JICA has been working to fund Pakistan polio eradication program.
Just a week ago, we saw photos of Minister of Development Mr. Ahsan Iqbal inspecting the potential replacement of Suzuki Mehran in Pakistan. Analysts have been suggesting the Japanese are still adamant that Pakistani needs to amend the auto policy and provide Japanese automakers some extra room.