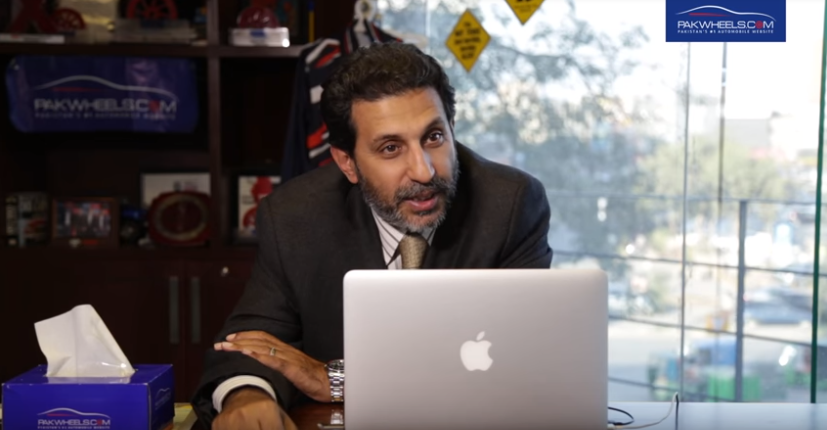 In conversation with Ghazanfar Agha – a car collector and a rally driver
This time, PakWheels.com brings an exclusive interview of Mr. Ghazanfar Agha, who is a banker by profession, but a car enthusiast by choice.  
PW: Let's begin with your profession and what lead to your passion for cars?
GA: I am a banker by profession and an avid car enthusiast. I have this great passion for collecting cars of all sorts. Driving classic cars has always been my passion. Moreover, I participate in rallies and other automotive related shows across the country and won my first rally race back in 1989-90.
I learned driving in 1984 and got my first car from my father in 1986. For 30 years, I have been driving and maintaining my cars and still what I do; it always revolves around wheels or a vehicle. As a banker, I have worked hard to live to carry on with my passion for cars and vehicles.
PW: How did you get to know about PakWheels.com?
GA: I got to know about PakWheels.com through Mr Hanif Bhatti. He is a legend; a Marco Polo of Pakistan. And the dynamic duo Raza and Suneel took PakWheels to a whole other level. It is great to see how far PakWheels.com has come successfully and now I recommend people to go and search their favourite cars on PakWheels website.
PW: How do you feel about PakWheels.com?
GA: Personally, I am thrilled by the way PakWheels.com is doing things for the promotion of local automotive industry. Anything which promotes the domestic automobile industry should be supported in every manner. The auto shows and rallies organized by PakWheels.com have become quite a remarkable trend in our country. The Sarfaranga rally in Skardu, last year was a massive hit.
PW: How do you manage to take time out for cars?
GA: Well, let me admit that taking time out for any passion with a 9-5 job in Pakistan is very difficult; especially when you have a passion for cars, it becomes even difficult and painful when you have to spend lots of money on vehicles. From my tough office schedule, I try my level best to make time for the cars as much as possible. If you have the passion for something, you will do anything for it.
PW: When did your love for cars start?
GA: I loved cars from a very young age; it's in my genes. My father loved cars and rally racing. In 1978 he participated in Pakistan's first cross-country rally race from Karachi to Gilgit. I used to aspire to cars and eventually I got hands on many of my favourite cars. It's all thanks to Allah's grace; he has been so kind to me.
PW: When did you first started rally racing?
GA: During the early stages of my racing career, I used to race on Touseef Agha's track. Then in the early 90s, various cars began coming from Kuwait and with their advent, my passion for the cars grew deeper. It would be great to mention here that I with my four other colleagues participated in the race held in Dubai; we represented and raced for Pakistan. It was a wonderful experience. I enjoyed wherever I had participated.
I had been participating in almost all off-road and on-road rallies and races. One of our colleague Owais Naqvi is building a race track in Karachi, which is indeed a significant step and I wish him best of luck.
PW: What do you want to say about the Cholistan Rally?
GA: It is difficult to participate in the Cholistan rally due to lack of infrastructure support. However, I am still looking forward to participating in the rally.
PW: Tell us about the cars you have right now and your personal favourite?
GA: I love and have all sorts of cars; from 4×4 to classic vehicles and modern racing cars. And I humbly admit that I love them all. In my possession, I have Bentley, Honda beat and Nuwara 4×4 Jeep etc. However, the only cars that have a special place in my heart are Toyota Celica – my first sports car which I bought back in 1988, SL Mercedes and Honda beat. Though people often tell me that Honda Beat is not an extraordinary car, but I like it very much as I have won five auto crossing championships using my Beat.
PW: Kindly, share your thoughts regarding motorsports in the country.
GA: Motorsports in the country is progressing and the media is giving us coverage like never before. New racers are coming on tracks. In my view the future of motorsports is bright. As I said earlier, that Owais Naqvi is building a track where young racers could come and learn the art of racing.
PW: Any advice would you like to give young racers and car enthusiasts?
GA: I always advise youngsters that never run after trophies just follow the passion and success will surely come, and I myself is the living example of that. Moreover, I would like to urge to our young racers that never race on roads, come to tracks and prove yourself there.