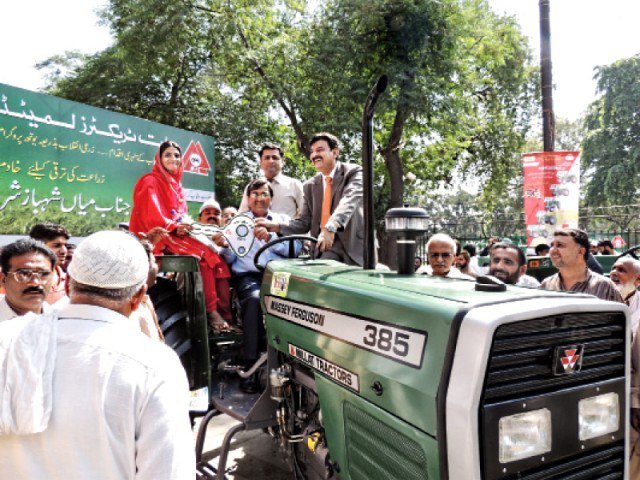 Government's Apathy Towards Tractor Schemes Keeps Farmers In Limbo
Despite four months passed away after announcement made in budgets, provincial governments of Punjab and Sindh have failed to honor their commitments to commence tractor scheme for thousands of farmers of two provinces. The purpose of the scheme was twofold, first to help the farmers procure essential farm machinery like a tractor, and second to help tractor sector.
The two provinces with the strongest agrarian economy had made these public schemes in their budget for fiscal year 2015-16 for providing subsidy for around 55,000 tractors, in July 2015. The mission was to help farmers achieve maximum agricultural production from their lands, while rebooting the also dead after market tractor service industry.
Accordingly, Punjab government allocated Rs 5 billion for the distribution of 25,000 tractors, while Sindh government marked 29,089 tractors at a subsidy of Rs200,000 to Rs300,000 on each unit. This means a total of 54,089 tractors would be made available at subsidized rates.
According to statistics of Pakistan Automotive Manufacturers Association (PAMA), tractors sales in the country decreased significantly in the first quarter of 2015-16 to 6,745 units as compared with 9,363, showing a drop of 2,618 tractors. The drop in the tractors sales were mainly on low purchasing power of the peasants.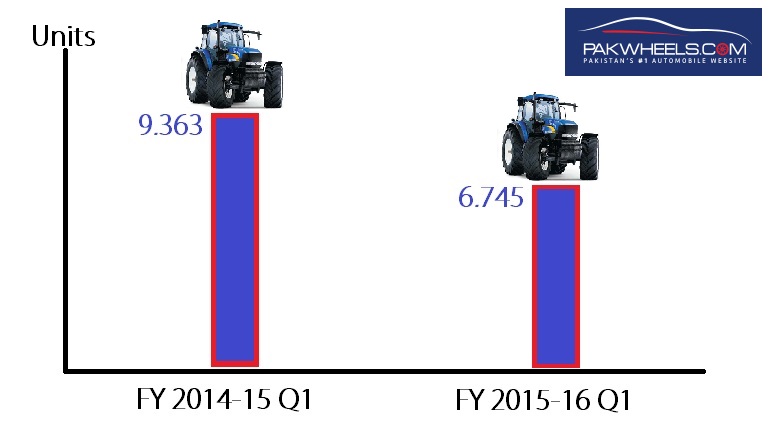 The scheme will enable farmers to buy tractors of worth Rs 0.7-0.8 million with subsidy.
The ending of Zarai Taraqiati Bank Limited Loan program for tractors have slowed down its sales whereas prices of local tractors were gone beyond the financial reach of farmers. Many farmers and agricultural land owners lost their tractors in the floods of 2010 and 2011.
There are two major and prominent brands in tractor sector including Al-Ghazi and Millat which have achieved 95 percent of the localization in the past four decades. As far support vendors are concerned, General Tyres and Baluchistan Wheels are top supplier of tyres and rims to manufacturers, respectively. In addition to allied sectors, the local tractor manufacturing consumes 0.1 million ton of steel which is approximately 10% of the total annual production of Pakistan Steel Mills.
The two banks — Bank of Punjab and Sindh Bank will execute these schemes as similar in the past which will also give liquidity to these banking companies. Above all, the trust of the poor peasants and voters of the political parties will be strengthened with their share of money and labor, but not like getting money while sitting home under schemes like Benazir Income Support Program (BISP).
Resultantly, revival of the tractor manufacturing industry will boost economy and business for the medium and small sized vendors, and creating employment opportunities on the whole. And obviously, the tractors supplied to farmers on subsidized rates will benefit them and will help them to enhance increase their agricultural contribution and chipping in the overall economy of the region.
We must ask the provincial governments to not to delay the announcement of the tractor schemes further. Pakistan is already quite far behind when it comes to latest farming technologies and advancements.
Tractor Sector At Glance
Tractors sector flourished in the last two decades in Pakistan. The manufacturers improved the quality to such standards that they left competitors like Chinese brands behind.
There are four major tractor brand names in Pakistan:
Millat (Massey Ferguson)
Fiat New Holland

Orient Automotive Industries

Fecto Belarus Tractors
In the mid 1990s, the tractor industry showed volatility in sales and fluctuated in the range of 15,000 units to 25,000 units whereas sales peaked in 1999 with the sale of 26,644 units. The tractor sector began to flourish and gain momentum from 2001 on-wards as sales increased from 31,625 units to 54,098 units by 2007 end.
The industry continued to grow and production output increased to meet the increasing demand. Increasing mechanization in farming gave a boost to tractor sales around Pakistan and by 2010, the annual sales figures were 71,607 units. In 2011, the trend continued with sales, and numbers stood at 70,770 units.
In 2011-end, the government introduced 17% GST which suddenly crippled the tractor sector and its sales dropped significantly; to 48,120 units. Sales were not recorded, though the government reduced GST to 10 percent due to the fact that farmers were facing losses due to floods in the same duration.
Punjab Government in 2012 and Sindh Government in 2013 have carried out tractor schemes in their respective provinces which gave some relief to tractor producers and their allied sectors.