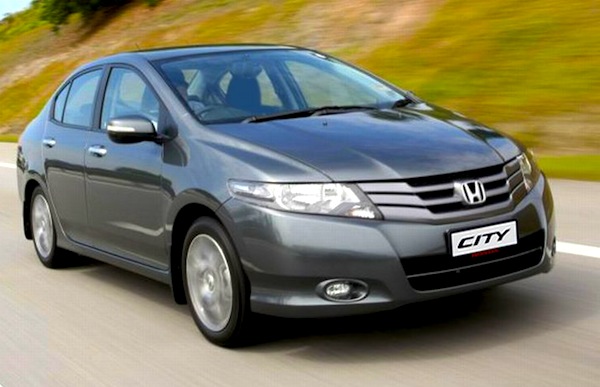 A Look at All Honda City Generations in Pakistan
As Pakistan is all set to get Honda City 6th generation, here is a look at all the old generations of this sedan. We hope this recall will take you down the memory lane. So, here it is.
Japanese Auto manufacturer Honda released the first model of City in 1981 as a three-door hatchback. Honda targeted Japanese, European, and Australian markets for the sales of the newly launched City. It was produced as a hatchback from 1981 to 1993 and was discontinued in 1993 as it was unable to compete with the rivals. The name CITY came to market again in 1996, but this time, Honda City came as a sedan specifically for Asian markets.
Here is a brief history of Honda City's all generations with respect to Pakistan as well as the international market.
Honda City First Generation (1981-1986)
The First Generation City was launched in November 1981 as Honda's smallest car. It was produced as a 2-door convertible and 3-door hatchback. It was offered at various trim levels with a 1293 cc engine offering 4 or 5-speed manual or 3-speed Hondamatic automatic transmission.
A turbo version of Honda City was launched in September 1982, delivering 108 horsepower and 160 Nm of torque. The suspension also received an update for this turbo model.
Honda City Second Generation (1986-1993)
The original City series AA was replaced by the GA series in November 1986. This car was introduced with the slogan "City of talent" in Japan with an affordable price tag. It came as a 3-door hatchback with a 1296 cc engine under the hood with a 5-speed manual or 4-speed automatic transmission. The name FIT also surfaced as a variant for Honda City 2nd generation. In 1993, the name City was officially retired at the end of the production of this generation.
Honda City Third Generation (1996-2002)
In April 1996, the name City came to life once again. The first production began at a newly inaugurated plant in Thailand. It was based on the EF Civic platform. It was designed in South East Asia and sold in the same region. This car was a massive hit in the Subcontinent.
Honda City 3rd generation was offered with a 1.3L and 1.5L engine with 4-speed automatic and 5-speed manual transmission. It had a fuel-injected 16-valve D-series engine, the same came in Honda Civic 4th generation, but for the sake of fresh look, Honda designed the interior and exterior to distinguish it from Civic.
City was a new name in Pakistan 1997, where already established names were performing well. Toyota Corolla and Honda Civic was the prime choice of Pakistanis in the 1990s for sedans with Suzuki Margalla performing well with a trusted name in the market at a low price as compared to Corolla and Civic. City had no history in Pakistan, but it managed to drop the sales of Margalla from 6000 units per year to 3000 units per year after its introduction. City outshined Margalla in every aspect, such as AC, power windows, power steering, powerful engine, smooth drive, automatic transmission, and dimensions.
Facelift
The car received a facelift in 2000 and was as popular as its pre-facelift version. The parts were readily available in the market as it was largely based on 4th generation Civic.
Honda City Fourth Generation (2002-2008)
After the hit of 3rd Generation City, the 4th Generation was released in 2002 with a completely different design, engine, and features. This car gained popularity due to a number of features offered in different trim levels. The designers focused on fuel economy while designing this car. It came with a twin-spark i-DSI engine having 8 plugs, which gave excellent fuel economy.
The flat rear floor allowed a bump-free ride with greater legroom. The interior was in beige color with a number of compartments for storage. Thick A-pillars was a negative point as they could hide a motorcyclist behind it, so a front vent glass was given for a better view, which was a new concept.
The VTEC version was introduced later in this generation before the facelift. This version came with 15-inch alloy rims and rear solid disc brakes instead of drums. Also, VTEC came with a 7-speed Multimatic CVT automatic transmission.
Facelift
A facelift was introduced in 2005 with extended dimensions, new lights, and grills. Minor changes were done in the interior as well.
Despite all the features offered in the steermatic version, it failed in Pakistan, but i-DSI did really well.
Honda City Fifth Generation (2008-2014)
The 5thgeneration has completed more than 10 years now in Pakistan, receiving a record number of facelifts. In 2009 it was released with 1.3L and 1.5L variants with automatic and manual transmissions. The basic 1.3L engine produced 98 horsepower, and 1.5L produced 118 horsepower. In 2012, Honda City Aspire was introduced with 1.3L and 1.5L manual and prosmatec transmission offering keyless entry, a navigation system, alloy rims, and a leather interior.
The 5th Generation City became immensely popular after the aspire version. People liked this car due to the reasonable price tag, fuel economy, smooth drive, and ABS brakes. In 2017, they started to give immobilizer, but the presence of airbags in any model is still awaited. Now this car has become a sort of joke for people as the international market is receiving 7th Generation, but we are here having 5th Generation with facelifts and no airbags. Recently Honda has discontinued 1.3L aspire and introduced 1.5L basic variant with some changes in the interior.
Honda City Sixth Generation (2014-2019)
The Pakistani market skipped 6th Generation back in 2014 and got it yesterday in five variants. The 6th Generation was launched in 2014 in the international market. This generation was totally redesigned and made different from the previous generation. The car front grille merging with headlights gives it a bold look, and the bumper has greatly improved the look of the car.
The features which were not offered in the previous generation include auto climate control, rear AC vents, eight speakers, electronic stability control, variable stability assist (VSA), and Bluetooth audio. The 1.5L engine delivers different power levels depending upon the engine technology.
Facelift
The facelift was given to 6th Generation in 2017 with the introduction of LED headlights with DRLs, LED taillights, and revised front grille. A new hybrid version was introduced in Japan and Malaysia. It is pertinent to mention that Pakistan got this facelift of Honda City 6th Generation yesterday. However, the Honda Pakistan has not offered features like electronic stability control, variable stability assist (VSA), LED headlights, and LED rearlights.
Honda City Seventh Generation (2019-present)
Pakistan has just seen the 6th Generation; while the World has moved to 7th Generation. The sales of the 7th Generation began in November 2019. The 7th Generation City comes with a 1.0L turbocharged three-cylinder engine with CVT. A 1.5L hybrid variant is also expected to be offered in this generation.
The main features include a power sunroof, automatic climate control, auto headlamps, auto wipers, power-adjustable driver's seat. As for safety, a full complement of 6 airbags, ABS, traction control, hill hold assist, speed alerts, a reverse parking camera with sensors are available.
Tell us about your favorite Honda City in the comments section below. Stay tuned to PakWheels blog for more informative articles because if it's on wheels, we've got it covered.