کفر ٹوٹا خدا خدا کر کے
No other verse can better depict the current situation of the automobile manufacturing industry. Deep dark clouds seem to be fading away and the Sun is about to shine over the gloomy condition of our two-wheeler industry. For the past few months, positive news developments continue to come through for bike enthusiasts. The introduction of CB150F by the largest motorbike manufacturer of Pakistan, i.e. Atlas Honda, is no different. Atlas Honda introduced the newest addition to its lineup at a dealer's convention in Lahore on 3rd May, 2017. This bike is not the CB150 Unicorn, rather, it is based on Honda's Leopard150 (CBF150), which was introduced in China.
For Sale on Pakwheels: Motorcycle
Soon after the release of CB150F, automotive enthusiasts started comparing it with Suzuki's GS150/GS150SE, the old war horse which has ruled the local 150cc motorbike segment for a long time. Here are some facts to draw a logical comparison.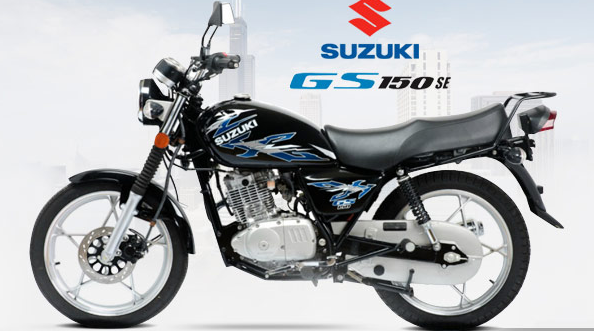 Let's start with the CB150F, the bike is powered by a 150cc single cylinder, 4 stroke, air-cooled OHC engine with a torque balancer, coupled with a 5-speed reverse shift transmission. This engine produces a respectable 11-11.5 hp. The bike comes with telescopic front and two adjustable springs loaded at the rear. It is fitted with a dual piston caliper front disc brake and a typical rear drum brake. The fuel injection system is carburetor based. The bike is kick/electric start with a pleasant looking meter cluster with an RPM meter, fuel gauge, gear indicator and a mileage meter.
On the other hand, Suzuki's GS150 is an ancient looking warrior. A 150cc single cylinder 4-stroke engine powers the Suzuki GS150SE. The OHC engine is mated to a 5-speed constant mesh transmission. A bore by stroke size of 57mm x 56.8mm and a compression ratio of 9.2:1 enables the GS150SE to produce 12hp, 0.5-1 hp more than its new competitor. The SE variant comes with front disc and rear drum brakes. Moreover, the wheels are also upgraded to alloys at both ends for the SE version. It also uses the traditional carburetors based fuel injection system. The speedometer gives a classic look but is obsolete in this modern day and age.
Comparison of technical specifications
A detailed comparison chart below shows the technical specifications, frame, suspensions, brakes and other physical information of the two motorcycles.
Technical Specifications Comparison Chart
Honda CB150F
Suzuki GS150SE
Engine Displacement
150 cc
150 cc
Engine Type
OHC, Single cylinder, four-stroke
OHC, Single cylinder, four stroke
Power
11 – 11.5 hp
12 hp
Compression ratio
9.1:1
9.2:1
Bore x stroke
57.3 mm x 57.8 mm
57.0 mm x 56.8 mm
Fuel System
Carburetor
Carburetor
Cooling system
Air-cooled
Air-cooled
Gearbox
5 speed
5 speed
Starter type
Kick/Electric
Kick/Electric
Frame, Suspension and Brakes Information
Frame Type
Steel
Steel
Front Suspension
Telescopic forks
Telescopic forks
Rear Suspension
Spring-loaded shocks
Spring-loaded shocks
Wheel
Alloy
Alloy
Front tyre
80/100-18
2.75 -18
Rear tyre
90/90-18
90/90-18
Front / Rear brakes
Disc/Drum
Disc/Drum
Physical Specifications
Dry Weight
124 Kgs
114 Kgs
Wheelbase
1311 mm
1280 mm
Ground Clearance
168 mm
155 mm
Fuel Capacity
13 Liters
12 Liters
The Pricing
Price (in PKR)*
159,000
158,500
* The prices may vary in different cities across Pakistan and are subject to change as per manufacturer's consent
Both motorcycles have similar powertrains. The power response is not only analyzed for short bursts but how well the bike keeps its power intact on longer rides. The GS150 has proved its performance capabilities in its long life. Though, CB150F is quite new and a lot can't be said for the power response on extended journeys, but from the initial ride and impressions, it feels that it provides ample acceleration in both start-stop traffic and long routes.
Contrary to popular belief, GS150SE is not easy to beat in this department. Weighing in at 114 kg, it is slightly ahead off its newest competition, which weighs at 124 kg. But with its aggressive riding style, the CB150F offers more thrill as compared to the Suzuki. It feels more grounded with its downforce design. Additionally, it has a better and aggressive exhaust note as compare to GS150SE's suppressed sound notes.
One thing that the numerical comparison doesn't show is the appearance. Unlike the previous Honda motorcycles, the CB150F has better aesthetic feel to it. A stereo sculpture fuel tank and an appropriately tailed muffler gives the bike an overall nice look but it could have been better. All in all, when it comes to looks and body design, the CB150F wins hands down over its rival GS150SE's retro and old design.
The GS150SE returns about 38-45 kmpl in the real world riding while there are no exact numbers provided by Atlas Honda at this stage for the CB150F but, it should be around 40-45 kmpl to say the least.
The more you twist the wrist the more you get the flick. For the top speed fanatics, both motorcycles can go over 120 km/hr easily.
The CB150F is leading the GS150SE in this department also. The headlights of CB150F has better illumination and throw as compared to that of the GS. Although, Honda CB150F does not have the prettiest cluster gauge around but it is still better equipped than GS. The CB150F lacks the engine kill switch which GS150SE offers. Additionally, the CB150F has also been offered with foglights and dipper, which, to be honest, was really surprising. Both these features, aid the rider in foggy weather and overtaking, making them not only helpful but really necessary in this age and day.
Spare Parts/After Sales Service
Since, we are talking about the two largest motorcycle manufacturers of our country, after sales services and spare parts availability is not an issue for any of these bikes. However, Atlas Honda is Pakistan's leading motorcycle manufacturer and quite frankly represents 55-60% motorbike sales in Pakistan, which means that Atlas thrives on its after sales services.
An important factor and probably a deal breaker for many consumers is the price tag. Both bikes have more or less the same prices. As compared to other 150cc motorcycles, both bikes are being offered at a very competitive price. On a lighter note, a simple formula that I follow is that I am willing to pay Rs.1000 for every 1cc for a bike with adequate features. So, Rs.150k to 160k is a reasonable amount to have a good 150cc motorcycle with reasonable features. Comparing the two, CB150F edges ahead of its immediate competition and offers more value for money.
Both bikes are great daily commuters. The GS150SE lacks the thrill factor but on the other hand it has proved itself as a great adventure and extended tourer machine. The CB150F with its impressive ground clearance, adequate and comfortable seating position and a longer wheelbase has all the making of a great motorcycle for longer trips but it is too early to comment on this.
Apart from power, acceleration, looks and comfort there is one more thing which need to be mentioned, that is 'durability, reliability and quality' of the product over longer period of time. The GS150/150SE has proved this since its introduction and is considered to be the best option available in the Pakistani market especially in the 150cc segment. The CB150F is a new-bee and nothing can be said about the reliability and durability, it will take some time to know the performance of this well-packaged machine.
The GS150 has been an undisputed market leader for a very long time in this segment. We have to wait and watch how the CB150 performs in our market. Whether it outperforms its competitors or not, remains yet to be seen.
Moving slightly away from the comparison, I have never been an Atlas Honda fan, in fact I have always been a critic of their short sighted and un-innovative policies but in my opinion Atlas Honda will be selling the CB150F in overwhelming numbers due to their already well-established brand power. It is going to affect not only GS150/150SE but even YBR, which is not in the same engine and price category in days to come. Yamaha and Suzuki have to think out of the box and introduce FZ16 or Gixxer in the Pakistani market to stay in the game.
Nevertheless, one thing is for sure "the dilemma" of our industry is slowly but surely fading away and the consumers are having more options at their disposal and a lot more for their hard earned money.