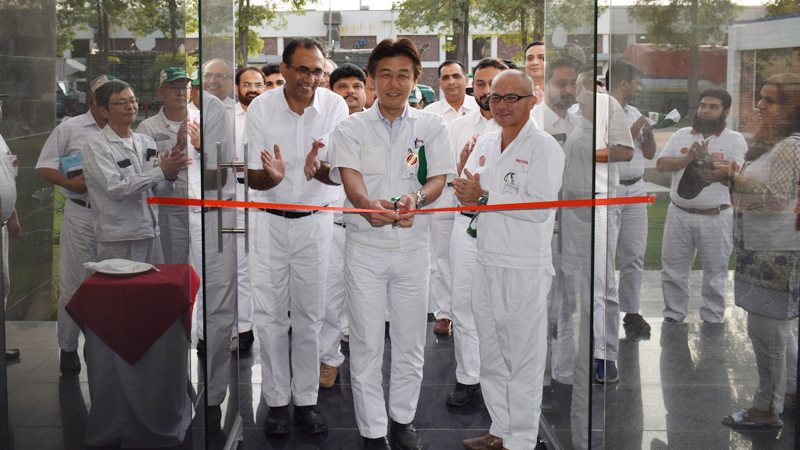 Honda Pakistan Inaugurated Its Heritage Centre in Lahore
Honda Atlas inaugurated its Honda Heritage Centre at its factory in Manga Mandi, Lahore last week. This facility was inaugurated by Chief Executive Officer and President of Honda Atlas Cars (Pakistan) Limited, Mr. Toichi Ishiyama. Other senior Honda Atlas officials including VP HR & Admin Maqsood Rehmani and VP Production Kenichi Matsuo were also present at the inauguration ceremony.
Also Read: Honda Pakistan Introduces New Color For Honda Civic 2018
The aim of this new Honda Heritage Centre is to show the history and progress of Honda Pakistan from its start back in 1994 to the present day.
Honda has such heritage centers around the world in different countries where Honda has seen success.
Honda has displayed the pictorial details of all its models from since 1994. The first car launched by Honda Pakistan was the fifth generation of Honda Civic; one of all time favorite cars of Honda fans around the world. You can see the first ever Honda Civic that rolled out of its assembly line in 1994 at the center as well as the first ever Pakistani Honda City in 1997.
Other than the vehicle lineup, you will also find information regarding the various 'first of its kind technologies' introduced by Honda Atlas in Pakistan.
Honda Atlas has increased its portfolio with the passage of time and has introduced many new models and vehicles since 1994. And to keep the prices low of those new cars, Honda Pakistan has increased its efforts to localize some auto parts of cars like its Civic, City, and BR-V models. All of this has been highlighted at the new Honda Heritage Centre.
If you happen to visit Honda Heritage Centre anytime soon, do share the photos with fellow PakWheelers.
Photo credits: DT