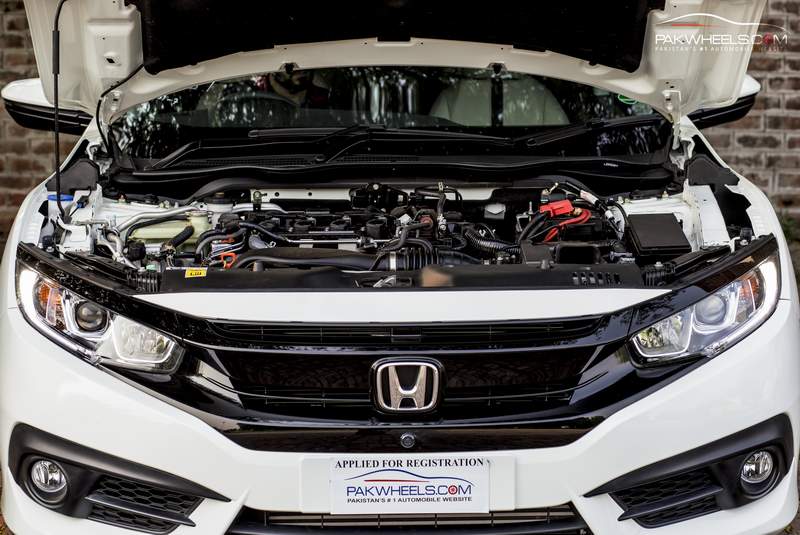 Owing to its spectacular shape, the 10th generation of Honda Civic managed to woo a wide majority of auto enthusiasts around the world and the same trend made its way in Pakistan when in 2016, Honda Atlas launched the new Civic, Pakistani consumers flocked towards this car and even to this day it has a wait time of five-six months, showing its demand and popularity in the country. However, where this car has garnered praise for its beauty and appearance, it also managed to receive a high amount of criticism at both, its build quality and Honda Atlas' incompetence to provide proper solutions to problems randomly popping up in a lot of units. Contrary to common sense of 'believing in pictorial evidence,' unearthed by a fellow Pakwheels author highlighting the less than impressive build quality of Honda Civic, I chose to reserve my judgement until I had personally driven or at least seen one. A point which I also raised in one of my earliest articles for PakWheels.
Fast forward to May 2017 and I finally got the chance to drive a Honda Civic 1.5 Turbo to see for myself if all the reporting, videos and customers highlighting the flaws in this car held any truth. Anxious, excited and a tad bit worried, I borrowed the keys from a dear colleague to drive his car for a few days. Apart from the bad welds and lack of proper insulation lining in the trunk, I suffered the first technical glitch two days into my driving of this car. The problems, dear readers, were two-fold:
Blinking of traction, gear and e-brake indicators in the meter cluster.
Coupled with a recurring flat battery for no apparent reason.
The first problem had no pattern and appeared randomly, which in essence was a very tricky situation as I wasn't able to make a guess on when and how it would occur. The second issue was more taxing as it robbed me from the use of the smart entry. Long story short, I had deduced that a visit to a 3S dealership was required as the car in question was only driven six thousand kilometers and was under warranty. The nearest dealership to me was City Sales, Kalma Chowk, Lahore.
Visits to Honda Dealership:
So on 1st June 2017, I optimistically ventured into the dealership looking to get these issue fixed. This first visit lasted three hours, included severe disappointment at the issue resolving and customer satisfaction. Nonetheless, during this visit, a technical mechanic had taken some snapshots of the car's backlog and forwarded it to Honda Atlas factory engineers, who replied with some technical procedure to rectify both issues. I was told that the issue was due to a malfunctioning Traction Module Unit and the factory engineer recommended procedure will be used to reboot the system. The warranty diagnosis and mechanic duo then proceeded to follow the instructions and twenty minutes later, I was informed that the issues have been resolved. The wait and disappointing customer handling experiences were forgotten in the haste to finally bask in the comfort of driving a mended car. Alas, the joy was short-lived, the battery issue never went away and to avoid the repeat of my visit to Honda's Dealership, I asked the owner's permission to replace the battery and for the time being, the flat battery issue seems to have gone away.
My next visit to the dealership was again due to the reappearance of traction, gear and E-brake indicator blinking in the dashboard. So on 8th June 2017, I decided to get the car diagnosed. Following the precedent of my first visit, this time my trip lasted for three and a half hours with no results to speak for. From warranty to the mechanic and even Service Manager failed to come up with a solution. This time the issue was diagnosed due to a bug in brake fluid sensor as opposed to faulty TMU in my last visit. However, this time the issue resurfaced in the test drive and both workshop representatives were not able to provide an answer neither a solution. In fact, they replied; 'Sir keep driving your car as it is in warranty, if you face a performance issue then you can always come here to get it checked.'
Self-deduced/explored Solutions:
If it had been a cheaper car then I wouldn't have batted an eyelash but a car with a price tag of Rs 3 million, these technical issues are a cause of worry and to this day I find myself wondering when is the inevitable going to happen? However, an attempt to explore this issue resulted in finding some similar cases and some on the knocking issue in the Turbo variant, which to be honest I never paid any attention before I read some information on this topic. Here are a few such examples: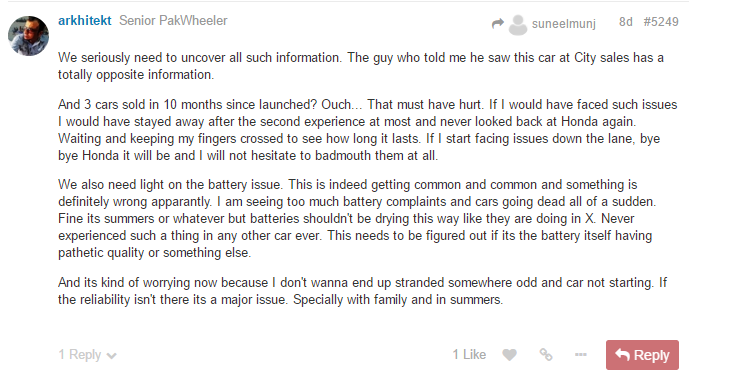 As obvious, there are always some good samaritans willing to share their experience on a problem. Although I had already changed my car's battery but still by reading this post I knew I was getting somewhere.

A Google search on proximity (smart) keys revealed that the radio receiver that continuously listens for its mated key is in a semi-hibernation state, always requiring some input of current to operate at optimal functionality. When the receiver hears a signal at any assigned frequency it wakes up to see if the matched key is in range, which results in a significant draw of power from the on-board battery. This concept applies to every proximity key walking past a car and thus results in a continuous draw of power, which ultimately leads to a flat battery.
Since the car I was driving was Civic Turbo, it is imperative to mention the knocking as well. If you were to go through the Honda Civic Owners Club at PakWheels Forums then you will definitely notice tons of solutions. Despite the fact that Honda Atlas has halted the car's production and delivery, a lot of owners have successfully managed to evade the doomed fate of suffering from 'Knocking' but beware of which option you decide to choose as your car's warranty can get nullified in some cases. The best solution, which worked for me was using petrol from a single filling station and first oil change after 5000Km.
The above-stated compilation was a summary of my experience with Honda Civic Turbo for a short couple of days and I believe some owners or experts will be able to suggest a viable solution/reasons for the problems I faced.I have come to the conclusion that  Honda Dealerships' ability to handle such cases is very disappointing. I have no doubts that company's engineers might be able to understand and solve this car's issues if given enough time but the lack of training, comprehension, and understanding among the mechanics of Honda dealerships is pretty clear, half of the time the mechanics don't even know what to do, they just experiment with things, which results in poor customer experience. I believe this situation can be easily fixed if company and dealerships invest time and money in the training of these mechanics.
Share your comments on what Honda needs to do in order to improve its customer satisfaction!