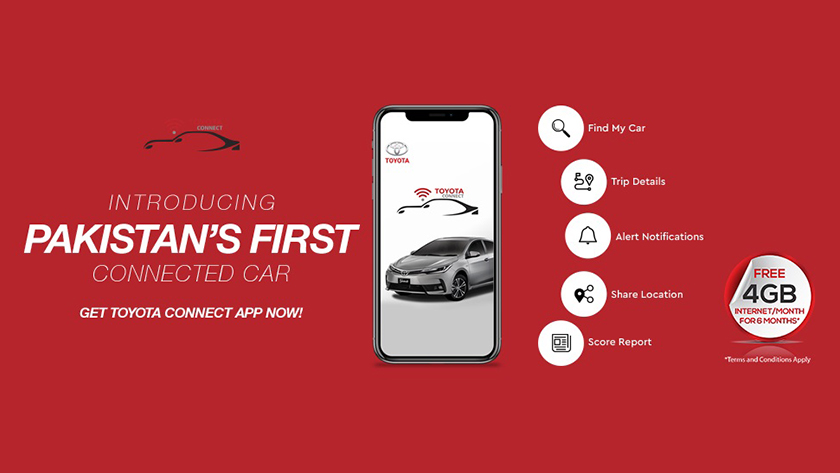 IMC introduces Toyota Connect – A true industry-first
Staying in line with providing high-end products and services, Toyota IMC launched Corolla Altis Grande, which is one of the most luxurious Sedan being offered in Pakistan under 1.8L segment. With state-of-the-art features, the top of the line variant – Grande is equipped with high safety and comfort.
Last year, with the launch of its facelift, the Indus Motors Company Limited was able to achieve record high sales and also won the "Car of the Year" award in PakWheels.com People's Choice Awards.
Bringing the convenience to its customers, IMC has now launched "Toyota Connect"- Pakistan's First Connected Car Application. Every 1.8L Corolla will be equipped with FREE Toyota Connect Subscription for a period of 6 months*
*Free Subscription of Toyota Connect is provided from the Minor Improvement launch and is valid for a period of 6 months with terms and conditions apply.
Observed only in luxury cars, this revolutionary app is now being offered for the first time in Pakistan.  As an OEM provided application, Toyota Connect brings the convenience and comfort to the users who can monitor their vehicle anywhere anytime via their smartphones.
With the fast-evolving technology, Pakistani market has become more technologically advanced over the years. Targeting the tech-savvy customers, IMC has introduced this mobile application that can aid the users to monitor live location, speed check and analyze driving behavior.
The app pairs the onboard computer to Geo-location and SIM network to provide easy access to a digitalized trip log, a location sharing feature, and various alerts via an application available on both Android and iOS.
Currently, there's Toyota Connect campaign being live on PakWheels.com and here's a visual representation of what Toyota Connect looks like: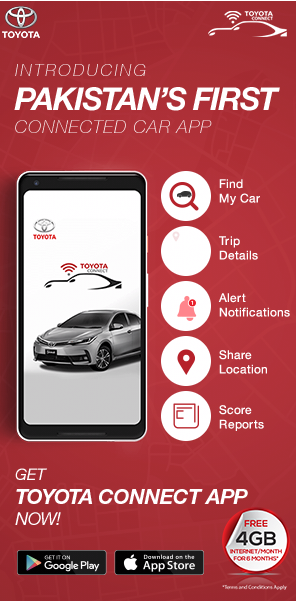 The app's core 5 features include:
Find My Car:
With this feature, you can easily locate your car just by the ease of pressing a button.
Alert Notifications:
There are times when we often forget a few things in a rush. With this app, now be notified of your car's condition with Push Notifications. From car engine on/off, idle engine, over speeding, door and trunk warning to fuel alert, get all the notifications instantly.  Alert notifications can be put to mute manually by the choice of the user.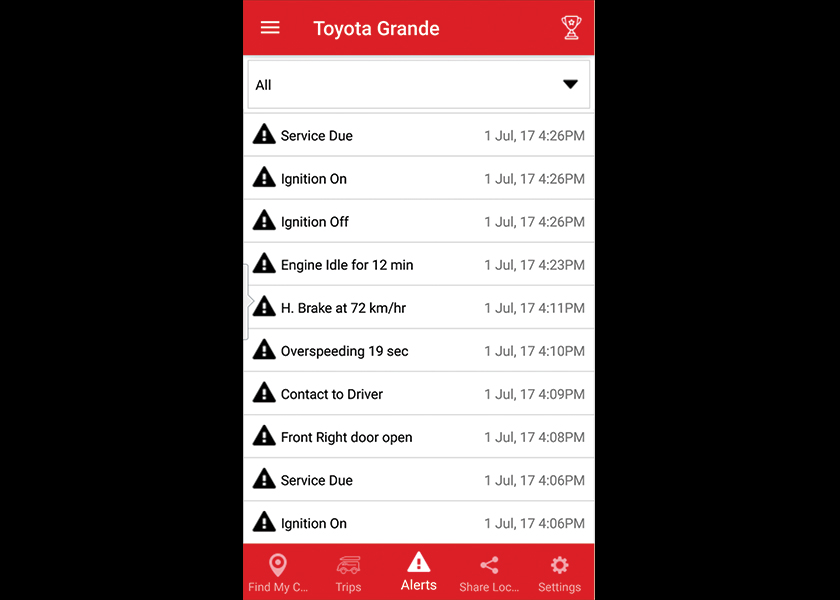 Trip Details:
To avoid any unfortunate event, this app provides complete driving details. So, with trip details option, get a visual assurance that your family and car is safe during the ride.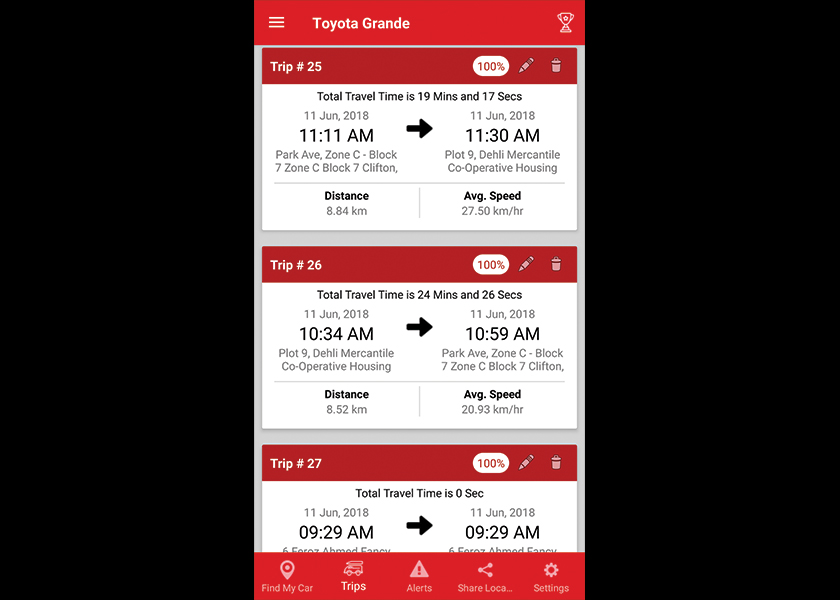 Share My Location:
With this feature, let someone else make sure you're driving safely and on the correct route. If uncertain, you can always share your location to be guided by someone.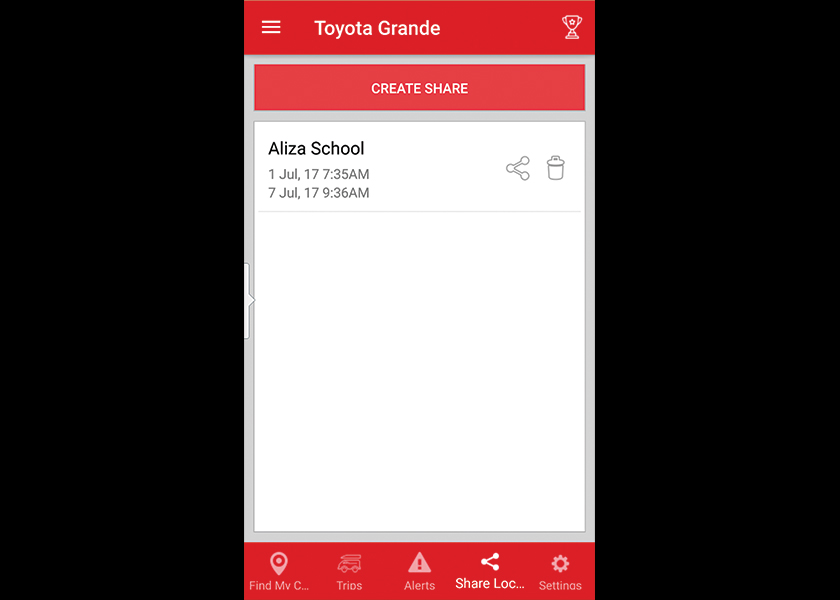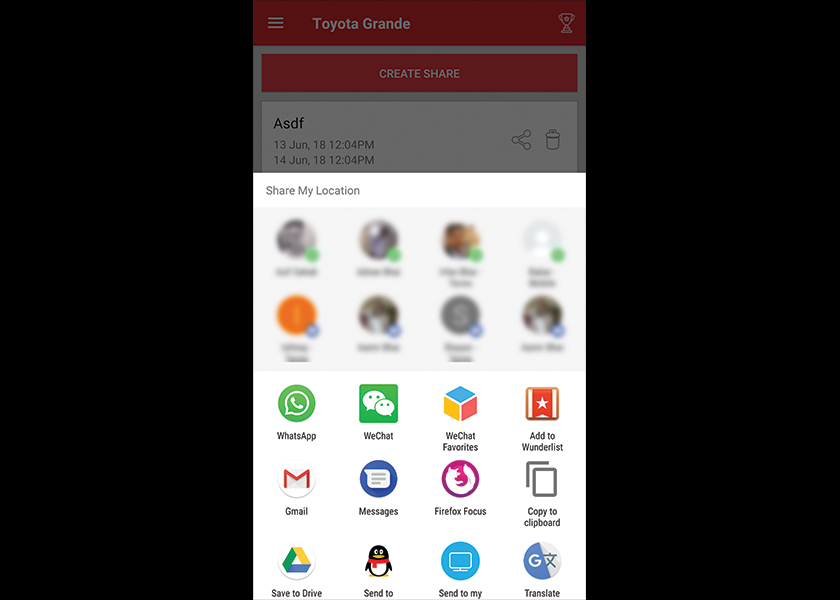 Score Report:
Get a comprehensive report that analyzes your driving behavior, which includes maintaining speed and total distance covered etc.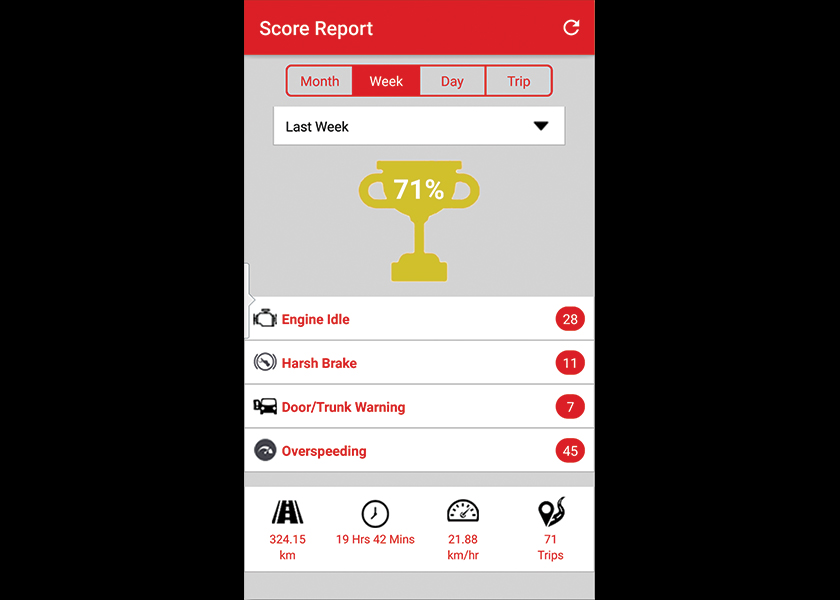 With a plethora of services, Toyota Connect is an ideal app for its users. The app is designed to provide helpful guidelines on owning and driving a Toyota Corolla by offering multipoint driver's score report that logs in instances of over speeding, harsh braking, and engine idling to encourage responsible driving among owners, hired chauffeurs and young drivers alike.
With an option of trip details, the app is intended to provide greater security by sharing minute details and actual routes of their commute. Ignition status and trip monitoring are also updated in real-time to keep the record of all vehicle's movement, ensuring peace of mind for all parties involved.
As an introductory offer, the company will be offering 6 months of free Toyota Connect service bundled with 4GB of internet data for cars booked from August 2018. The mobile application is capable of handling up to 10 vehicles per Toyota Connect Account and will allow simultaneous access across five mobile devices.
The application requires an active data SIM that is provided by the company and a valid subscription package to the service. The SIM will be inserted into the infotainment system and it will be an internet-based SIM, so one can surf the internet on infotainment system (like use Google maps, Skype call, YouTube etc. Moreover, since it will be an internet SIM so one can also create the hotspot from the infotainment system and can use the internet on the phone as well. Toyota has partnered with Zong and the Toyota Connect will have a Zong4G SIM in it, offering 3G/4G services.
So, get convenience at the touch of a button and stay connected! For more details about the package plan, please log onto www.toyotaconnectpakistan.com.