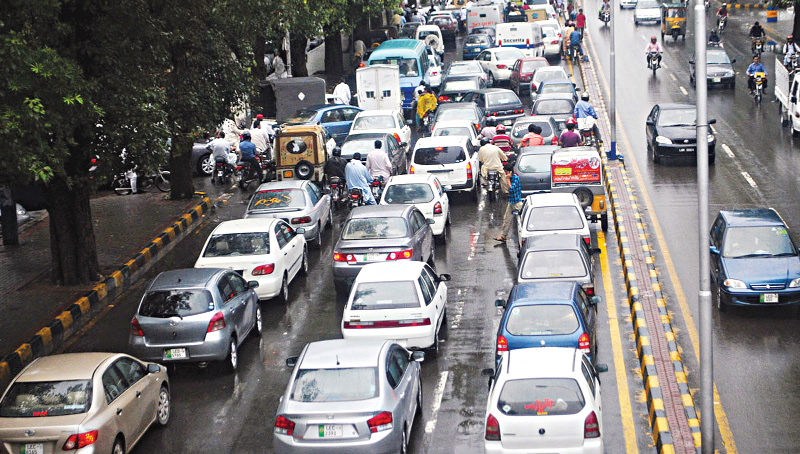 Increasing Traffic Jams Leave Motorists' Frustrated in Lahore
It seems as if the entirety of Lahore has decided to make their demands known to the Government on expense of their fellow citizen motorists. First the students of Bahauddin Zakariya University (BZU) decided to block the city's most vital road to express their anger at the lack of their degree's accreditation from the HEC, aimed at their university's administration and then the law students of Punjab University (PU) followed after their counterparts and blocked the Canal Road again in just a matter of days, leaving thousands stuck in two of the worst traffic jams in the modern history of this city.
However, the usual trend of blocking roads is getting increasingly common, which should be a cause of concern for the local administration and law enforcement agencies. It was another day of painful ordeal on this Thursday for the motorists, as they had to face another ordeal in the shape of traffic jam on The Mall and its adjacent roads, because of a protest by the Young Doctors Association (YDA) for the restoration of their colleagues.
A group of doctors, nurses and paramedics of Mayo Hospital have erected tents on The Mall Road for the last two days, blocking it for all kinds of traffic and creating extreme difficulty for the people. Motorists are suffering the worst gridlocks on The Mall and its adjacent roads including Davis Road, Suder Das Road and 7th Club Road.
This protest and sit-in, which has been going on from the past two days has been a cause of extreme inconvenience to the motorists, shoppers and traders running their businesses along the city's busiest road. More importantly, these constant traffic jams and sit-ins have managed to expose the performance of City Traffic Police, which according to the people, has failed in communicating, regulating or evolving alternate traffic plans for hundreds of vehicles that got stuck in the gridlock for hours.
DAWN reports that a traffic police spokesperson revealed that the 14 patrolling officers, besides the city's traffic SP and three DSP's, were deployed to keep the traffic flow smooth on the effected roads on the direction of Chief Traffic Officer Tayyab Hafeez Cheema. He added that nine diversion points have been established on The Mall, where traffic police officers were guiding the motorists. Three-fork lifts, and several wardens were also in service on the Canal Road, Regal Chowk and near GPO, while DSPs were instructed to keep patrolling in the area to monitor and deal effectively with the situation arising out of doctors' protests on the roads of Lahore.