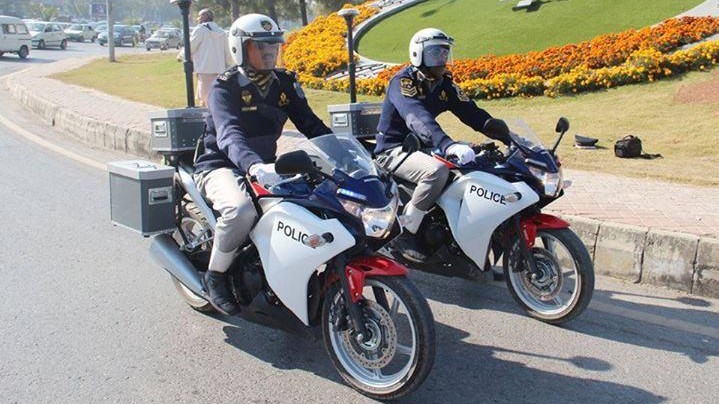 Islamabad ETO and Traffic Police are bringing some huge changes the way they do their business. ETO has replaced the conventional transfer letter/deed (written contract on a plain paper or even an affidavit) with their own official letter, to curb the fraud and illegal activities regarding car transfers. Now recently they have started issuing smart card based Vehicle Registration Cards. The thinking behind these new smart cards is the same as the one behind replacing transfer letters; to catch the fraudsters and reduce fraudulent activities. Islamabad Traffic Police also first introduced digital driving licenses instead of the conventional book type license. And now they are changing the way to collect challans.
ICT Traffic Police have decided to upgrade their challan issuing and collecting system. ITP (Islamabad Traffic Police) is working to develop a system to collect challan charges through mobile phones. ICT has been using the simple challan book for issuing the fines. They take your driving license or car's registration book and give you a receipt for some certain amount. You deposit the amount in the bank, take the copy of paid challan to the traffic office, show them the receipt and get your documents back. This however is going to change.
Also Read: 2.6 Million Driving Licenses For The Residents Of Karachi, A Herculean Task!
Islamabad Traffic Police has joined hands with mobile phone carrier Ufone and National Bank of Pakistan and has developed an app that will be used to collect challan charges through the mobile phones. The traffic officer will send a message to the offender's mobile phone, containing the information regarding the place, time and date of the offense, type of the traffic offense, the amount of the challan etc. Same message will be stored in the servers of Ufone and NBP. The violator will then deposit the amount of the challan and go get his/her documents back.
What I was unable to find was how they will manage the receipt system. Is there going to be an electronic receipt and you will just need a number that you will give to the traffic office kiosk for them to return your documents? Or is there going to be a paper receipt from easy paisa shop and you need to deposit that. That has yet to be seen.
Another point is, is there going to be any points system for the violators? I mean what is the point of making everything digital and electronic and not punishing the repeat offenders? In UK, for example, after 12 penalties points, they will cancel your license or even ban you depending on the offense committed. Also, the violations remain in the driver's history and record for as long as 11 years. In Dubai, if you get 24 points in your license, you can get some massive fines and vehicle confiscations.
I think it is a great opportunity for ITP to launch something like this. Although it can't be done to people with driving licenses from other cities or provinces. But if ITP starts this point based fine system, it can serve as a precedent for traffic police of other cities.