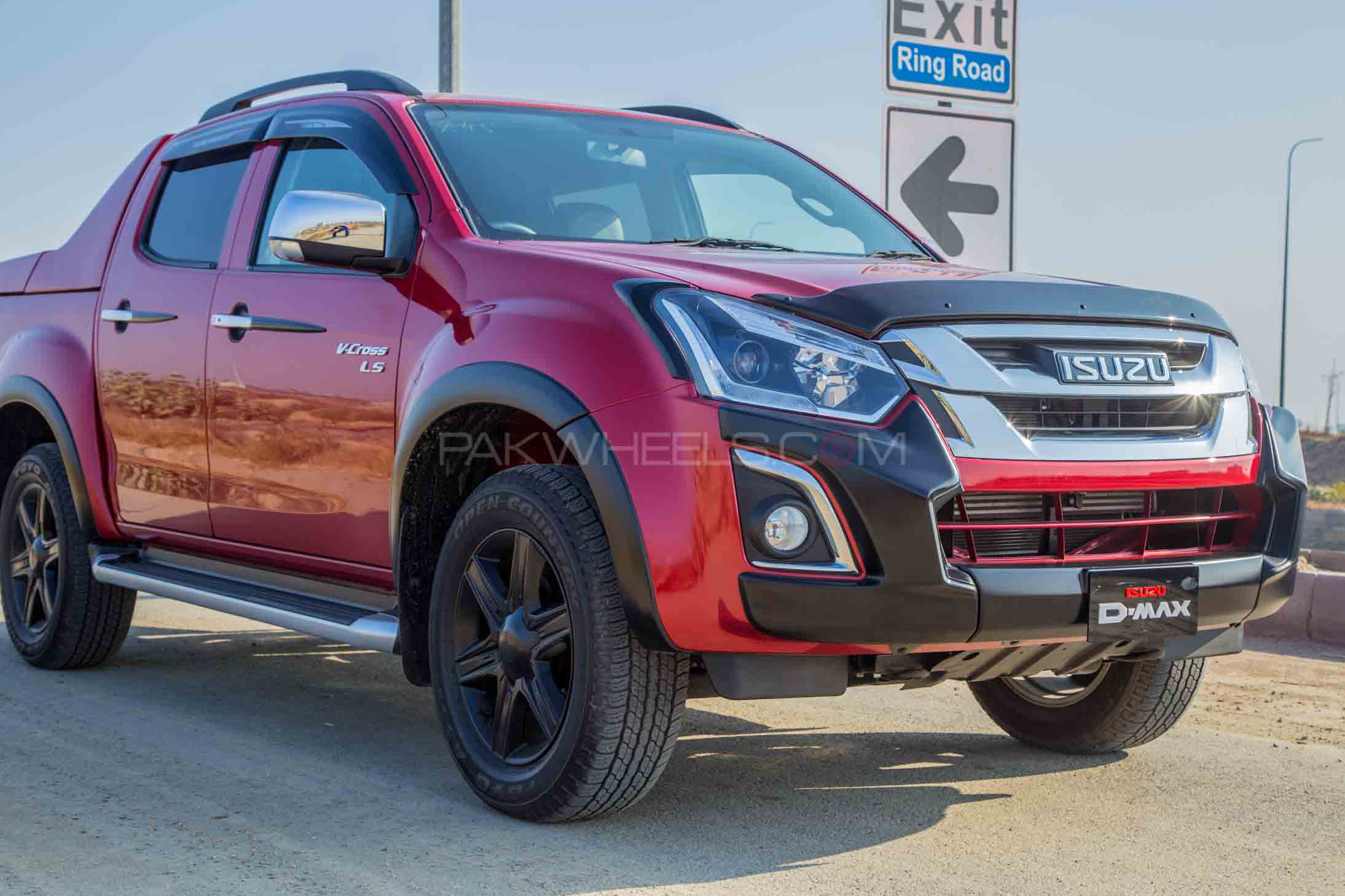 Isuzu D-Max V-Cross LS Detailed Review – Specs & Photos
Keeping up with the tradition of bringing exclusive detailed reviews of vehicles for our readers, this time too, PakWheels.com has brought a detailed review of second-generation Isuzu-D-Max V-Cross LS variant.
Ghandhara Isuzu D-Max V-Cross LS is a top-of-the-line variant, which the company launched back in November 2018. First off, let me tell you guys that Ghandhara Industries needs no introduction. It is one of the oldest automobile company in Pakistan (since 1953) that makes reliable, economical and fuel-efficient light, medium and heavy commercial vehicles. Ghandhara Industries has developed a new facility for assembling and manufacturing of ISUZU D-MAX Pickup at Port Qasim, Karachi and launched six different Variants of D-Max in the country.
Isuzu is known worldwide for its diesel vehicles; they claim that no one can understand diesel vehicle better than them.
Internationally, the first generation of D Max was launched in 2002. Isuzu Motors globally launched the second generation of Isuzu D-Max in 2012. Ghandhara has launched second-generation Isuzu D-Max V-Cross in Pakistan in 6 different variants, which includes, Deckless, (low-bed, high-bed) With Deck, 2500cc, 3000cc, 4×2 and 4×4 options.
2.5 Litre 4JK1-TC Hi DOHC 16 Valve Engine (Hi-Spark and Hi-Lander)

3.0 Litre 4JJ1-TC Hi DOHC 16 Valve Engine (V-Cross)
As mentioned above, the version, which we are reviewing today is V-Cross 5-Speed Automatic Tiptronic transmission LS variant. Remember here that this vehicle has extra bells and whistles, which you can get from Ghandhara Isuzu showroom. We will tell you all the optional features that come along.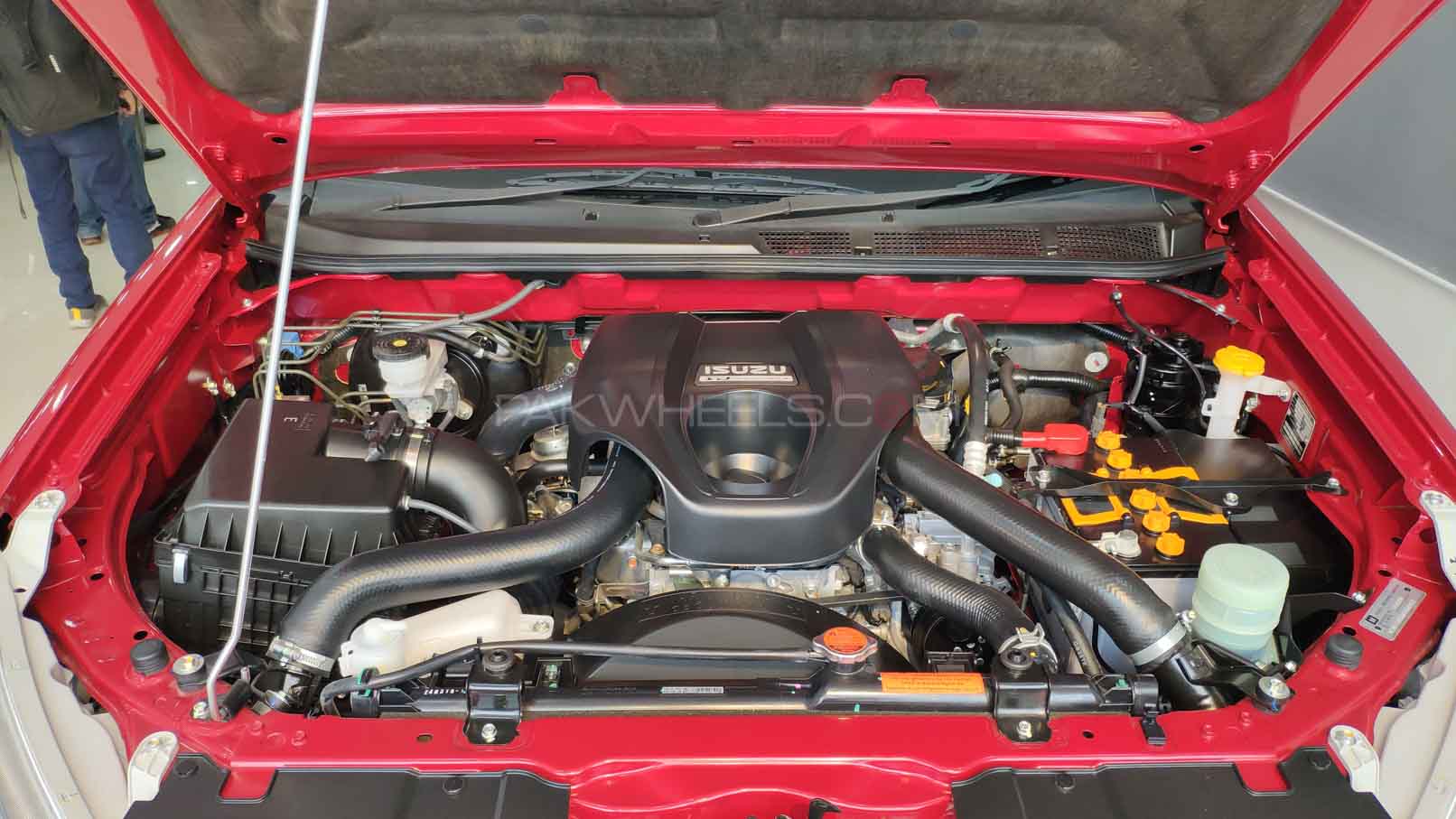 Exterior:
D-Max V-Cross LS variant is a 3000 cc 4×4 vehicle. All the pickup trucks that are being made across the globe has the identical rear end profile. The only thing a manufacturer can play with is the front fascia of the vehicle and Isuzu did the same with D-Max. Due to its front chrome, it has a bulky look that resembles with the Ford Ranger. V-cross has 5 mm larger wheelbase than a Revo. The front nose is lower than other trucks such as Revo- it is designed to give more stability to the vehicle. I have been driving Nissan Navara as well, and its front nose is also lower compared to its competitors which gives more stability to the vehicle.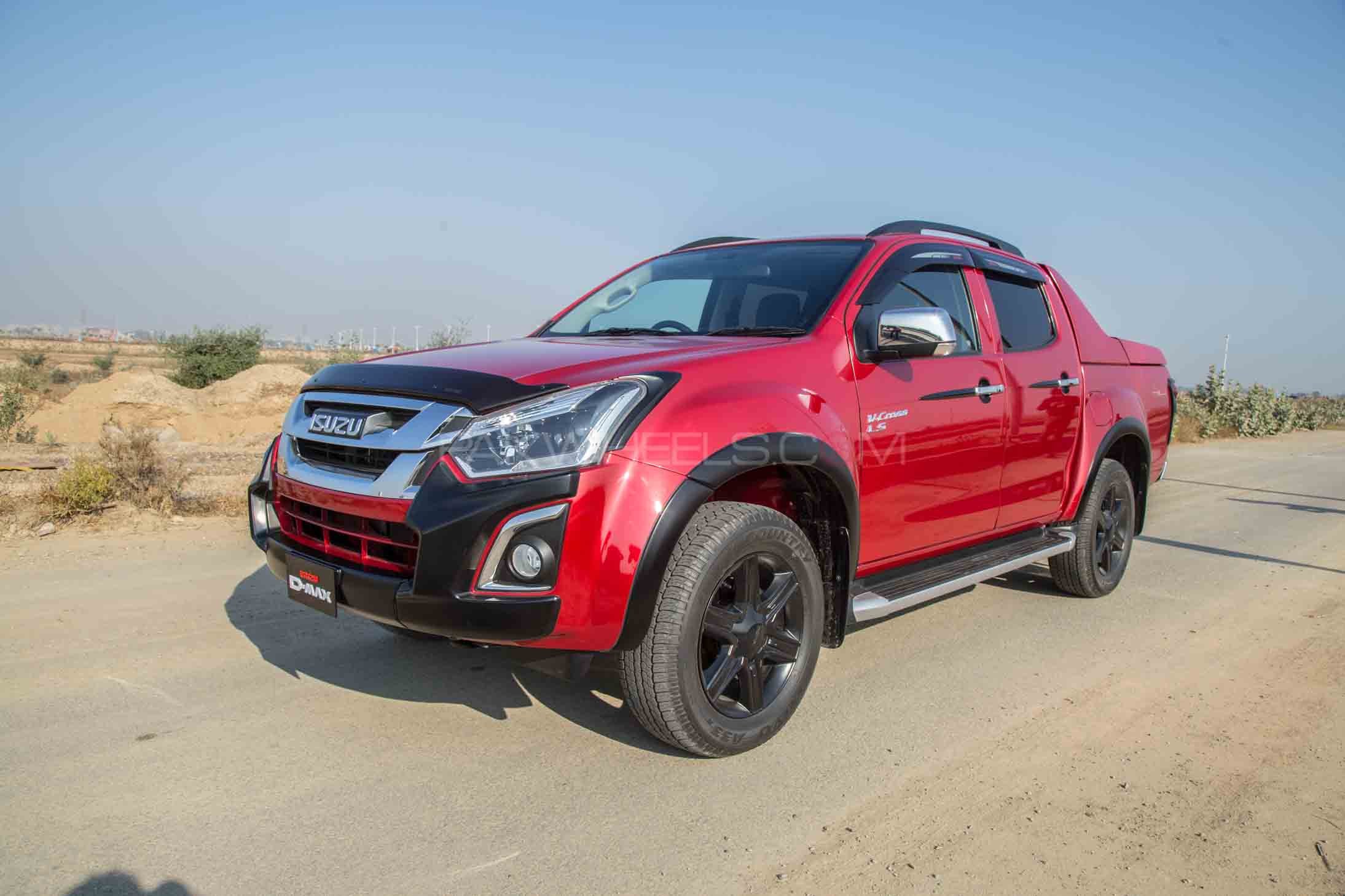 Moreover, at the front, it has dual projector headlamps with daylight running lamps. However, there are no Xenon lamps, but you can buy and install them from any Isuzu 3S dealership.
The black plastic apron at the front doesn't come as stock, as it's an LS variant with full options that's why it is there, you can also install it by spending money. Furthermore, it has fog lamps with chrome lining which, in my opinion, looks remarkable. The side profile of the vehicle is again amazing. It has all-terrain Toyo tyres with 18 inches black alloy rims. Note here that only the vehicle under review has sporty black rims. The LS variant, which you will get from the company, will house silver rims but can be changed with the black ones as per your preference.
The side step of the D-Max is also good; the silver lining is giving it a more pronounced look. Additionally, the side mirrors of the vehicle have LED lamps as indicators and have chrome garnish finishing. The air press comes as stock in LS variant. However, roof rail doesn't come as stock.
At the rear, the tail-lights have LED lamps, which looks prominent at night. Rear trunk cover doesn't come as stock, but you can purchase them from the company showroom. There is a plastic lining in the trunk, so you don't have to put an extra cover on it. A high mounted brake lamp and shark fin antenna are placed at the rear. At the rear chrome handle, there is a rear camera as well. Same as front, the back side of the vehicle also looks bulky.
The overall exterior of Isuzu D-Max is impressive, the shape, design and the built is just amazing. I will give 9.5 out of 10 for the exterior. Have a look!
Interior:
Firstly, the car has a keyless and smart entry option–meaning you don't have to put your key out to unlock the car, you just have to have the key in a certain radius, press the button at the handlebar it will open automatically.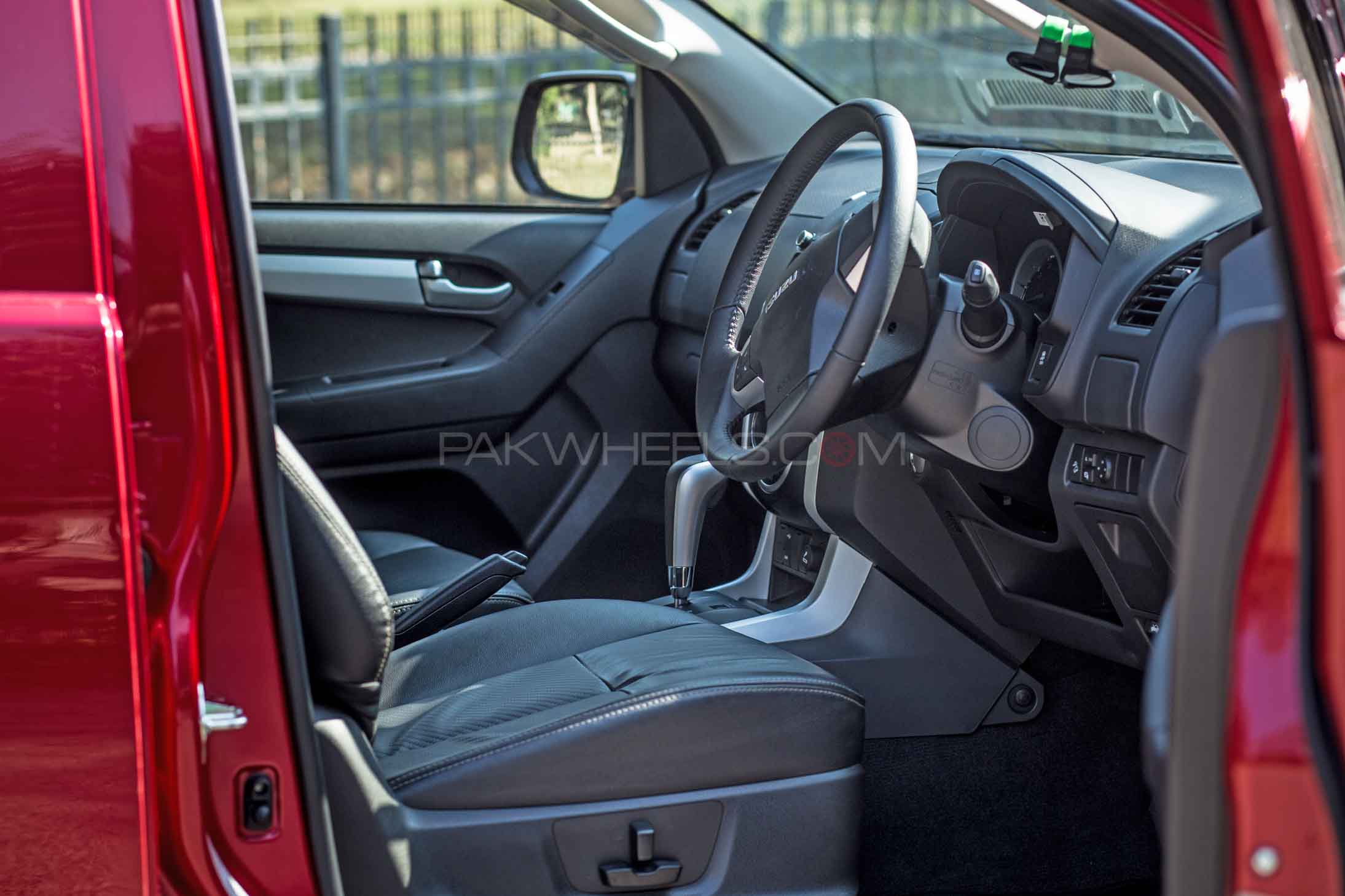 Some people complain that when the batteries dry out, it becomes difficult to open as it lags, no need to worry at all, there is a conventional key placed in the keyholder, just press the button and put it out, now you can unlock the car.
When you enter the vehicle, the first thought in your mind come that the interior is not so fancy, but it has all the bells and whistles. The overall cabin of the D-Max is very spacious. The dashboard design is not modern looking than Hilux Revo. I will give 8 out of 10 to the overall aesthetics of interior and 10 out of 10 to functionality and the features, which we will discuss further.
The first thing I would like to mention is the push start button, which in my opinion, should have placed at a more comfortable place. The car is equipped with electric seats and the leather quality is just amazing. Cushioning is great for both the driver and the passengers. I almost drove this car 12kilometresers in a single day, but I didn't feel any kind of lethargy due to its cushioning.
If you talk about speedometer again it is not fancy as Revo but it gives all the information you need, fuel average, trip distance etc. The car comes equipped with tilting steering, however, the one thing I missed was cruise control.
The infotainment system of the vehicle is outclass. It has an 8 inch TFT touch screen, which shows all the options. D-Max has 8 speakers with live surround sound which doesn't come in other cars. Additionally, it ha as roof mounted speaker as well. Furthermore, the vehicle comes equipped with USB charging/ HDMI/Aux ports.
It has a flylink option– in simple terms, your car system easily connects to Android and iPhone cellular system and the touchscreen becomes your mobile, it is commonly known as mobile mirroring.
Note here that DVD of the vehicle will not work when it is running on the road, I think it's a good safety feature as people usually use DVD while driving the vehicle which causes serious accidents. Security features include; Anti-theft alarm clock, immobilizer etc. D-Max has defogger in rear screen, which I didn't see in other pickup trucks, so it's a plus point. Also, the rear seats are foldable–meaning extra for carrying your luggage.
Isuzu D-Max has a tyre pressure monitoring system, which I didn't see in much of the cars which are coming to Pakistan. Another perk which the vehicle host is that it has wireless charging options– in layman terms, connect the phone with the vehicle via Bluetooth it will automatically put the phone on charge. You are killing two birds with a single stone–meaning your mobile has been put on charging and you don't need to answer the call with mobile in your hands just use vehicle's steering buttons or touchscreen to do your task.
Now coming to the a/c of the D-Max, it's a digital climate control as it's winter so we won't be able to tell how good ac is, but we tested the throw and it was quite good. Moreover, the vehicle has dual airbags, Downhill assist, traction control, mode selector knob, electric folding retractable mirrors etc. Furthermore, there is ample amount of space available inside the car, there are lots of cup holders which the company has shipped with the car both at the front and the back.
The headroom and legroom at the front and at the rear is good. D-Max has better headroom than revo and has almost 4 inch bigger legroom in the rear. Revo's rear legroom is 31.6142 inches and that of Isuzu is 36 inches. D-Max can easily house four adults in a longer journey, however, in the city 5 adults can easily travel through it. Additionally, there are five seatbelts in the vehicle, one is for the baby. Same as the front, cushioning at the rear is good as imported leather has been used by the company to give comfort to the passengers. It has a rear 10 inch screen as an optional accessory.
Power, suspension and braking:
The comfort and handling of the vehicle is superclass compared to its competitors, however, one thing I would like to mention here is that the cabin is not soundproof, at high speed the outside noise easily sweeps in.
The vehicle is powerful. It didn't lack the power when I floored the accelerator.  Moreover, the curb weight of Revo is 2030 KG and of Isuzu is 1,935 KG. Almost the same power to weight ratio despite of Hilux Revo having higher horsepower & Torque because D-MAX is lighter in weight than Hilux Revo. The company equipped D-Max with its latest 4JJ1-TC Hi Isuzu diesel engine. The 3000cc turbo diesel engine (intercooler) makes 163 bhp and 380 Nm torque (Revo's 1GD makes 450 Nm). Its 5-Speed automatic Tiptronic transmission is very efficient in both upshift and downshift compared to its competitors, you won't feel any lag in it.
The suspension of the D-Max is very much smooth and even better than the Hilux Revo. It easily crosses any potholes and speed breakers. I tested the brakes and in my humble opinion, the brakes are exceptional. As mentioned above, the vehicle has following safety options:
Traction control system

Electronic stability control

Hill Start Assist

Hill Descent Control

Dual SRS airbags

ABS with EBD

Brake Assist: downhill option
Stability is better than Revo, it doesn't sway as the front nose is lower than Hilux Revo. Even if you manoeuvre the vehicle at high speed, the vehicle doesn't sway.
Moreover, one important point I would like to mention here and that is in Moose test D-Max performed exceptionally well than its competitor Revo– meaning the stability of D-Max is on point.
We tested the off-road capabilities of the vehicle and it performed great. One thing that I'd like to mention here is that why the vehicle performs well during off-road trips is because of LSD. As the vehicle is equipped with electronic LSD, it doesn't have Diff-lock.
So what is LSD?
Limited-slip Differential a.k.a an LSD prevents excessive power from being allocated to one wheel of the vehicle.
Note that, most of the people prefer differential-lock equipped vehicle over an LSD equipped vehicle while off-roading on rocky terrain. However, both have pros and cons.
Fuel economy:
As I always say that fuel economy depends on how you drive the car, however, in my personal experience, the fuel average of this vehicle in the city is 9-10 litre per kilometre and on highways, it is around 14 litre per kilometre, which is pretty good.
0-100 speed test:
The initial acceleration of Isuzu D-Max is good. The pickup truck managed to go from 0-100 kph in a time of 9:35 seconds and after applying the brakes, it stopped without any problem and covering much distance.
Verdict:
All in all, the vehicle is very good and impressive. I drove this vehicle in all terrains and it performed well especially its off-road capabilities are exceptional due to LSD. D-Max is not a new name for people who do rally driving, they all know how capable this particular machine is. Last year in Thailand, D-Max competed toe to toe with Hilux Revo in terms of sales.
The people who deal with car modification and off-road racing know that divers use its turbo, so its acceptability in Pakistan will not be an issue. It will surely diversify the local auto industry and one can buy it without paying any sort of premium. All you have to do is walk into the showroom and walkout with the vehicle; as simple as that. The vehicle is for anyone, be it 4×4 rally driver, traveller or a casual driver. Before D-Max, people only had Revo to choose from. So, this is indeed a good option for the people. If we see the price tag, Toyota IMC is offering Rush at the same price, but D-Max is by far superior to Rush, even better than Revo in terms of features and options.
The company is offering the vehicle in a price range of PKR 2,425,000 (basic variant) to PKR 4,675,000 (top-of-the-line); however, these are the ex-factory prices. If we look at the price tag and the features, it surely is better than its competitor Revo. It is almost 7.25 lac cheaper than a Revo but has all the bells and whistles even more than Revo.
Last, but not least, is its resale value. People buy car keeping in mind the resale value of it. It depends on two factors, first is spare parts availability and the second the servicing. But in case of buying Isuzu D-Max, you don't have to worry much! The company has 3S dealerships, which are operational in Quetta, Lahore and Karachi. Moreover, the company will also be opening its dealership in Islamabad, Multan, Faisalabad and Peshawar, soon. So parts availability and servicing will not be an issue. The parts and original accessories will be available at competitive prices.
See the video review below: