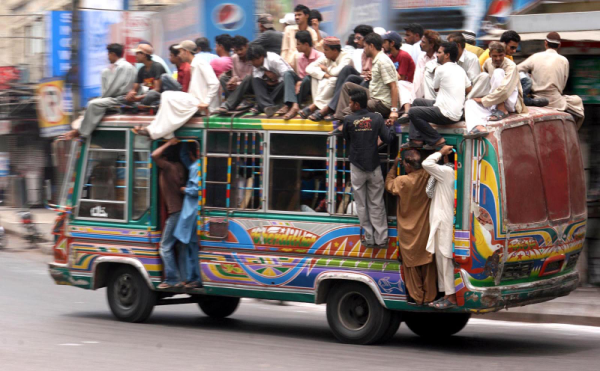 The City Administration in Karachi has restarted their campaign against the public transporters who have not yet taken the precautionary standards since the February 25 deadline has ended, even after a further 10 days leniency on their substandard vehicles.
In the latest campaign, the school vans, buses, private taxis and rickshaws would be inspected for substandard CNG cylinders, fitness certificates, driving licenses, fire extinguishers and emergency exit doors.
The secretary of Regional Transport Authority, Manshad Ali said: "We will no longer show leniency toward any public transport vehicle owners" He also added that failure to compliance with the safety standards would result in getting the drivers licenses revoked, and in extreme cases, the licenses and permits would be cancelled forever.
Regarding the inter-city coaches and buses, he added that his department had already seized 25 vehicles and imposed fines worth Rs. 0.5 million. He also said that the campaign was proving to be effective as the inter-city bus operators had already started installing emergency doors in their vehicles.
The buses at major terminals are being inspected according to him and they are not allowed to start their journey without emergency exits.
Karachi's Comissioner, Shoib Ahmed Siddiqui held a meeting regarding the safety measures adopted for school and inter-city vehicles. He said that it has been decided to take effective and practical measures to ensure that school buses and vans meet the requisite safety standards. Speed limits have also been defined on certain roads. A notification for this purpose would be issued soon for this purpose by the Secretary of RTA.
via Express Tribune