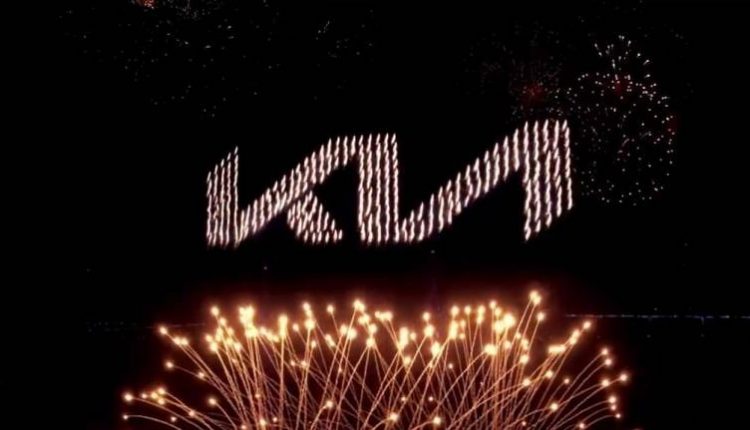 Kia Makes a Splash with New Logo and Slogan
Another episode of the hit 'New Year, New Me' series of 2021 feat. Kia, a world-class Korean automaker. The car brand has reinvented itself with a brand new logo, a slogan, and a world record. Last night, Kia revealed its new logo by lighting up the sky with pyrodrones in Incheon, South Korea. The automaker even made a world record of "Greatest launch of fireworks by unmanned aerial vehicles in a synchronized way" or simply the "Most Synchronized Fireworks Ever".
The New KIA Logo
The new logo represents the automaker's new brand strategy. K, I, and A, all three letters are joined by a continuous unbroken line in the new logo, and that continuity symbolizes the brand's everlasting commitment to delivering moments of inspiration. The symmetry of its design embodies the automaker's confidence. And lastly, the lines that rise demonstrate the brand's growing ambitions.
"The new Kia logo represents the company's commitment to becoming an icon of change and innovation, The automotive industry is undergoing a period of rapid transformation, and Kia is adapting and molding to those changes. Our new logo represents our desire to inspire customers as their mobility needs evolve, and for our employees to overcome the challenges we face in such a fast-changing industry," said Ho Sung Song, President and CEO of Kia at the event.
The New Slogan
The automaking company has replaced its old slogan of "The Power to Surprise" with a new one that says "Movement that inspires". The old tagline was in use since 2005.
Coming Up Next 
This logo and slogan unveiling show will be followed by another event where Kia will reveal its new auto lineup. The company plans to announce the new generation of the Sportage, Cadenza and five other major releases via the YouTube live stream on the 15th of January. Along with other new additions in the Kia lineup, there are hints of a new Kia Electric Vehicle. 
2021 is looking good so far with Kia as a frontrunner in the automotive industry. We are excited to see what the company has in store for the international market. 
Keep visiting PakWheels Blog for more auto industry news and updates.