The Mazda MX-5 has been around for a few decades now, and in all that time it has cemented itself to be one of the best driver's cars you can buy on the cheap! Just a few years ago the MX-5 faced competition from rivals like the MR-2 from Toyota or the Barchetta from Fiat. Fast forward to 2018, and those models are nowhere to seen any more; discontinued by their manufacturers because they just couldn't match the fun-loving formula that Mazda applies so well in the MX-5. The fourth generation Mazda MX-5/Miata has been on sale for around four years now, and its been doing pretty well outselling its rivals. But for 2019 the MX-5 returns to us but with more power, always a welcome addition.
Also Read: Nissan will soon replace the 370z
Official numbers for the 2019 Mazda MX-5 have been released from the manufacturer, and the nippy little roadster has gotten the power upgrade some argue it so desperately needed. Mazda has reworked the MX-5's Skyactiv-G 2.0 litre engine to improve response, performance, feel and efficiency. As a result of this update, the perky little engine now produces 181bhp and 151 lb-ft of torque. While that is only an increase of 3 lb-ft of torque from the previous engine, it gains a massive 26bhp in this specification. But something that might be even more refreshing to hear is that Mazda has actually upped the redline limit of the engine from 6,800rpm to a massive 7,500rpm. We also get a brand new fruitier exhaust system that Mazda says delivers a "richer sound quality". Mazda says these changes make the Miata/MX-5…
quicker, more responsive and aims to be more engaging to drive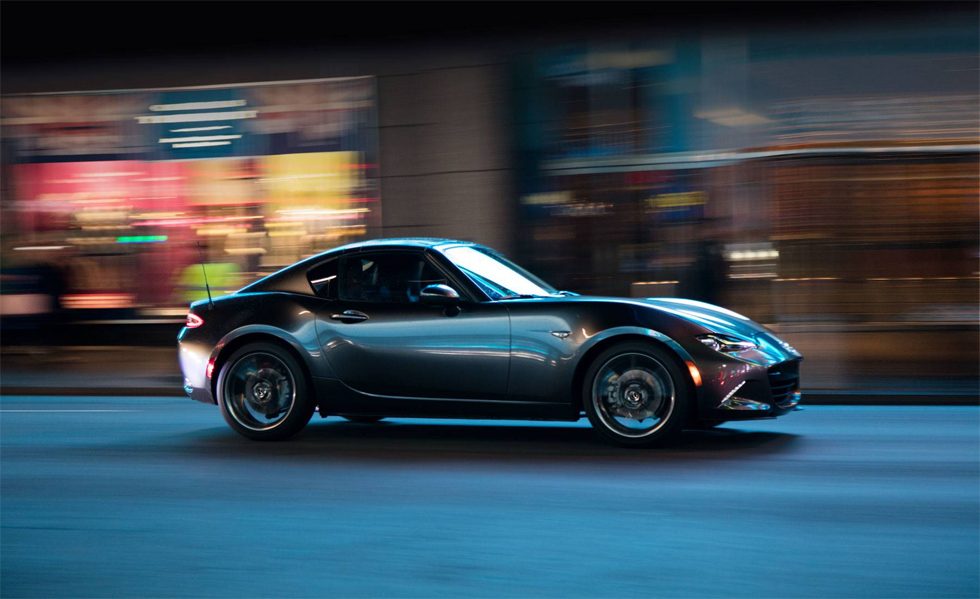 It still remains to be seen whether or not this power bump will have any effect at performance whatsoever. The current MX-5/Miata needs 7.3 seconds to reach 100kph(62mph) and tops out at 214kph (133 mph). Alongside an updated engine there is a brand new brown canvas soft top option, in addition to brand new 17-inch wheels that feature a darker finish, a new telescoping steering wheel with 1.62 inches of travel, revised cupholders and seat levers, and some "easier to open doors" whatever that entails. All trim levels will now include a backup camera as standard, and optional equipment now includes Traffic Sign Recognition, Smart City Brake Support in addition to a host of other ActiveSense Safety Technology that is available across different trim levels. Pricing and official specifications for the 2019 Mazda MX-5/Miata are yet to be announced.