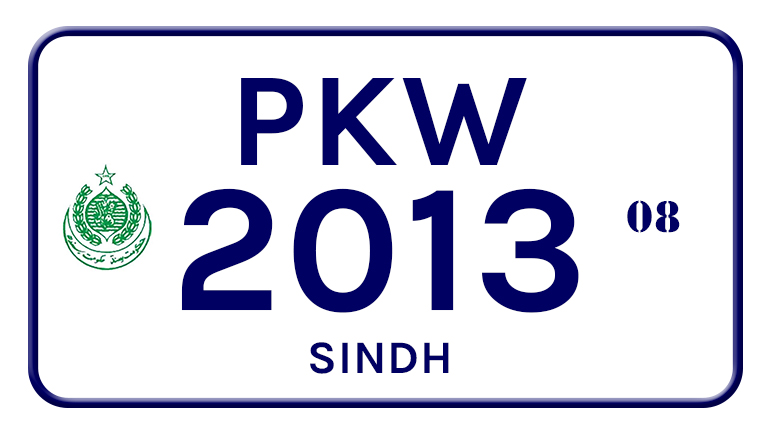 It has been two years since new vehicle owners have received a registration plate from Sindh Excise and Taxation Department. According to the Deputy Director Excise and Taxation Department Shahabuddin Khatri, the delay is because of the two companies that went to the court once the tender for printing the Sindh number plates was issued last year. The tenders were invited from private firms in order to award a contract for the printing of new Sindh number plates. However, one of the companies took the issue to court claiming the other company won the tender on the basis of favoritism. The judges issued a stay order and since then the department has been unable to hire anyone for the contract. According to the Deputy Director, the number of registered vehicles without a proper Excise and Taxation Department issued number plate is in millions now.
Also Read: Campaign Against Non-License Holders – A Good Effort Ruined Due To Mismanagement
Although the Deputy Director Khatri has argued that the original receipt issued by the Excise and Taxation Department for the issuance of number plates should be enough to stop traffic police from issuing you a fine for driving without a proper government-issued number plates. Muhammad Idrees, the reader for Traffic DIG Amir Ahmed Shaikh also mentioned that the traffic police officials are advised to let those go who have the original E&T receipt. However, the citizens complain that the receipt doesn't always work, and sometimes traffic police take their advantage. Muhammad Idrees, however, did state that the traffic police is authorized to take actions against those who are running fancy number plates.
According to Ismail Chandio, the Excise and Taxation Department Office Superintendent, on average around 1500 vehicles are registered at the department per day. Currently, it is the "BET" series of registration going on nowadays. Mr Chandio admitted that the number of unissued plates runs in millions, and it will be a vigorous effort to remove the backlog. The proposed strategy was to start from the new registrations and move backwards date-wise.
But there is a ray of hope for the new and current vehicle owners without a government-issued number plates. H.M. Shahzad is the chairperson of the All Pakistan Motor Dealers Association, and he remarked that the Director-General and Secretary Excise and Taxation Department have assured the association that the issue will be resolved within the first couple of weeks of January 2016 and process will start after the January 15th.
It is hoped that the new owners will start getting their registration plates soon.