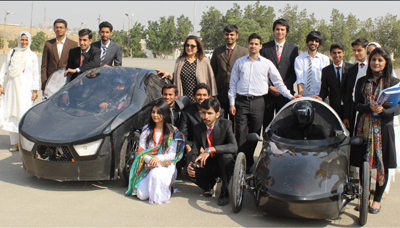 A group of students from the National University of Science and Technology (NUST) successfully designed two cars to take part in an international competition scheduled for February 25, 2015.
Once again, the name of NUST is in the news as a group of 20 students have designed two vehicles for an overseas competition. The students showcased their cars to the media and public recently. According to them, these vehicles are very fuel efficient and consume very less energy.
The vehicles are designed to take part in a week-long competition from February 25 to March 03, 2015 in Philippines in which the car that will achieve the maximum mileage, will be declared as a winner.
The team manager told media that this time we are hoping that our designed cars would give us a mileage of 150 kilometers per litre of fuel.
Both vehicles are powered by 70cc gasoline engines with safety and proximity sensors installed in a carbon fiber body. These sensors would help the driver to communicate with the vehicle to get the readings.
Indus Motor Company (IMC) has taken an interest in this project and sponsored the team to take part in the international competition.