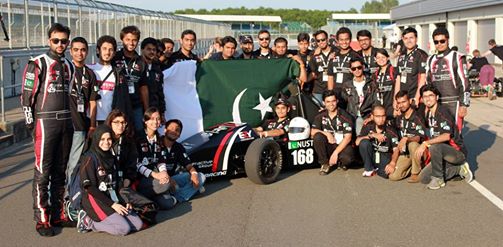 NUST's Formula Student team stuns the competition with its performance
The NUST students' car, NAS-14, named after late Naval Captain Nadeem Ahamad Shaheed, has jumped 33 positions and has stood at 52nd position this year making a significant improvement in their performance. A total of 106 teams had participated in the Formula Student event held in England.
The event took place between July 9 to July 14 at the famous Silverstone Circuit in England, and though the team couldn't finish at the podium, however, team Pakistan had been declared as the best team of the event with better media support than the rest. NAS-14 was covered by the print media a total of 88 times while the electronic media had covered it a total of 30 times. Apart from the notes of encouragement which the team received throughout the tournament.
The driver of the car, Shah Talha, said that their car took every team by surprise and surpassed the expectations. The car ranked even better than some of the more experienced teams like Egypt, Turkey and India. The car managed to clear five out of a total of six inspections in the competition which were one of the greatest challenges of the tournament.
Here are some memorable glimpse from event.