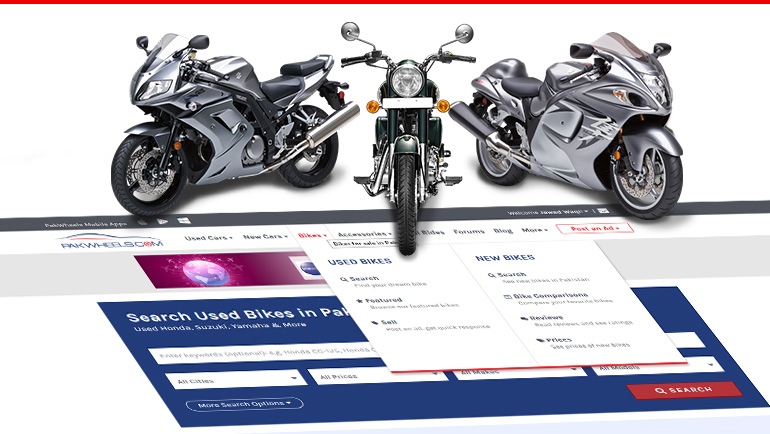 PakWheels Bikes Section Can Help You Sell Or Buy A Bike
Bikes in Pakistan: sell, buy or find user reviews, bike comparisons, specs and much more – only on Pakwheels
We at PakWheels try to cater as much auto consumers as we could. Our aim is to become a one-stop-shop for all your automotive needs. We try to help in any way we could, whether you are looking for a new family sedan, or selling your SUV, or looking for information regarding any car trouble that you have, or if it's related to bikes. Bikes are the most used mode of transportation for Pakistanis today.
In the fiscal year of 2014-15, total numbers of bikes sold nationally were 766,733 units. And a year before that, in 2013-14, the number was 772,046 units.
Yamaha Japan was the latest entrant in our bike market. Atlas Honda has invested millions of US dollars to increase the production of their bikes. The fact that new bike makers are coming, and current bike makers are investing more, this only means that Pakistan's bike market is expanding, and our bike consumers are getting more options.
Click here to visit PakWheels Bikes Section
Since the goal of PakWheels is to become the main portal of any sort of auto-related activities, bikes play an important part in all this. We have a dedicated bike section on our website where potential buyers can look for not only the information regarding the new bikes available in Pakistan but also can browse through the huge number of used bikes (foreign and domestic). The bike section is divided into two further categories. New Bikes and Used bike.
Let's explore NEW BIKES section first.
This section further has four categories.
Search
Bike Comparisons
Reviews
Prices
In Search, you can find the locally made and available models of various bike makers. The page will also show the popular new bikes that are being searched and looked at by the internet surfers. In the fields provided, you can select the bike maker, model of the bike, and price range. And we will show you all the bikes of that maker in that price range.
It can be a beneficial tool for those who are looking to buy a new bike but are confused and want to do a side by side comparison. You can select three bikes at a time to compare their pricing and specifications.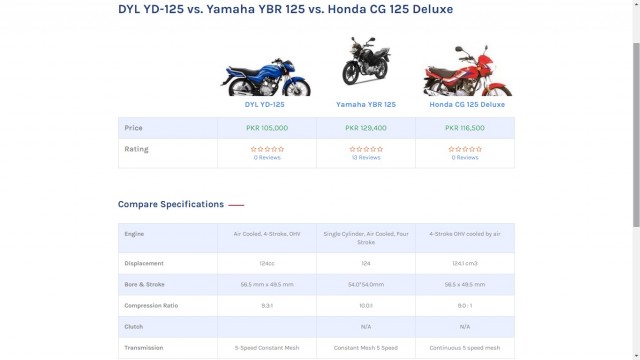 Reviews are yet another very handy tool for the potential buyers. It gives you the first-hand reviews of the current bike owners. You can go through them and decide for yourself if you find a particular bike suitable or if the bike has any manufacturing defect that owners are not happy about.
You will find all the updated prices of the new bikes here.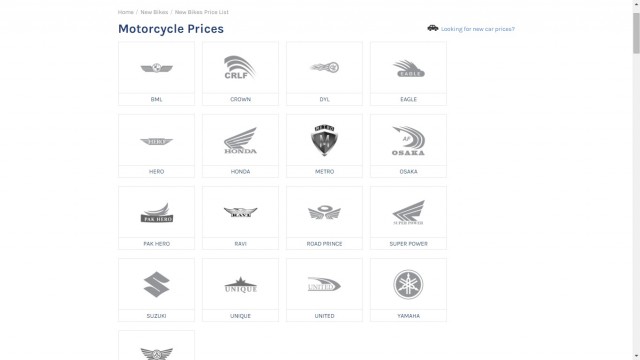 Used Bikes section is there for those who are looking for a used bike. This section further has three sub-sections to help you.
Search
Featured
Sell
In Search section, you can either search the bike you are looking for with name or use the dropdown menus to search for the exact bike. You enter the name of the bike you are looking for and further narrow down the search by entering the model year, the price range, the city you want the bike in and few more options to further refine your search. You can even select what category bike you are looking for, like 'Sportsbike', Scooter', 'Cruiser', 'ATV' etc.
RELATED: Heavy Bikes for Sale in Karachi
Feature section is there is find you the best deal. We find the verified sellers and the best deals and put them up for you to choose. You can further select the options to refine your search.
Sell is of course there if you are interested in selling your current bike. You will enter the details of your bike including a description. Your ad will be verified through SMS verification for potential buyers to have peace of mind.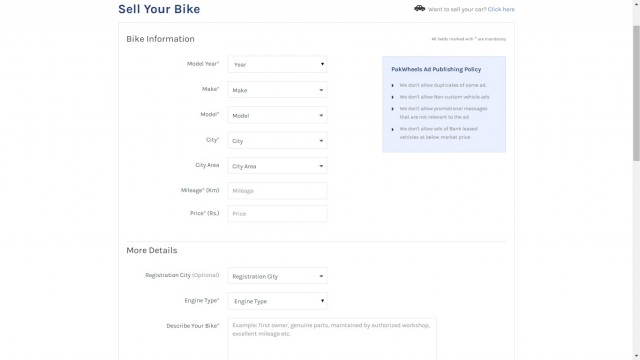 Needless to say, PakWheels Bike Section is fully prepared to help you find exactly what you are looking for, and also to help you sell your bike if you are interested in another one. The whole section is a great tool, and can provide unmatched support to our visitors.
Bikes for Sale by Body Types