Who else understands Lahore's love of cars better than PakWheels. Makes it the perfect reason to hold the auto show in 2016, like every other year, at the Liberty Market Parking lot. Unlike past years, the auto show is going to be held on Sunday, 28th February instead of March due to people's demand to bring the show to Lahore.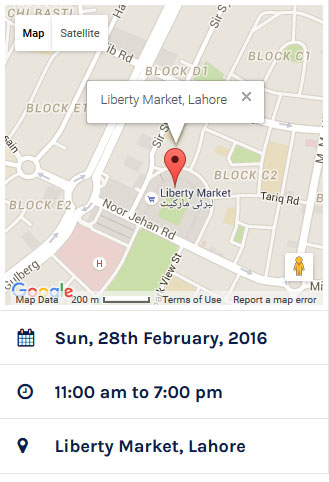 PakWheels has arranged the festival of speed in a lot of major cities of Pakistan but 'Lahore Lahore hay!', and that's why this will be the sixth show to be held here with high ambition and enthusiasm to make it bigger and better than all previous shows. PakWheels have arranged auto shows in all major cities of the country including our capital Islamabad, Peshawar, Multan, Faisalabad and Karachi.
The first-ever auto show in Lahore was conducted in 2011; it was also the first time people of Lahore got to express their passion and love for cars. An estimated 150 cars and motorcycles were showcased in the auto, and approximately, 20,000 people came to visit the show. In 2012, the auto show grew since about 300 cars and motorcycles were present, and 35,000 people were estimated to have been there. In the following years, the response grew by a margin none of us had anticipated.
2015 Lahore Auto Show set new precedents for success with 300 rides including cars, 4x4s, and motorcycles, an estimated crowd of one lac people had come to enjoy the show. From colorful Vespa scooters to the most expensive cars (including Ferrari and Lambos) there are in Lahore graced the show with their attendance. In addition, Ali Zafar came to inaugurate the event.
Check out the Video Highlights of Lahore Auto Show 2015:

Given the successful history of PakWheels auto shows, we're quite stoked about the upcoming Lahore Auto Show and hope to give a festival to the people of Lahore to celebrate our love for cars, 4x4s, and motorcycles. But don't think that the auto show is only for the car enthusiasts, no sir, it is for everyone as entertainment, and other activities will be there to make sure everyone has a giant smile on their face when they leave.
If you'd like to showcase your car at the Lahore Auto Show, then click here to register your vehicle.