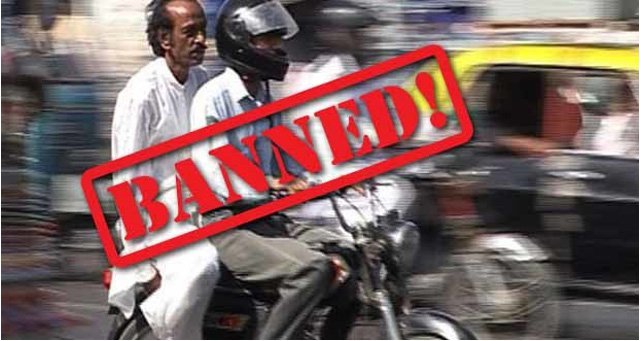 In an aim to ensure the safety and security of the citizens in Muharram, the district authorities have banned pillion riding in the capital for two months.
As per the media reports, the decision to impose a ban on pillion riding for the next two months has been issued by  Islamabad Deputy Commissioner Hamza Shafqat on 9 September 2018. It is quite interesting to note that, usually authorities impose the ban on pillion riding for a week or two on such occasions to strengthen security, however, this time it's for straight two months.
While talking about the ban, the deputy commissioner said that this time around threats is high that's why they are imposing ban this long, but children and elderly is exempted from this ban, he further added.
Read Also: Traffic Police in action against bikers who are not using a helmet
However, the local bike ride-hailing services will also be affected by this ban, as the authorities will not allow two adults to ride on the bike during a two-month time period. The bike riders have protested against this decision and urged the government to look into this matter and solve it as quickly as possible.
Moreover, government officials will be exempted from this ban. It is indeed a good decision to think about public safety and security, but the authorities should make such measurements, which don't restrict the people who are earning their for their families through bike ride-hailing services.
Aside from banning pillion riding in the capital, the Islamabad Traffic Police (ITP), last year, in the city, issued 96964 tickets to bike users who ride without a helmet, while confiscated 4532 motorbikes as well. The main aim was to encourage people to wear a helmet while riding a bike.
That's it from our side, drop your thoughts in the comments section below.