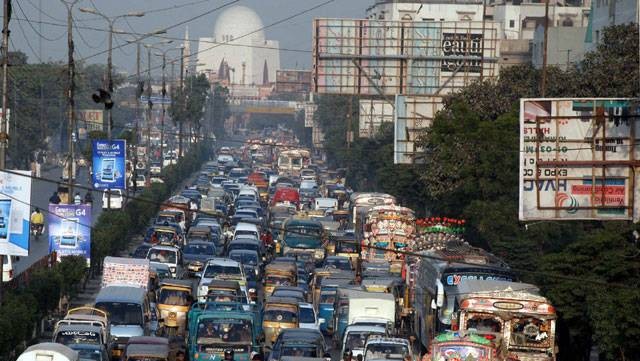 Pakistan Sustainable Transport Project (PAKSTRAN) in collaboration with UNDP held a workshop named "sustainable urban transport policy and transport/traffic management issues" about the menace of increasing traffic in the country on 15th December. Experts remarked how important it is to find a solution and implement a proper traffic management policy to counter the increasing traffic congestion in all bigger cities of Pakistan and especially Sindh.
NED University's Department of Urban and Infrastructure prepared a policy draft on PAKSTRAN project Sindh. The draft was presented to the participant of the workshop to discuss and pitch in ideas regarding the increasing traffic congestion.
Also Read: 90pc Of Drivers In Karachi Don't Have A Valid Driving License
Mir Shabbar Ali, the NED University's Department of Urban and Infrastructure Engineering Chairman, said, at least, PKR 400 billion of fuel burns annually due to the traffic congestion in the Karachi city. The urgent need for an effective public transportation system on a mass level. Also, the current traffic signal system in Karachi city is insufficient in handling the heavy traffic load of the city and needed to be upgraded to the latest planned models. The role of illegal encroachments in traffic jams was also discussed and the Chairman suggested that in areas including Sadder, MA Jinnah, Tariq Road, Gulistan-e-Johar and Gulshan-e-Iqbal, removing encroachments will help resolve the traffic issue.
Manager PAKSTRAN, Yar Muhammad asked for the transport sector be declared as an industry to attract investment from private sector.
The workshop was attended by CIU Sindh, Karachi Traffic Police Department's DIG Dr Amir Ahmed Shaikh and other traffic police officials, , NED University's Department of Urban, CNG Owners Association's President Malik Khuda Bux, PAKSTRAN's Director Fazal Karim Khatri and Manager Yar Muhammad and Infrastructure Engineering Chairman Mir Shabbar Ali and representatives Pakistan Oil Tankers Owners Associations.