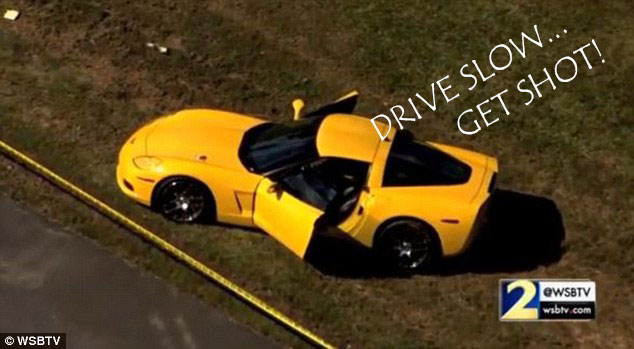 Road Rage In USA – You Might Get Shot For Driving Slow!
There's no denying the fact that slow drivers can be a bit annoying, like when your traveling on the GT road and you see a car driving at something like 50 km/h and causing massive inconvenience to the cars behind it. Though it seems that the owner of a black Ford Mustang in Georgia, USA, really really hates slow drivers. So much in fact that he decided that he should shoot them off the road.
Angela Christiano along with her 25-year old son were traveling in their yellow Chevrolet Corvette C6 on a highway. There's no information yet on how fast or slow they were traveling but they were in the center lane of the highway and that meant any driver who wanted to overtake them could do so without any inconvenience. While she was driving, Angela noticed a black Ford Mustang that started following their car very closely, she signaled to the driver to pass her but instead of overtaking her, the Mustang driver started to drive right alongside the Corvette and then fired a gun multiple times into the car hitting Angela in the upper back.
She was able to bring the car to a stop on the right hand shoulder of the road where afterwards she was taken to hospital and is currently in serious condition. No one driving at the road at that time was able to identify the black mustangs number plate. Shooting someone for driving too slowly has to be a new record of low, we hope that he is caught by the authorities soon and dealt with accordingly for the idiotic crime he has committed. Or maybe the Mustang owner thought he was playing GTA, or just an extreme case of road rage!
Story: JP