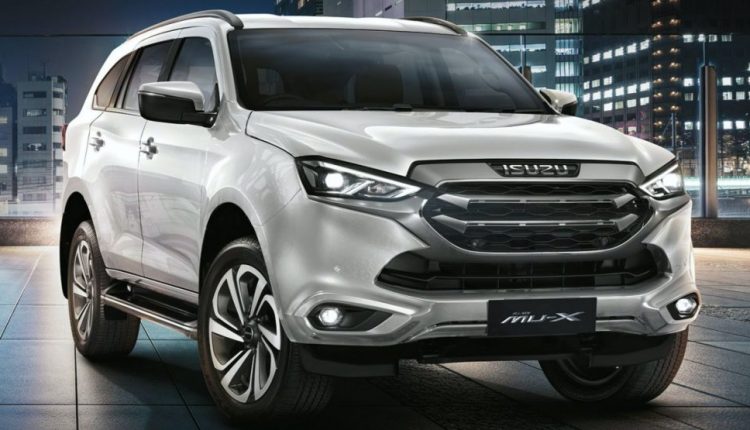 Should All-New Isuzu MU-X be Launched in Pakistan?
Isuzu has revealed the all-new MU-X, a 3-row SUV. This vehicle has the new third-generation Dmax revealed late last year/ October 2019 for Thailand and other regions. As of now the new MU-X is available in Thailand but will go for sale in other markets soon.
Features of Isuzu MU-X: 
The MU-X utilizes the same formula what Toyota use for its Fortuner, and that is using the Pickup truck platform. This is the second generation of the 3 row SUV sitting on the new 3rd generation Dmax ladder frame chassis. Dimension wise it is 4850mm long, 1870mm wide, 1875mm tall and has a wheelbase of 2855mm.
To understand the footprint for a comparison, Fortuner is 4795mm long, 1855 wide and 1835mm tall while the wheelbase is around 2750mm. This means that the MU-X is larger on the exterior size in every dimension in comparison to Fortuner.
Isuzu MU-X Exterior: 
The MU-X front grill seems like the new Dmax but has slightly toned down front styling with LED headlights + DRL and front fog lamps in the bumper. The side profile is like any other typical SUV and has a strong character line from front to rear. The bigger side window on D pillar gives improved visuals to the third-row seats. On the rear end, slim taillights with lower license plates position give it a modern look.
Interior: 
On the interior, the dashboard and the instrumental cluster is similar to Dmax pickup. There are some minor changes, i.e., 4wheel drive selector knob in MU-X is on the central console instead of the front under the climate control unit in Dmax. MU-X comes with Auto Brake hold as well as the electronic parking brake as in Dmax.
The second row of seats has 60:40 split while the third row comes with 50:50 split opening. Roof-mounted 2nd and third-row air ventilation vents are also available.
Depending upon variant, power tailgate, 7 or 9" infotainment system with Apple CarPlay/ android auto, multifunction steering wheel with paddle shifters, 8-way driver seat, ambient lighting, dual-zone climate control, remote engine start, keyless entry features are also available.
Safety Features in Isuzu MU-X: 
As of safety, stability control, hill start assist, EBD, ABS, Hill descent control and traction control features are available along with optional active safety features like blind-spot monitoring, rear cross-traffic, forward collision warning and autonomous braking, lane departure, parking sensors, automatic high beam.
Like the 3rd Gen DMax, the MU-X is available with two engine options, and both are Turbo Diesels. The first engine is the RZ4E/ 1.9 Liter 4 cylinder, which makes around 148HP and 350NM of torque. This variant is available with either 6-speed manual or 6-speed automatic. This version is only available as rear-wheel drive. The other engine variant is in the form of a 4JJ3/ 3.0L 4 cylinder. This engine makes about 187HP and 450NM of torque. The 6-speed automatic is the only option, and this version also has with the 4WD.
Price: 
As of price; In Thailand, base model starts at 1.109 million baht [PKR 5.7 Million ] while fully loaded to 1.579 million baht [ PKR 8.1 Million]
Should Gandhara Motors Launch it in Pakistan? 
When it comes to pickup trucks, Hilux/ Revo and Dmax are available choices for customers in Pakistan. In the case of Toyota, you also have an option of 3 row SUV, the Fortuner which has a base of Revo Pickup truck with which it shares a platform, engine, other mechanicals and components.
With the market trend moving towards crossovers/ SUV's, I think it would be an excellent opportunity for Ghandhara Motors to explore this segment. The current Dmax in Pakistan is already a discontinued model, and bringing the new generation of Dmax will also help them develop the MU-X.
As the new MU-X is based on a new Dmax and shares identical underpinning, both models can be developed side by side and assembled on the same assembly line. The currently available Dmax in Pakistan might not be a hit as far as sales statistics. Still, I think a 3 row SUV would be a good bet, especially with actual off-road capabilities. The new Dmax is also a marked improvement over the previous model [as in Pakistan] and might get some sales traction if introduced in Pakistan.
Keep in mind KIA is also planning to bring a 3-row model [Sorento ] very soon and with Fortuner already there, A MU-X under an Rs8 million mark could create fair competition. Well, now it depends on Ghandahra if they think positively about it.
So, what you think can MU-X would be a good contender?