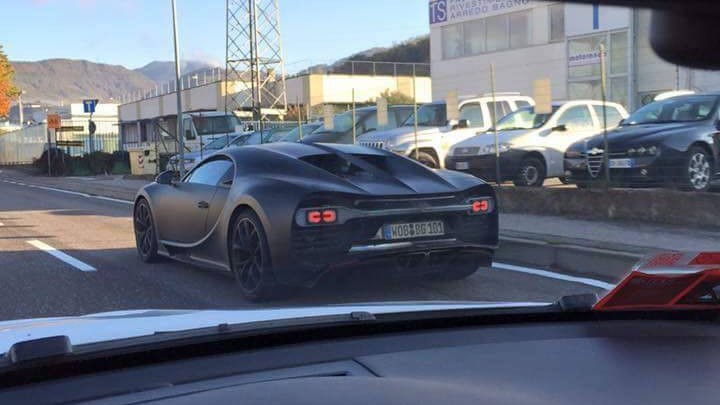 Spotted: Bugatti Chiron Spy Shots And Video
Volkswagen may be facing the worst crisis the company will ever see in its existence but it isn't allowing all that drama to stall the final testing for Bugatti's replacement model for the Veyron rumored to be called the Chiron, which incidentally was just spotted testing on the public roads in Lavis, Italy but not one Chiron but two near identical Chirons finished in matte black were seen casually cruising the streets.
We may not be able to get a sense for the styling due to the heavy camouflage but we can get a sense for general body shape for the Chiron and from initial impressions the hypercar seems to sport a very unique design language. The overall body shape of the Chiron may look almost identical to the Veyron at first sight but there are a series of changes, the roof line is now considerably sleeker than before and the roof now features a fin that continues all the way to the rear deck lid, presumably there to help out with the aerodynamics of the Chiron. The exhausts now feature aggressively styled twin outlet tips and the rear end seems to be all grille to help cool the Chiron's monstrous engine.
Also Read: Bugatti Gran Turismo Concept
And speaking of engine, rumored specifications for the car include an 8.0 Liter quad electric turbo W16 with 1500bhp, 0-60 in less than 2 seconds and top speed of over 280mph. Around 100 Chirons are rumored to have already been sold at a base price of over US$ 2.5 Million when Bugatti revealed the Chiron to a group of potential customers at a private party a few months ago.
If the Chiron is anything like the Veyron then in just a few months time when the car is finally revealed at the 2016 Geneva Motor Show, we might just have our new fastest road car.
You can watch video of test mules here!