For the last few weeks, one subject is being discussed among car enthusiasts especially the prospect buyers of famous Suzuki Wagon R; Why Pak-Suzuki suspended the booking and when will the booking resume? Multiple articles have been posted in recent past on this matter. As per an official letter to the dealers [see below] sent on January 31st 2018, WagonWR booking was temporarily suspended. No official justification was given for this suspension but unofficially and many people were of the opinion that Pak-Suzuki took this action so that buyer start buying the all-new Cultus. Personally I think this could have been a bad move because more model options give more sales in total and by temporary discontinuation of one model, the total revenue can get hurt because the customer who are looking for a particular model most likely will still wait if there is an ongoing suspension.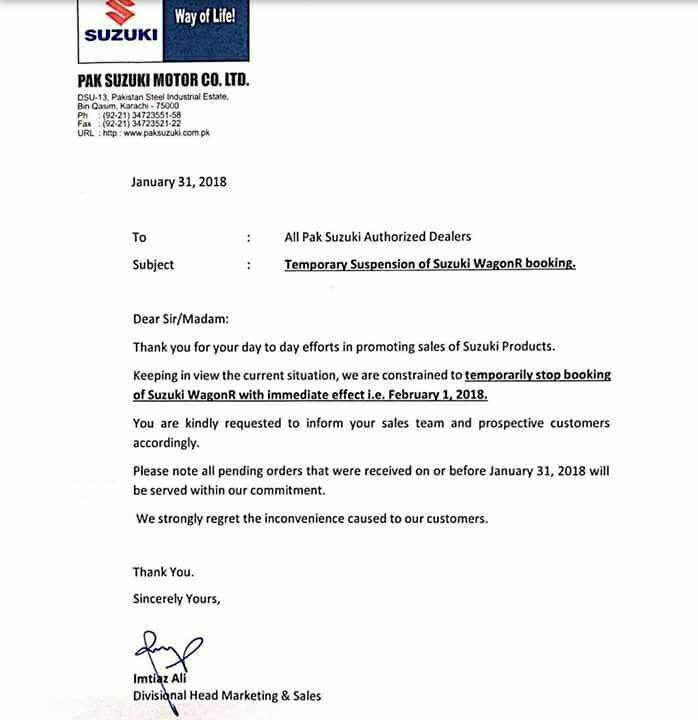 Then earlier this week Pak-Suzuki sent another circular and this time asked dealers to start booking of the WagonR VXR variant with immediate effect while the VXL booking will remain suspended till first week of March 2018. The said letter can be seen below.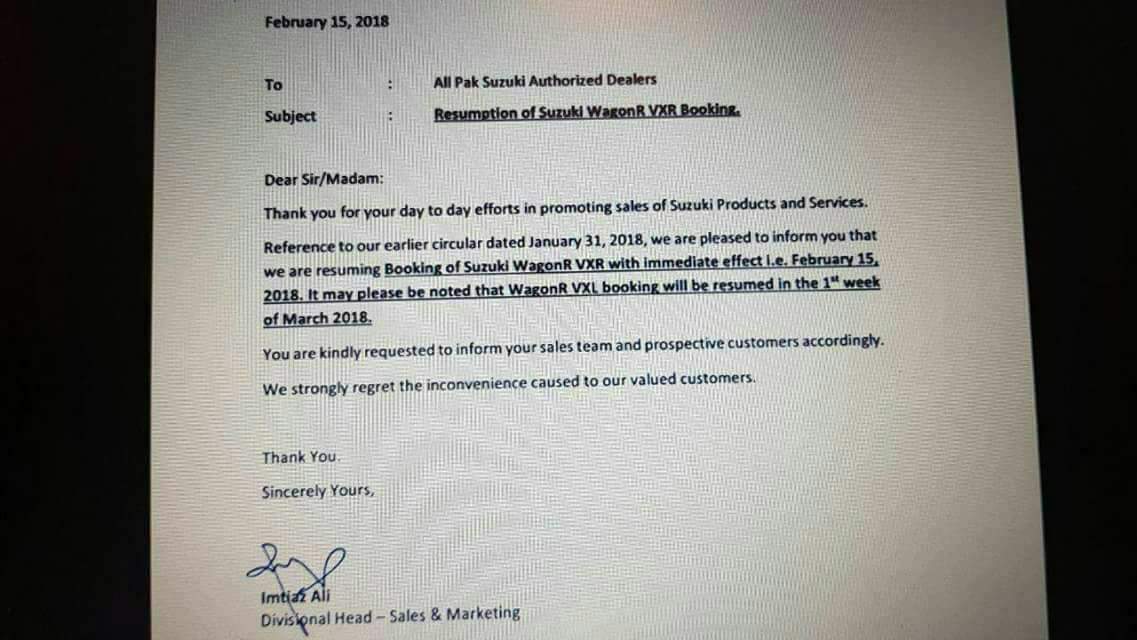 An automobile blogger is always hungry for something new to share and when the booking stopped initially, I reached out to one of my very well respected tipster [name withheld on request]. The source is very authentic as he helped me put together all the details on the new Cultus as well before its launch. On February 3rd, 2018 I was told by him that the only reason booking are suspended is for the fact that Pak-Suzuki is making some upgrades to the current generation of WagonWa and the booking will start in few weeks time. Initially not a lot of details were known but I was told that two major exterior upgrades to VXL will be, addition of "alloy wheels" as well as addition of "chrome trim piece" on the rear hatch door above the number plate.
Also Read: Pak Suzuki to reopen Wagon R booking
It is not a proper facelift, and more like a refresh. But just like the Honda City was launched with a shark fin antenna and was called "new", that might happen here as well.
I asked my source  if there is anything different on the interior but till the filing of this blog, I could not verify and confirm anything about it. I hope and wish the most wanted power windows for the rear passenger becomes reality which currently the rear passenger are not blessed with. Will there be addition of airbags or ABS; it's very early to say but we can at least make wishful thinking.
I have to thank my tipster who was able to share pictures of the alloy wheels at this time. Although the first signs of the modification in shape of alloys are getting mixed reviews on social media, with many saying the steel wheels with plastic caps looked much better than these star styled alloys.  The picture gives a hint of disc brake at a glance , so we might see ABS on the VXL trim at least.
Obviously like always, all these so called modification will come at some cost. Rumors are we might see a price increase above PKR 50,000, while the tipster told me it can be as high as PKR 100,000. Wagon R is a cash cow for Pak-Suzuki and holy cow for the buyers and seems that even after the price bump, buyers will still flock to dealerships and buy it due to its popularity. Due to backlog of orders we can expect increased premiums on Wagon R in coming weeks. We will update our readers as soon as we get more information.