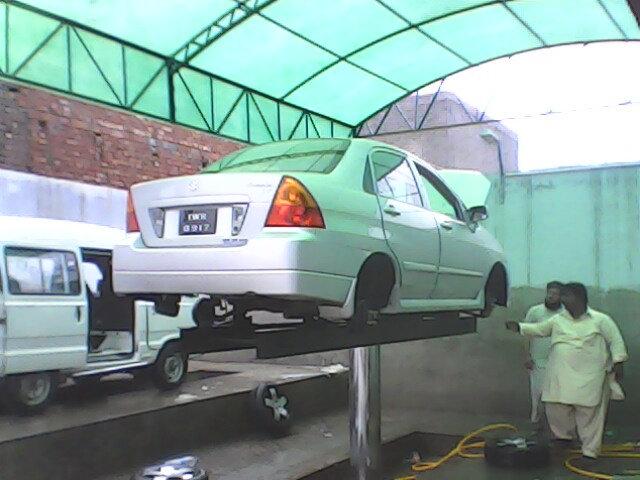 Why You Should Stop Spraying Oil Under Your Car
When it comes to automotive maintenance, Pakistan is probably a country that lies at the very bottom of the awareness index. That is if such an index even exists. In a pre-internet era Pakistan of two decades ago, it was understandable to some extent why the ignorance prevailed, even among the educated class. Today, however, things are much different from the yesteryears. We have modern cars, better training programs sponsored by the manufacturers, more access to informative online content such as service manuals, etc. Despite all that has changed over the years around the world one thing that hasn't changed much in our country is how we service our metal bodied soul mates.
The problem I'm about to highlight here is one of the most common automotive scams / myths / pandemics that exists in our country. When we take our car for its periodic servicing, be it at a dealership or a petrol pump, one of the most common practices, is to apply motor oil or diesel at critical suspension joints, bushings and the undercarriage. All under the claim that it "lubricates" the joints, prevents rust from forming on the undercarriage, helps reduce noise and in some cases also as a selling point to make the entire engine bay shine like it just went through a glitter factory.
This oily scam in a tin can is sold in a very persuasive and convincing manner and most gas stations even charge a few hundred rupees for the undercarriage spray. Some of those claims might actually be true if your vehicle in question was a Bedford truck, using metal bushings, leaf spring suspension and a host of different technological hallmarks of Alexander's era. However, if you happen to drive a modern vehicle and by modern I mean most cars that were designed after the mid '80s, which are inherently based on front-wheel drive platforms, then I'm afraid, applying motor oil or diesel to the undercarriage is about as healthy as surviving on carcinogenic asbestos crackers as a means of food.
Applying oil or diesel to the undercarriage causes the critical suspension parts, specially the bushings to fail prematurely as the solvent based oil/ diesel mixture eats away the rubber components quite rapidly. This is especially true for areas with warmer climate. Secondly but more importantly, oil attracts dust particles on the critical suspension parts, including the moving components. This dirt then accumulates and forms a sticky mixture of high friction particles, which can potentially wear out the metal components prematurely as well. But the problems don't end here, this mixture of oil and dirt also traps in moisture and metal eating salts, specially in humid environments, thus in-turn spreading the rust far more rapidly, even on galvanized chassis components.
On more modern high-end cars not only does it damage the O2 sensors when applied repeatedly, but also damages or causes suspension sensors (used in most air-suspension equipped cars which have self-leveling feature) to transmit faulty readings, which can be a pain to fix. Moreover, oil exposure to wiring inside the engine bay can cause the plastic wire coatings to become brittle and develop a short-circuit when they start rupturing. This happens because once oil is applied, the engine heat starts affecting the plastic coatings by raising the temperature of the surface beyond its designed performance envelope.
This could have been forgiven and forgotten had this practice only been observed at the low-cost spectrum service gas stations. But to my horror, most of our dealerships (more commonly referred to as Stealerships in Pakistan) are involved in such practices too, despite strict guidelines from manufacturers to only use water as a means to cleanse the chassis and suspension components.
Whether it's a practice to protect their own interests, in order to keep the inventory rolling or simply a case of ignorance and lack of knowledge, is anyone's guess, but its ultimately the dealership's responsibility to follow the correct guidelines supplied by the manufacturer while servicing the vehicle. Isn't this the reason why we pay them exorbitant service charges? It's their job to know.
Educating the masses is another way to prevent our hard earned money being washed down the drain and that's exactly what the purpose of this article is. Next time you take your ride for a service, ask the gas station or your respective dealership to wash the car with water or high-pressure steam only. Spraying oil under your car might give a temporary relief from those annoying creaks and rattles, but in the long run, it's surely going to cause you hell of a of trouble.