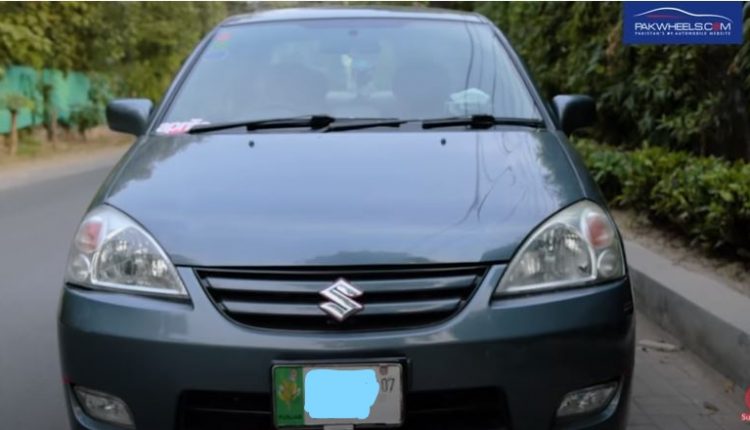 Suzuki Liana 2007: Low Price, Owner's Review 
Today, PakWheels has brought owner's review of a low budget Suzuki Liana 2007 model. The under-review vehicle is 1600cc 1.6 eminent. Suzuki launched two variants in 1300cc, i.e., RXI and LXI, while 1600cc has only one variant.
Furthermore, the eminent has auto transmission, while both 1300cc variants have a manual gearbox.
Purchase and Price: 
The owner told PakWheels that she bought this car in 2012 in used condition at the cost of Rs7lacs. "This is an imported Japanese variant," the owner said. Discussing the purchase process, the owner said she did consider Honda Civic and Toyota Corolla, but both cars were available in 130cc and old models. "I wanted to buy 1600cc, and this was the best available option," she further stated.
Talking about resale value of Liana, the owner said this car can still be sold around Rs6.5-7lacs because it has a substantial resale value.
You can buy Suzuki Liana  2007 model from PakWheels Used Car Section very easily.
Fuel Average: 
The owner said its intra-city fuel average is 9-10 kilometers per liter, while its long route mileage is around 13 kilometers.
Comfort and Handling: 
The owner believes that both comfort and handling of this car is perfect, considering it is a budget car. The small cars in this price range do not have this level of comfort. "I have traveled on long routes on this car and has never faced any issue about comfort," she said, adding its legroom is very spacious, and four adults can easily travel in it.
Tires and Suspension: 
The owner has installed wider tires in her car, stating it increases road grip, balance, and stability of the vehicle. "Although it affects mileage a little bit, but your vehicle becomes very stable," she stated.
Furthermore, the suspension of this car is very smooth and drives easily on local roads.

Head Unit: 
The owner has also installed a new head unit in the car because originally, it did have an AUX option but not USB slots.

Known Faults:
As per owner, the only known fault she has observed is cracks on the dashboard. "After some time, the dashboard starts to show these huge cracks," the owner said, adding other than this, the car does not have any fault.
Parts Availability: 
Although this is a Japan assembled car, the parts of this vehicle are very easily available in the local market. "The price of these parts is also very reasonable," the owner said.
Safety Features: 
The vehicle has ABS and Immobilizer key in it, increasing its safety and security.
Token Price: 
The owner said she paid Rs7,000 when she bought this car, then the government increased the fee, and now she is paying Rs13,000 for annual tokens.
The high token tax on 1600cc can be a one of primary reasons for its low resale value as compared to 1300cc vehicles.
Final Verdict: 
Suzuki Liana is a very good choice in the low price section, as it is 1600cc, has a spacious sitting room, a big trunk, and a good fuel average. Furthermore, the parts of this car are readily available, giving it another edge.
Watch Video Here: 
Recommended For You: Suzuki FX Car: Detailed Owner's Review