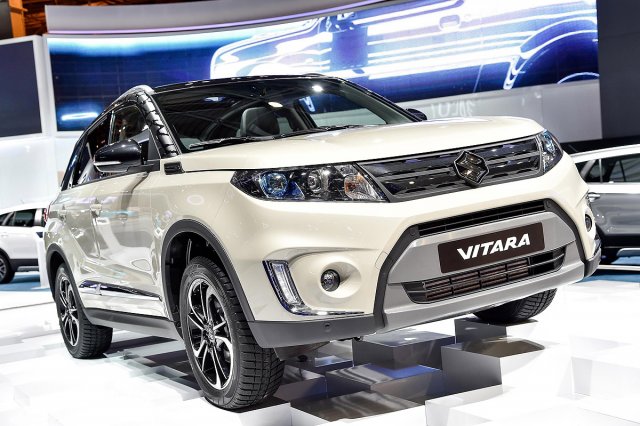 Vitara is Suzuki's answer to small crossover segment, which arrived first in 1988. Since then, the company has been introducing periodic repetitions to bring a well-adequate package for its consumers. Globally, Suzuki brand is known for its specialization in Kei cars, but in fact, the company's interest in small SUVs dates back to 70's when the company launched all-time popular "Jimmy".
The current Suzuki Vitara looks simple and takes clues from its previous generation as far as the exterior is concerned. The crossover looks sporty, agile and rugged. In certain perspective, it looks more like a hatchback lifted up from ground, increased ground clearance with bigger wheels and fender flares. In fact, most of the crossovers have the same phenomena as they are based on a car or hatchback platforms. Every country where Suzuki launched Vitara, is very well praised among its competition. Regarding dimensions, The New Suzuki Vitara is 4175mm long, 1775 mm wide, while 1610mm high with a wheelbase of 2500mm and ground clearance of 185mm.
Also Read: A Reality Check on Suzuki Vitara
Physical dimensions are well and good, but now we come to address the matter of this blog's highlight: 'All-Grip'. For too many times, you might have heard Suzuki Vitara 'All-Grip', and at some point, you might've wondered, what exactly is it? Well, Suzuki defines 'ALLGRIP' as a 4WD system that has four driver-schedule modes -Auto, Sport, Snow and Lock- which can be selected by using the push -and- turn dial on the center console.
Auto Mode
This mode keeps the vehicle in 2WD. However, when onboard computers detect anomalies in the vehicle's drive capability, it automatically switches to 4WD. This mode is designed to prioritize fuel economy and is recommended for everyday use. On a side note, the company's technicians remark that this mode also detects changes in weather like a shower and adapts accordingly.
Sport Mode
This mode changes accelerator and torque characteristic for better engine and throttle response. Sports mode activity actively uses 4WD to deliver optimal performance on sharp bends and winding roads. In a nutshell, this mode firms up vehicle's ride and throttle response for aggressive cornering and ride.
Lock Mode
This mode continuously distributes high torque to the rear wheels to generate maximum traction. If for some reason the vehicle gets stuck, the ESP and other controls are optimized to direct the power in such a way that it maximizes the torque for extraction from deep snow and mud. Braking is applied to slipping wheels, and maximum torque is transferred towards gripping wheels.
Snow Mode
This mode is designed to provide maximum configurations on slippery surfaces, such as snow and mud. In accordance with accelerator pedal and steering inputs, Snow Mode calculates slippage before it occurs and allocates sufficient torque to each wheel in order to ensure maximum grip. Thus Snow Mode coupled with VSA offer a much-needed vehicle stability in slippery conditions.
Also Read: 5 Differences Between Suzuki Vitara GL+ and GLX
Join Discussion on the New Suzuki Vitara at PakWheels Forums