Car sales were increasing in the country at a good pace, however, it fell 15 percent in the last month. Buying a new car is one hectic task. With prices changing after an equal interval of time and fuel prices skyrocketing, people in the country usually go for the car which gives good mileage and is easy to maintain. PakWheels.com conducted industry survey to know the preferences of people regarding a particular brand, product, and vehicle.
Also Read: Honda Pakistan offers the best quality automobiles
In the survey, PakWheels.com asked the respondents to rate the best car based on fuel efficiency and the people crowned Suzuki Wagon R as the most fuel-efficient car in local category whereas Toyota Aqua has been awarded as the most fuel-efficient car in the imported category.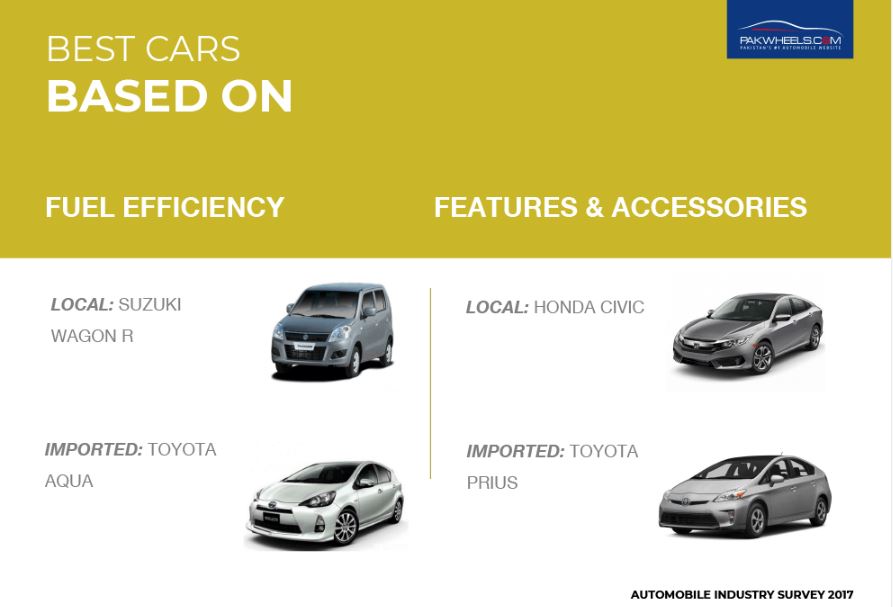 Read Also: Honda Civic and Yamaha YBR 125G bag the biggest awards of the year!
Moreover, it is to be noted here that Honda Civic has been crowned car of 2017 by users/owners, who responded to the survey.
Many other brands have won people's choice award as well.
Click here to view the complete report and list of award winners!
Pak Suzuki from Jan 2018 to May 2018 has sold 12,395 Wagon R units. There can be many reasons why people are buying the car, one is that it is fuel efficient as people have rated in the PakWheels.com auto industry survey. The other reasons could be maintenance cost, no real competition in its segment, spare parts availability, resale value,ride-hailing companies etc.
Pak Suzuki introduced Wagon R in 2014. The 5-door hatchback is offered in two different variants, VXR and VXL. Wagon R VXR is the basic variant, while VXL is fully loaded. Some of the features not available in VXR variant include immobilizer, central locking, electric window, etc.
In this survey, 19,155 responses were recorded from all over the country. 54% of those who responded, hailed from Punjab, 27% Sindh, 12% Islamabad, 6% KPK, 1% Baluchistan and 0.10% from Gilgit Baltistan. This survey covers the public's spending habits, driving behaviour, expectations and routine practices in the automobile sector in Pakistan.