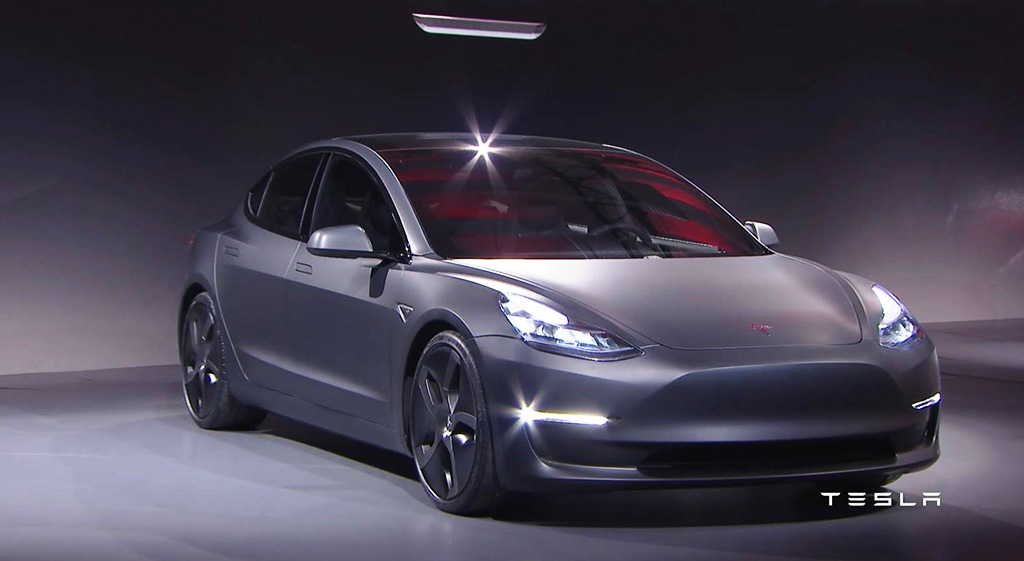 Tesla Model 3 Revealed – For US $35,000, You Can Go 215 Miles!
Tesla is right on track to become the Apple of the automotive world. Companies are diversifying though, Apple will soon be in the market with its own car but right now, Tesla just unveiled the Model 3 and it has already sold US $115 million worth of orders. If you want one by the end of 2017, you have to pre-order one now. By the way, these were 115,000 people making a pre-order of US $1,000 only.
Tesla's Elon Musk says that it will 'ace every safety test category'. And all the cars come standard with Tesla autopilot and supercharging, which is a fancy name given to 'very fast charging'.
Elon Musk, CEO of Tesla, first wanted to name this car Model E so Tesla's line-up read SEX (Model S, Model X and Model E) but unfortunately, Model E is a name owned by Ford.
Model 3 will house five adults comfortably as Tesla has made extra legroom by squashing the instrument panel a bit and moved the front seats forward. Instead of a metal roof, Model 3 has a single continuous pane of glass to give a sense of airiness in the cabin and more headroom as well.
Model 3 is no slouch either, Musk remarked that they don't make slow cars and the base Model 3 has a total range of 215 miles and will do a 0-60 MPH in just under 6 seconds.
Elon Musk was fairly confident that the Model 3 would start deliveries by the end of next year but Tesla isn't popular for making timely deliveries so be ready for unexpected delays.
However, Tesla Model 3 seems to be the better car than all its competition. Its close competitors include Chevy Bolt, Nissan Leaf and VW Golf EV and all are priced for more than US $37,000 and US $36,000 so Tesla offers a better price value for money on the base model but given the fact that stuff such as Tesla Autopilot is standard throughout the range, it is the better deal of them all.
Check out the gallery: