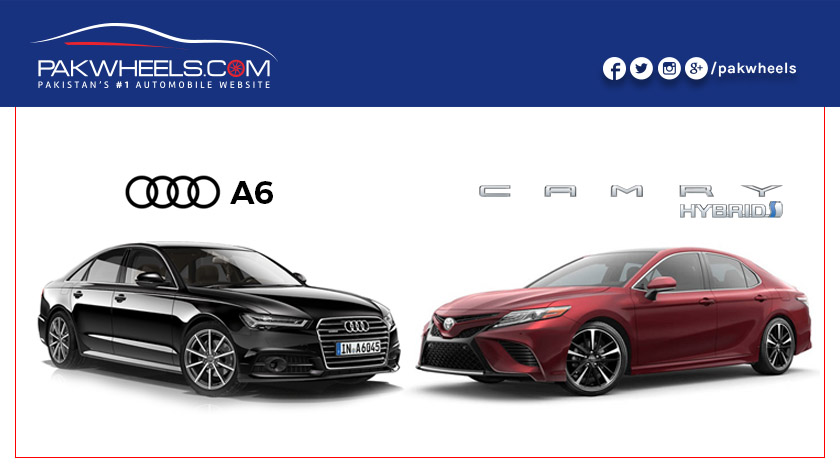 Toyota Camry Hybrid vs Audi A6 – Brief comparison
Toyota Indus has just recently launched the all-new TGNA based Camry Hybrid in Pakistan for customers who are after something other than the German cars. Unlike the Camry of the past, this new one has been officially introduced with a hybrid powertrain due to which it costs almost PKR 25lakh cheaper. But even then it has found itself in a tough spot where for the same price you can get a brand new Audi A6 – a thoroughly premium German sedan. So does the Camry has what it takes to go head to head with the Germans?
Also Read: 2018 Toyota Camry Hybrid unveiled – Exclusive photos and video
Also, Check out Toyota Prius or Toyota Camry on PakWheels
In this comparison, we will find that out (for a fair comparison higher trims of both cars have been considered).
Exterior Design
The new Camry features a much more aggressive and sporty exterior which is a complete 180 compared to the previous Camry. Toyota wanted to give this new car a unique character and not make it look like a car which your grandfather would drive. On the other hand, A6 is due for an all-new model somewhere this year, but I don't think anyone can say the current A6 looks old. The design of both cars is very attractive, and some might even argue that Camry looks slightly better but bear in mind the optional Matrix head lights are far more superior and better looking than the LED head lights of the new Camry, and same goes for the LED Taillights. Camry takes the lead in overall design aesthetic making it appear much more modern, but overall it's a tough call so its a tie in terms of design.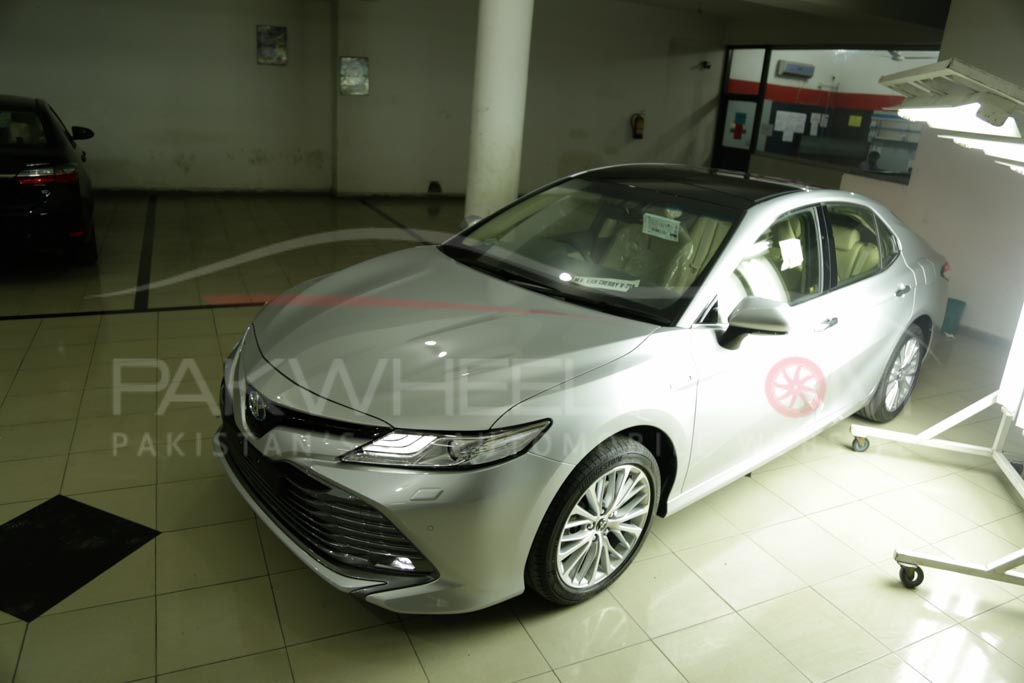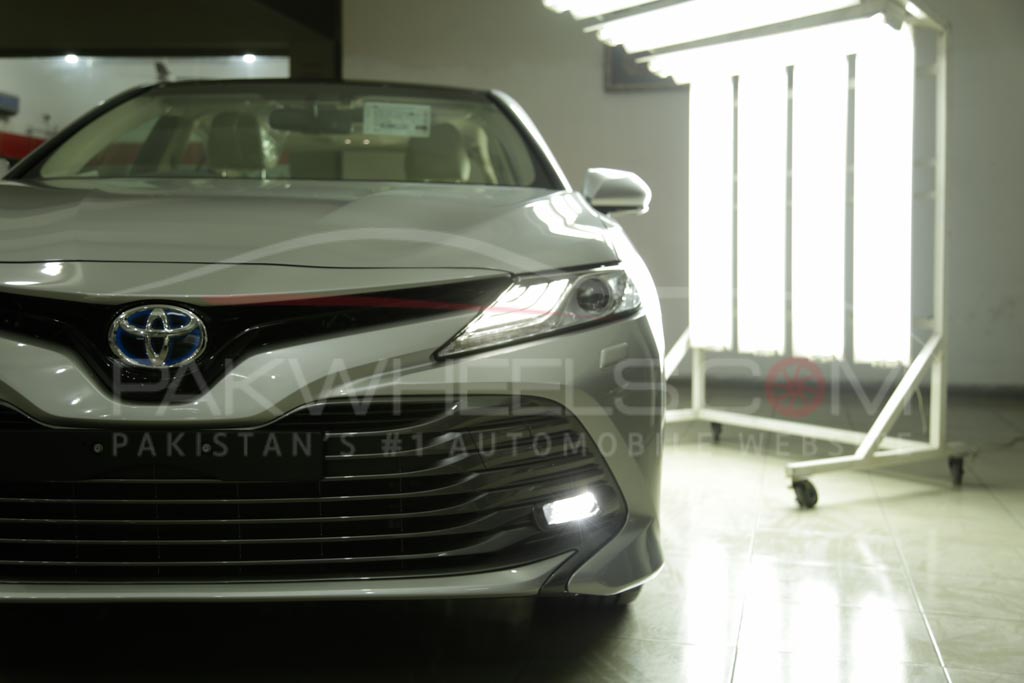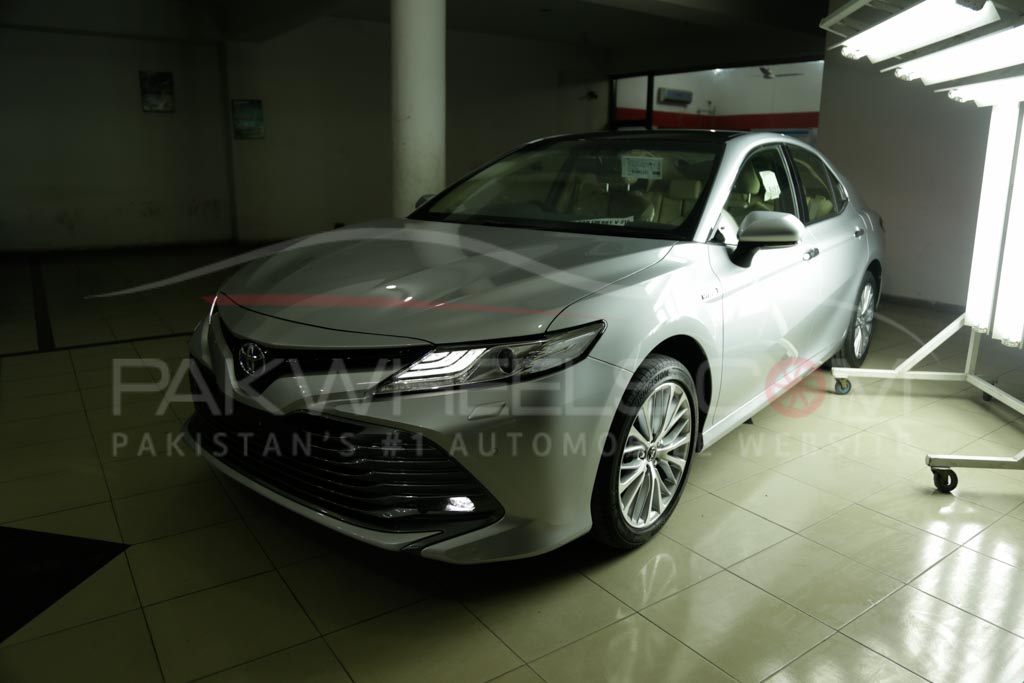 In terms of dimensions, the A6 beats Camry in everything. It is longer (4,933mm vs 4,885mm), wider (1,874mm vs 1,840mm) and has more wheelbase (2,912mm vs 2,825mm) than the Camry. But despite that Camry doesn't feel smaller from the inside. Passengers will be able to sit comfortably in both cars without even noticing any difference. So both cars are equally roomy despite the small size differences which is again a tie.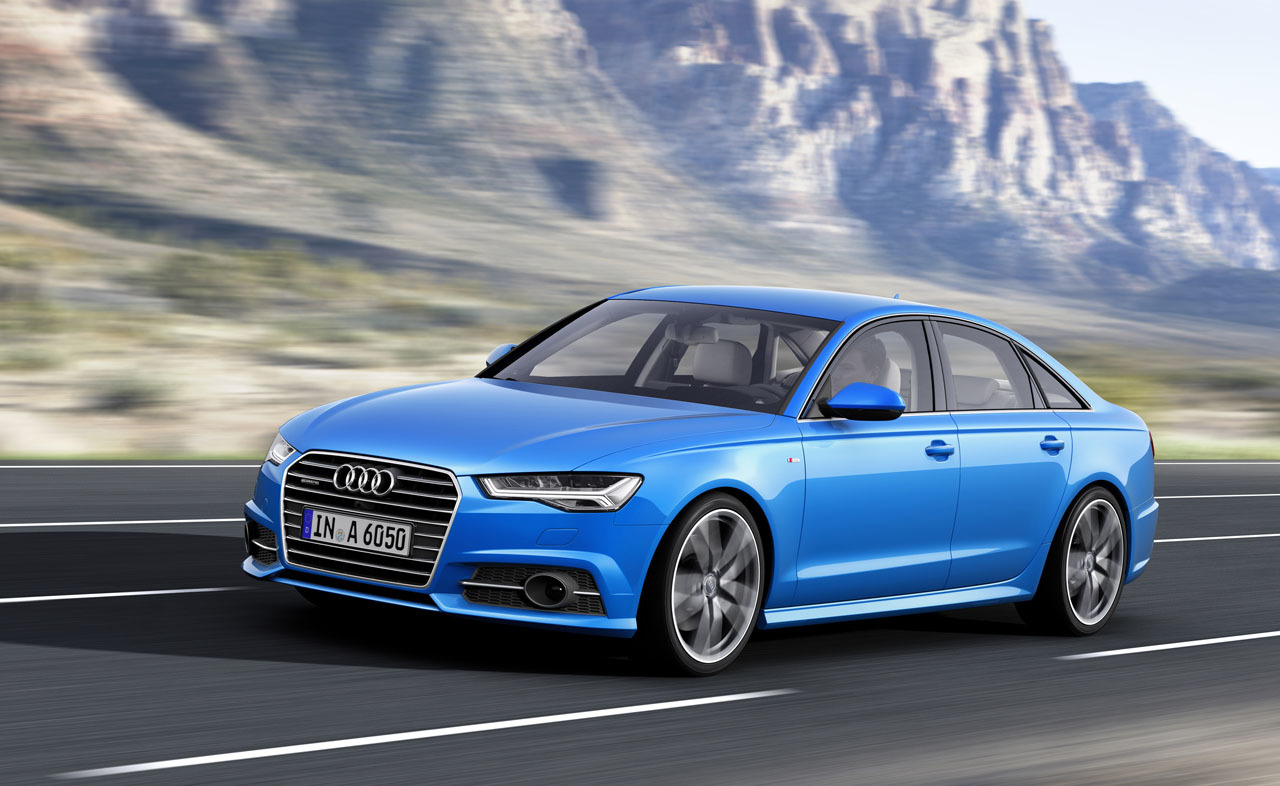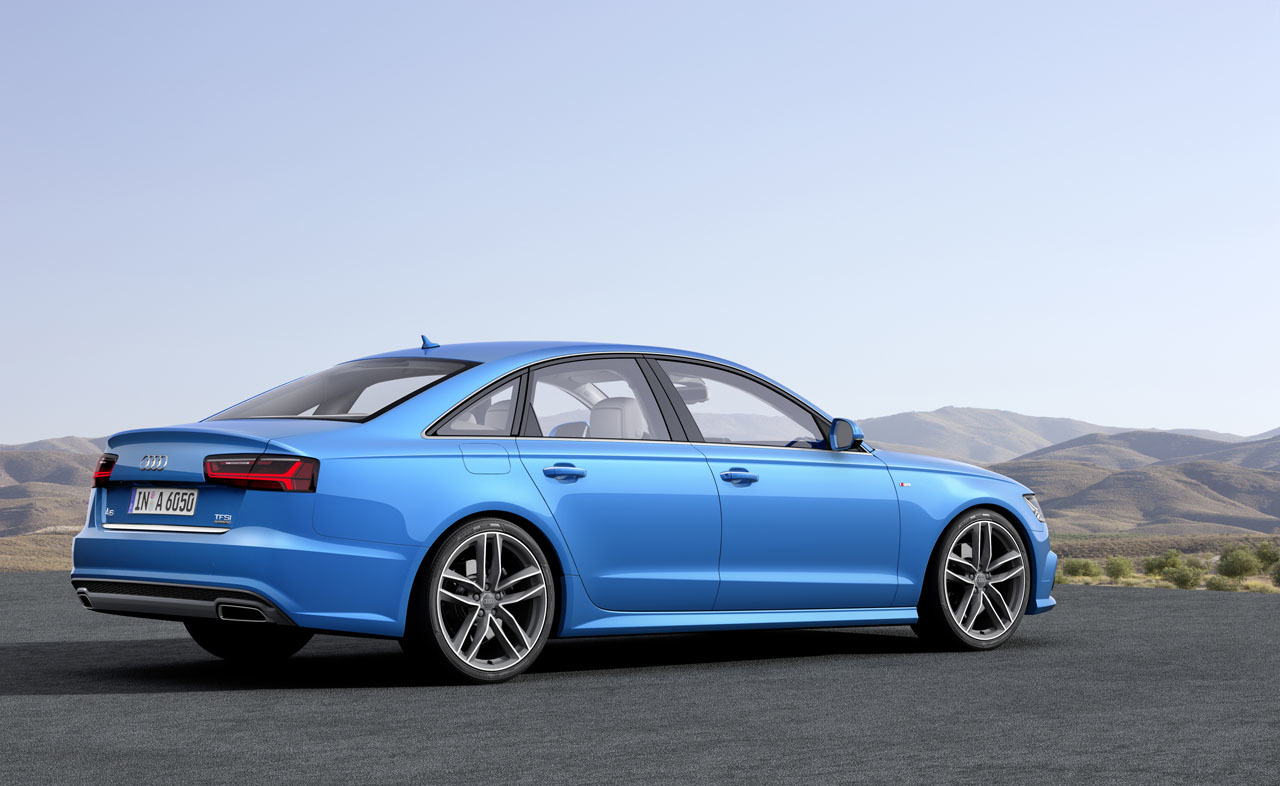 Features and Equipment
As you might have already guessed A6 and Camry come with a number of features and equipment as standard. Both cars share a similar set of equipment including
Push Start and Keyless Go
6 Airbags
VSC and Traction Control
Dual Zone Climate Control
Sun Roof
Sports Mode
Electronic Parking Brake
Hill Start Assist
Electronic Brake Distribution
Electronic Seat Adjustment
18-inch alloys
Anyhow Camry doesn't come with adaptive dampers, matrix LED headlights and memory seats unlike the Audi and Audi doesn't come with the panoramic sunroof, unlike the Camry. Audi also comes with a much more premium feeling interior along with a faster and better S-Tronic transmission which is far more superior to the i-CVT of Toyota. So it's apparent that the Audi A6 wins in this department as it offers more features and luxury than the Camry. But one thing I would like to point out is that A6's instrument panel and the dashboard has now started to feel old and highly clustered whereas the Camry offers a much more sublime and futuristic experience.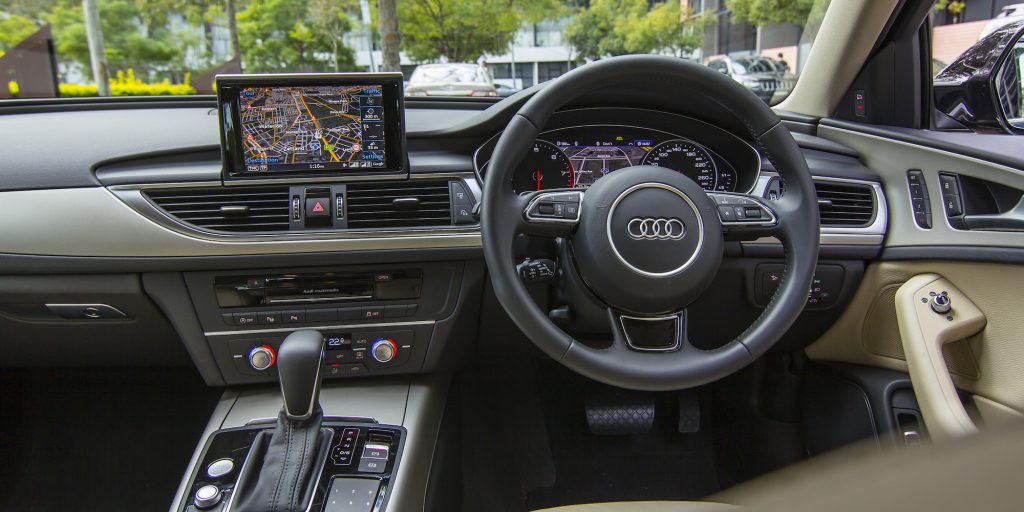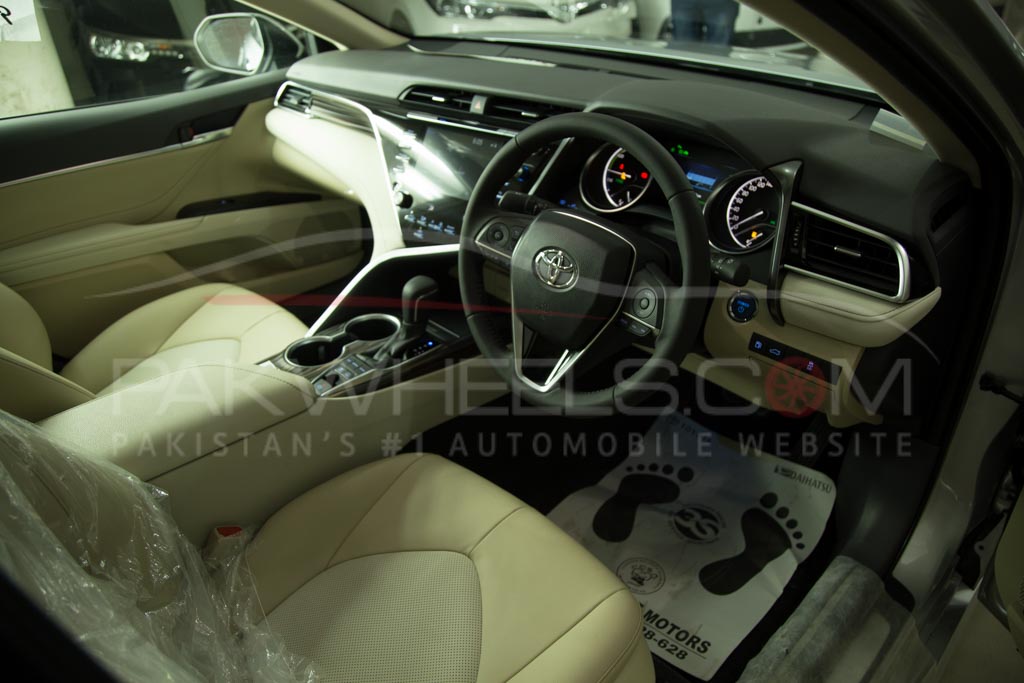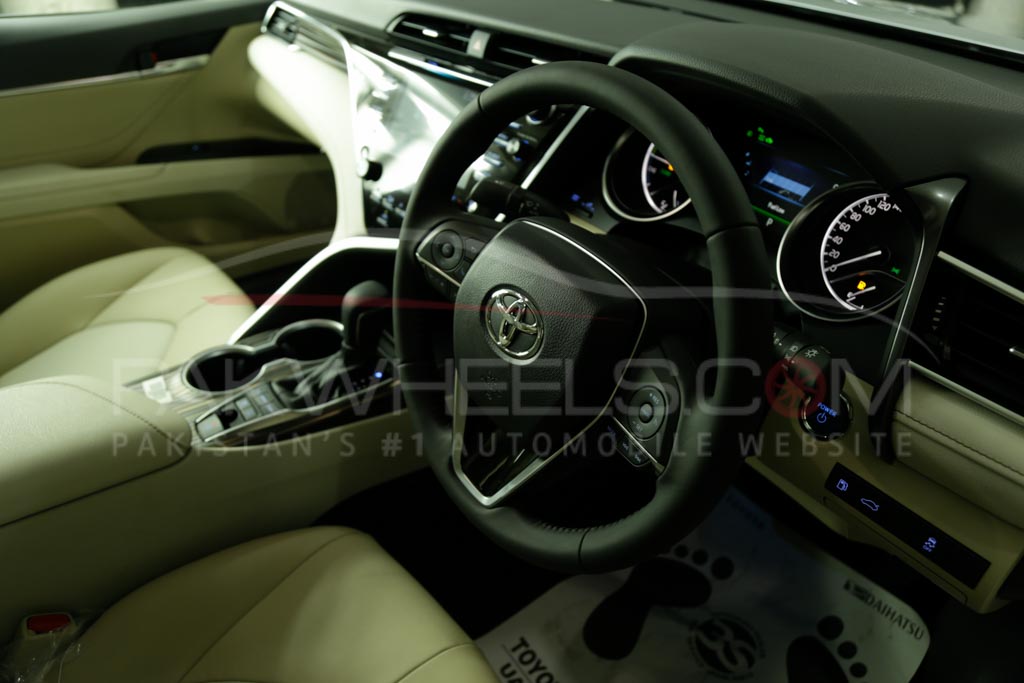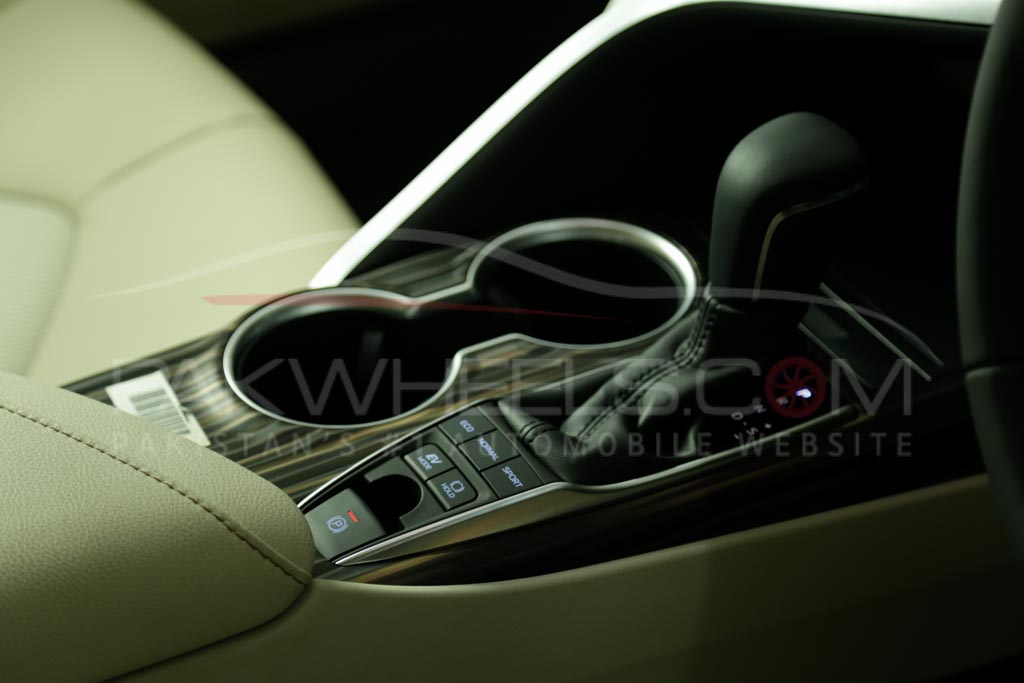 Engine options
As standard, Camry as well as the A6 comes with only one engine choice. Both companies tried to bring the cost of their car down by choosing two different strategies. While the Audi went with the downsizing and opted for the smaller 1.8l turbocharged engine. On the other hand, Toyota opted for the 2.5L engine but with the hybrid drivetrain, which has allowed Audi and Toyota to offer these cars at the lowest price possible. With that said, the 1.8L TFSI unit present in A6 produces a healthy 190bhp and the 2.5L engine in Camry combined with the electric motor generates a total output of 203bhp. For the cars of this size these numbers are actually pretty good but do bear in mind Audi due to its turbocharged engine, lower centre of gravity and a much more sharper suspension feels better to drive and handle while also being faster in a straight line. Camry isn't far behind in terms of handling and performance. However, it is more of an efficient luxury cruiser. So you can expect a better fuel efficiency from the Camry and better performance from the A6.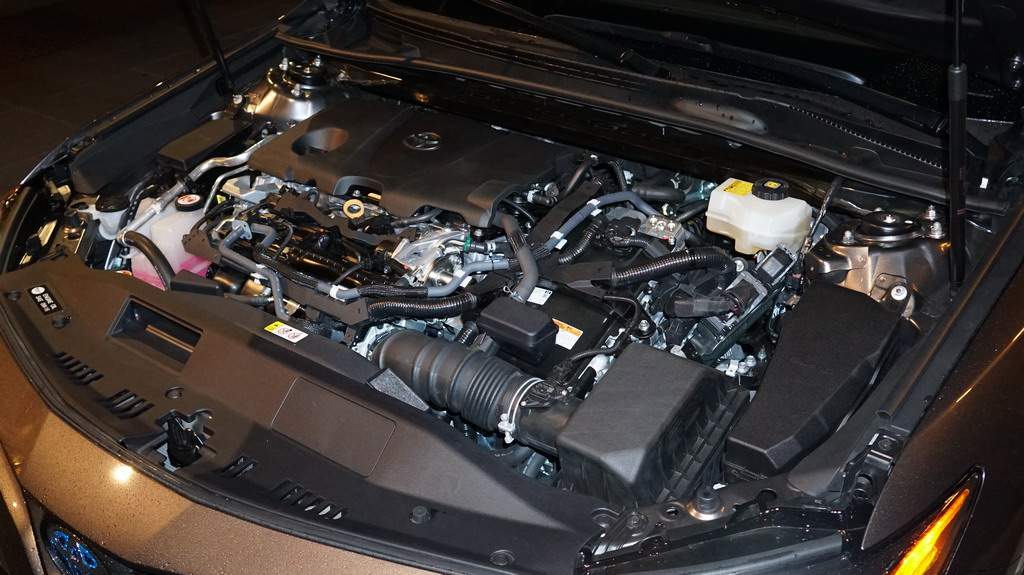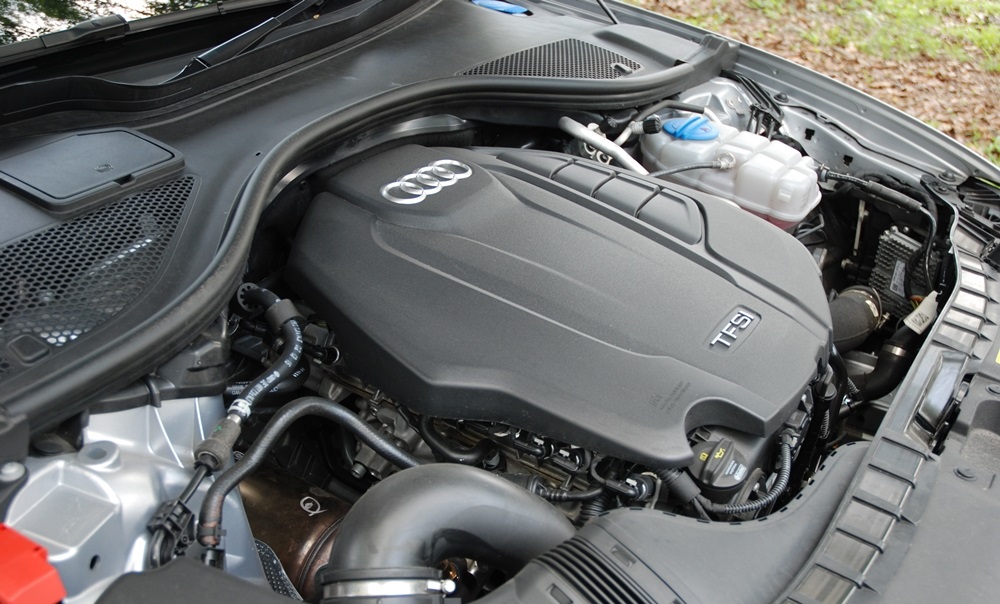 Conclusion
Both A6 and Camry are an interesting blend of taste and elements. Neither of the two is pretty far off from each other. They are just simply different cars targeted towards different markets. Camry like always has ended up in a very unforgiving spot as the four-ring badge will eventually lure in more buyers no matter how good the Camry is. The only reason the Camry even falls in this price bracket is due to the fact that it has a massive (in terms of Pakistan) 2.5L engine making the taxes go wild. Audi A6, on the other hand, is a much more expensive car and nowhere in the world, a Camry is compared with even an A4 let alone A6. However, that doesn't mean Camry isn't worth it. It just depends on your taste and needs. If you are a "Go-Green guy" and want to experience a luxury car that is cheap to run, then go for the Camry, but if you want a better performing and handling car with best luxury experience in the price bracket, then A6 is the car to go for. In my opinion, the Audi is the better choice as it offers more equipment, the ride quality is significantly better due to adaptive damping (at additional cost), higher quality interior materials and better performance for almost the same price. And talking of prices:
Audi A6 Business Edition: PKR 89.1 lakh
Camry Hybrid High Grade: PKR 85 lakh
What do you think? Which one of these would you buy? Let us know in the comments section below.