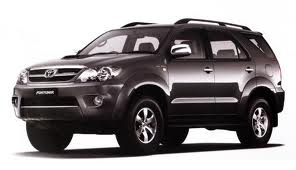 Toyota Fortuner to be assembled in Pakistan
The Toyota Fortuner is a 4×4 SUV based on the Hilux platform currently being imported in Pakistan by Indus Motors however, our sources have revealed that the Fortuner will be assembled here in the coming months.
The imported Fortuner has a listed price of 7.6 million PKR on the Indus Motors website, prices are expected to come down as had happened with the Toyota Hilux Vigo when it began assembling locally.
Fortuner is available in both 2×4 and 4×4 with different engines however, only 4×4 version with a 2.7 liter VVTi engine is being currently imported but as well know that Indus Motors is not well known for telling anyone the exact specs or details about what it's cooking until the day it arrives in the showroom.
Moreover, we've also learned the person who leaked us the photos of Toyota Corolla 2011 face-lift was dealt with a strict hand and probably got sacked as well so lets just not ask anyone at Indus about what is to come in fear that the person may loose their job over this.