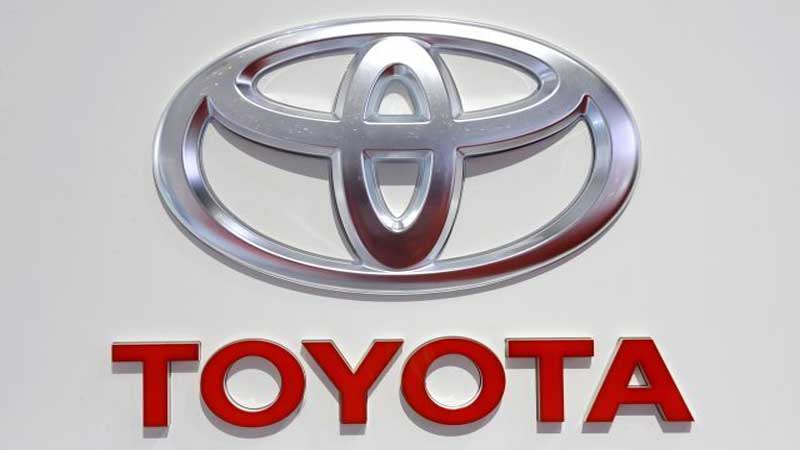 Toyota Indus Motor Company (IMC) has posted its financial results for the 2nd quarter ended on 31st December 2019 that shows a decline in the company's profits by a hefty margin of 71%.
According to the details, the auto manufacturer posted a profit of Rs.986 million in the October-December 2019 period, down by 71% as compared to Rs.3.4 billion profit in its corresponding period last year. The company sent a notice to the Pakistan Stock Exchange (PSX), revealing its profits for the specified period.
The overall sales of the automaker stood at Rs.22.05 billion in the 2nd quarter of its financial year 2019-20 as compared to Rs.41.54 billion; hence a drop of 47% was recorded. As a result, the cost of these sales also dropped by 44%. On the other hand, the company's expenses in the October-December 2019 period went up considerably. The sales and administrative expenses of IMC witnessed an increase of 10% and 7%, respectively. The other income of Toyota Indus also went down by 49% as compared to the same period of its previous year. Have a look at the notice below for details: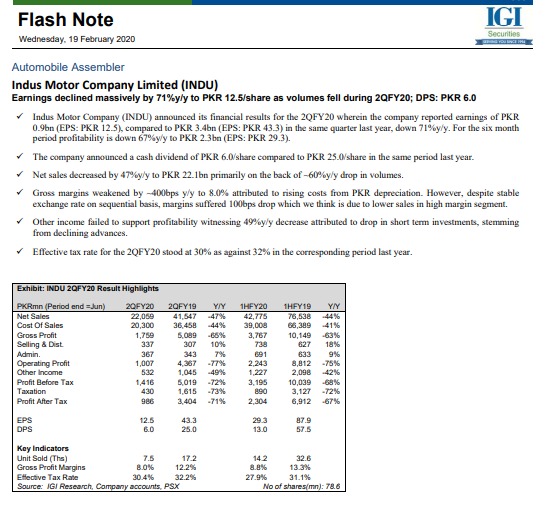 The Japanese auto manufacturer in the country managed to sell 7500 units in the 2nd quarter of the ongoing financial year as compared to 17,200 units last year, a decrease of massive 56% in sales. The decline in car sales of IMC in this period was primarily due to the imposition of several taxes and duties by the government along with the impact of depreciating Rupee against the US dollar. Also, the increase in the interest rates also reduced auto financing significantly, thus resulting in low sales.
The company's operating profit also declined by 77% as it was recorded at Rs.1 billion as compared to Rs.4.36 billion in its corresponding period last year. Similarly, the earnings per share (EPS) of IMC were recorded at Rs.12.5 per share against Rs.43.3 per share in the previous year's 2nd quarter.
A gross profit margin of Indus Motor Company also dipped to 8% from 12.2% despite a massive hike in car prices. The effective tax rate in the October-December 2019 period remained at 30.4% against 32.2% in the corresponding period of the previous term. The complete details can be seen in the chart attached here.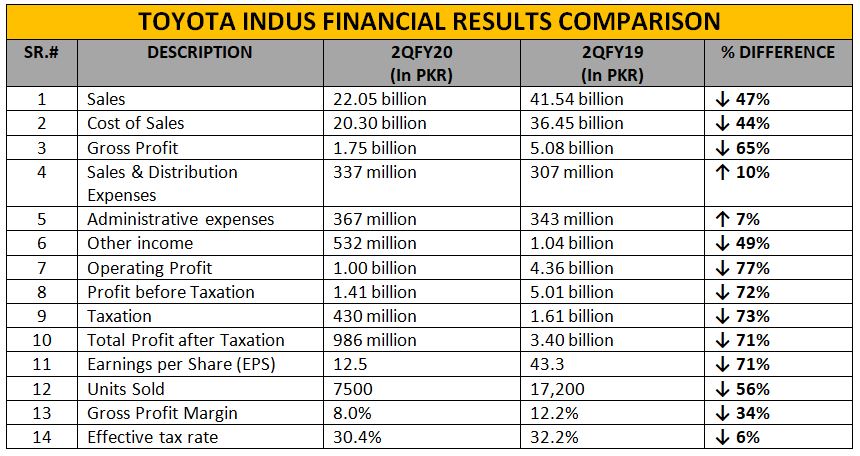 The CEO of Toyota Indus Ali Asghar Jamali is of the view that the automaker's focus remained on delivering the best value product to its customers. At the same time, IMC aimed to improve operational efficiency while maintaining the top-level of quality standards in its cars. That's it from our side.
Stay tuned to PakWheels for more updates on the automobile industry. Drop your valuable thoughts in the comments section.