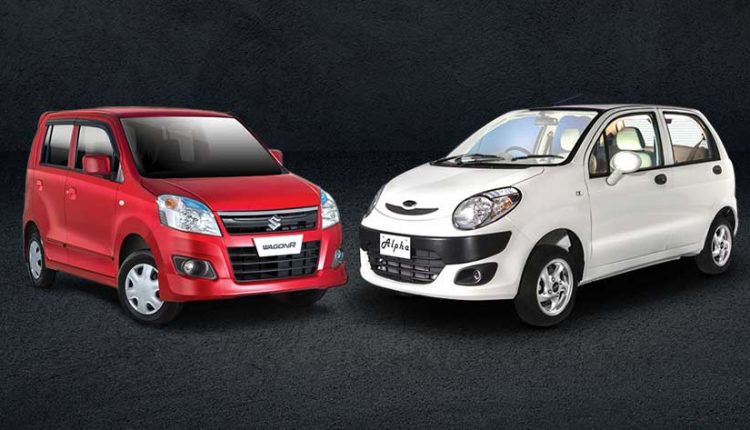 United Alpha Vs. Suzuki Wagon R- A Comparison
United Alpha is the latest entrant in the economy car segment in Pakistan. The company released the hatchback on January 2, making it first launch of 2021 in the country. It is pertinent to mention that United Alpha is the changed name of Chery QQ, which came to Pakistan in 2004-05 but fizzled out after a few years.
The freshly released car is the facelift of Chery QQ, came into the international market in the early 2010s. The main competitors of Alpha are KIA Picanto, Suzuki Cultus, Suzuki Wagon R and Suzuki Alto.
In this article, we present a brief comparison of Alpha with Suzuki Wagon R. So, without any further wait, here is the comparison.
Engine and Transmission: 
The United Alpha comes with 993cc engine, producing 68hp and 93Nm Torque, while Wagon R has a 998cc engine, which generates 67hp and 90Nm Torque. The comparison shows that although Alpha has less cc, but it produces more hp and Torque.
Meanwhile, both cars have 5-speed Manual Transmissions, making them equal in this regard.
Airbags: 
Neither Wagon R nor Alpha comes with airbags, making both hatchbacks unsafe. Both Suzuki and United need to offer this essential feature in their vehicles because it is the fundamental safety tool; every car should have.
Alloy Wheels: 
Both United Alpha and Wagon R come with Alloy Wheels, a useful feature in this category because alloy rims make the driving experience smoother and safer.
Fog Lamps: 
United Motors is offering Fog Lamps in its latest release; however, Pak Suzuki has not installed the lamps in Wagon R. This means that driving an Alpha will be a lot easier in fog compared to Suzuki's hatchback.
Power Steering and Power Windows: 
Both cars have Power Steering feature, meaning the maneuvering of these cars is very easy. Meanwhile, if we come to the option of Power Windows, we will come to know that all windows in Alpha are powered, while Wagon R offers this feature only in front windows, which means Alpha has a clear edge over its competitor.
Rear Wiper: 
United has installed Rear Wiper in its car; however, Wagon R comes without this facility. Although a small tool, the Rear Wiper is beneficial and efficient in the rainy season because it makes the driving much safer and comfortable. So, it indeed is an excellent feature by United Motors.
Rear Camera: 
This is another exciting feature, offered by United Motors, as it makes the parking and reversing very easy for the driver. Meanwhile, Suzuki has not installed the camera in its hatchback. Rear Camera was not a feature being offered by local manufacturers a couple of years ago; however, new entrants provide this feature in their vehicles, which is undoubtedly great.
Multimedia Screen: 
United Alpha comes with 10-inch Multimedia Screen in its dashboard, which offers Bluetooth Connectivity, Radio and Audio. Meanwhile, Wagon R doesn't have an infotainment system as it comes in a conventional audio system. This gives a clear edge to the fresh arrival over Wagon R.
Price: 
The United has launched Alpha with a price tag of Rs1,395,000, while Wagon R's cost is Rs1,730,000, making Alpha almost Rs3,50,000 cheaper than Wagon R, which indeed is good news for the local consumers.