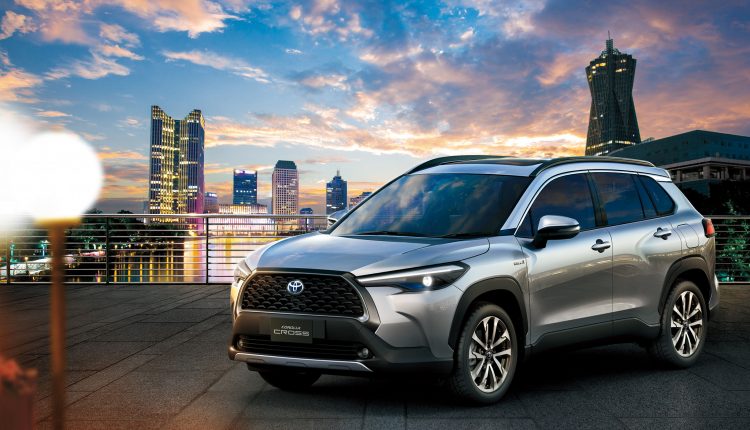 UPDATE! Details of Corolla Cross Import, Variants in Pakistan
There had been a strong rumour about Toyota Indus launching a Corolla Cross till a few months ago, and we here in this group have been updating readers about it for a very long time. The CEO of Indus later confirmed it during a one on one recent interview with Suneel Sarfaraz Munj.
Although most of details are now known to everyone, let's go over it especially for those who don't have any knowledge/ info. Toyota officially revealed the "Corolla Cross "back in July 2020 In Thailand and later it was introduced in other ASEAN countries.
Corolla Cross in Pakistan: 
> It will be an import/ CBU from Thailand.
> The company will offer three variants.
> Low, Mid and High
> All version of Cross will be 1.8L Hybrid.
> NO AWD and its not even available an option anywhere in the world.
> Possible sales to start sometime in December.
> Base price of LOW is expectedly around 7.5 Million. Mid at 8 Million while the High at around Rs8.5 Million
> Again the prices are not official yet. A Plus / Minus is possible.
Dimensions: 
The Corolla Cross sits on top of TNGA-C [ Toyota New Global Architecture ] platform, which is dedicated for compact vehicle class both front and AWD versions. This is the same platform it shares with the 12th generation Corolla as well as the C-HR.
On measuring tape, Corolla Cross is 4460mm long, 1825 wide while 1620mm tall. The wheelbase measures 2640mm long. For reference sake, this makes the Corolla Cross, 170mm short, 45mm wide, 165mm taller than 12th generation Corolla sedan. In comparison, the wheelbase of Corolla Cross is also shorter by 60mm comparing the 12th gen Corolla.
As another reference point, the Corolla Cross is 25mm shorter, 30 mm less wider and 15mm less taller than the Kia Sportage and the wheels base is also 30mm less than Sportage. Overall the Corolla cross has a smaller footprint comparing the Corolla sedan or the Kia Sportage, but it is larger than the Toyota C-HR.
In other words, size-wise it sits in between RAV4 and C-HR. Segment-wise, Corolla Cross can be part of small Crossover category like Mazda CX-3, Hyundai Kona, KIA Seltos and even Honda HR-V. Yes, Corolla Cross is not the direct rival of Sportage, Tucson or for that matter the Honda CR-V. The right product from Toyota in that segment is RAV4.
Technicals of 'Pakistan Bound Variants' 
Familiar 1.8-litre 2ZR-FXE engine. This is same as in Prius as well as the 12th gen Corolla Hybrid sedan, C-HR. The engine makes 98HP and 142NM of torque.
There is an electric motor with a 72HP with 163NM of torque which works in conjunction with the gasoline engine. Total net system power, in other words, the total power output for Corolla Cross is 121hp. 
There is an Electronically controlled Continuously Variable Transmission (ECVT). All versions of Pakistani bound CBU will have 215/60 17″ Alloy wheels.
Although the Corolla Cross is a cross over utility vehicle and one can expect availability of an AWD/ All-wheel Drive and its typical, unfortunately that's not an option. All versions of Corolla Cross are Front Wheel Drive, Only. 
Electric power steering comes standard while MacPherson strut is at the front suspension, torsion-beam is fitted as rear suspension. Again for reference, the Corolla sedan comes with an all-new multi-link rear setup which is NOT found in Corolla Cross. Well we can call it a cost cutting.
Features of 'Pakistan Bound Variants': 
On exterior of Corolla Cross , it follows typical current Toyota model lineup styling of SUV'S. Although the name carry word "Corolla", it does not look like the Corolla sedan or Corolla hatchback as far as exterior. As of interior as soon as you jump into the interior, the things look similar to new 12th generation Corolla.
The floating infotainment system, the digital cluster as well as digital HVAC controls and the dashboard itself is all taken from the Corolla.
The company will offer Corolla Cross for Pakistani customers in three variants, and obviously, there will be specific differences between them as far as features.
The base variant will have halogen projector while the Mid and High will have LED projector headlights. All three versions will have LED DRL's integrated into the headlights. LED fog lights will also come standard on all versions as well as LED taillights. There will be standard rear screen wiper as well on all versions.
Top Variant of Corolla Cross: 
Only the top variant will get the power tailgate with foot sensor. As of interior, the HIGH/ top version will have leather while the other two lower variants will have fabric seats. The 2nd-row seats will have 60:40 split function on all the three variants. Only the top variant will have standard size sunroof [ not a panoramic ].
The top variant will have power-adjustable driver seat while manual passenger seat adjustment. The other two variants of Corolla Cross will have a manual driver and manual passenger seat adjustment. The low/ base variant will be without rear AC vents although the Mid and High will have it. Cruise control, rain-sensing wiper are also not available on the base model.
As of infotainment system, the base model will get a basic CD system with Bluetooth compatibility. The Mid and High variants will have an 8″ touch screen display head unit. All versions will have 6 speakers. I am sure you would like to know about the digital cluster, yes its available but only on the top variant / High.
The Mid and Low will get an analogue speed and RPM meter with 4.2″ MID colour display. All versions will come with automatic climate control, but the Mid and High will have dual front zones, the base model comes with a single-zone setting.
Safety: 
All version of Corolla Cross will have ABS, VSC as well as Hill-start assist. Electronic brakeforce distribution/ EBD as well as brake assist, will also come standard. As of airbags, all versions will have front airbags, but the top variant/ High will also have a curtain as well as a knee airbag for the driver. The immobilizer is standard . The base model will have 2 rear parking sensors while Mid & High will get front parking sensors as well.
Final Thoughts:
I am sure Toyota Indus is feeling the heat and buyers preference towards the KIA Sportage, Hyundai Tucson or upcoming Proton X70, MG HS . I think Indus didn't anticipate the market accurately and at the right time.
They are late in the game and if they think that with Corolla Cross, they will be able to hit the nail on the head, then I am not sure how that would be possible. CBU/ Import can never be winning formula in our market. Just as a reference, the Corolla Cross cost almost same as Corolla Sedan in the outside world.
Toyota has much bigger brand identity and might have a much better product range, reliability and other positive factors, but first Corolla Cross is not the direct rival for Sportage/ Tucson. I am sure Toyota knows about it and bringing the RAV4 is not cost-effective at all and might have cost three times the cost of Sportage or Tucson.
Toyota Indus just wants to bring something ASAP, which looks like a crossover and expect to attract some customers as it has no other option in their portfolio other than this newly released Corolla Cross in the international market. Rav4 even in Hybrid form would cost in double-digit Millions as CBU. By the way, as CBU even C-HR would also cost almost sathe me as Corolla Cross even with Hybrid and it's also a smaller vehicle. Indus have the sticker price of 9.2 Million for Prius ,if you are wondering what that cost.
Will Corolla Cross Make A Difference? 
I don't see Corolla Cross will be able to create any earthquake in the market except having a "high price". I don't see any worries for Sportage / Tucson ,although Tucson is already suffering from extensively delayed deliveries.
With the anticipated price of 8.5 Million, why someone should buy a 121HP FWD small crossover when a 3 row, bigger and well-established product is available in the shape of Toyota Fortuner around the same price point from Toyota Indus?
Yes, Corolla Cross is Hybrid and will be much more fuel economical BUT then again why someone should spend extra 2 to 3 Million on a 121HP/ FWD vehicle over Sportage and Tucson just for fuel economy? I am sure buyers also know that a 3 row Sorento/ SUV is also coming soon from KIA and with possible price of around 8 Million.
Personally, I think Indus might be able to sell some Corolla Cross but majority of potential buyers will put a X on X on the list of their options.
What Should Toyota Indus Do? 
I think Toyota Indus should invest towards the Toyota New Global Architecture and upgrades their plant. A local assembly is always the right approach to be cost effective. Technically, the 12th generation Corolla sedan and the Corolla Cross share many identical parts under their skin which includes the platform, engine while the interior is also almost copy paste.
So, for Indus it is easier to develop two product at the same time and launching them from the same assembly line. A CKD Cross at a price lower than Sportage/ Tucson can only be a winning formula and will attract buyers. Although the right product to compete the competition is Toyota Rav4, Indus can instead work on local assembled Cross instead as Rav4 might take much longer to develop for the local market.
As the market is moving towards crossovers, I think Indus should prioritize the development of Corolla Cross as locally assembled instead of the 12th generation Corolla sedan as more buyer will go for it and we have seen that our local buyers have a preference towards Sportage / Tucson or incoming other models in the segment. It now all depends on Toyota Indus priorities.