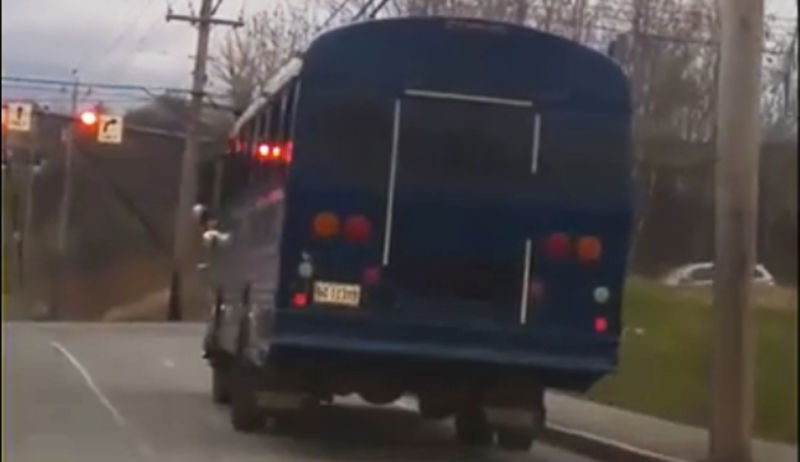 Video: 12 Year Old Boy Steals A School Bus, Hero Citizen Jumps On The Bus And Takes Control
A 12-year-old boy stole the school bus and led the police on a hot pursuit in Maine, USA. A man named John W. St. Germain III and his girlfriend saw the little jump into the bus and start driving it. The couple followed the bus and called the Bangor Police Department immediately. John girlfriend called the police and gave the description of the bus, "big blue bus with a kid driving."
Also Check: Dog Takes Control Of A Tractor Before Crashing It On Motorway
The kid stopped the bus at an intersection, and that gave John an opportunity to jump on the bus and take control of the situation. When the police arrived, the young boy was taken into the custody. The details of the boy who stole the bus haven't been made public. It is not clear if he was going to somewhere specific or was it just an opportunity for a joy ride.
Fortunately, no one got injured, neither was there any property damage. The Bangor Main Police Department appreciated John's bravery stating that his courage saved properties of unsuspected citizens of the neighborhood, and potential lives as well.
The hero Mainer, John St. Germain was commended for his bravery and was given a token of appreciation by Bangor Main Police Department.
The video was posted on Bangor Main Police Department, and you should give it read. The explanation of the events attached to the post is hilarious.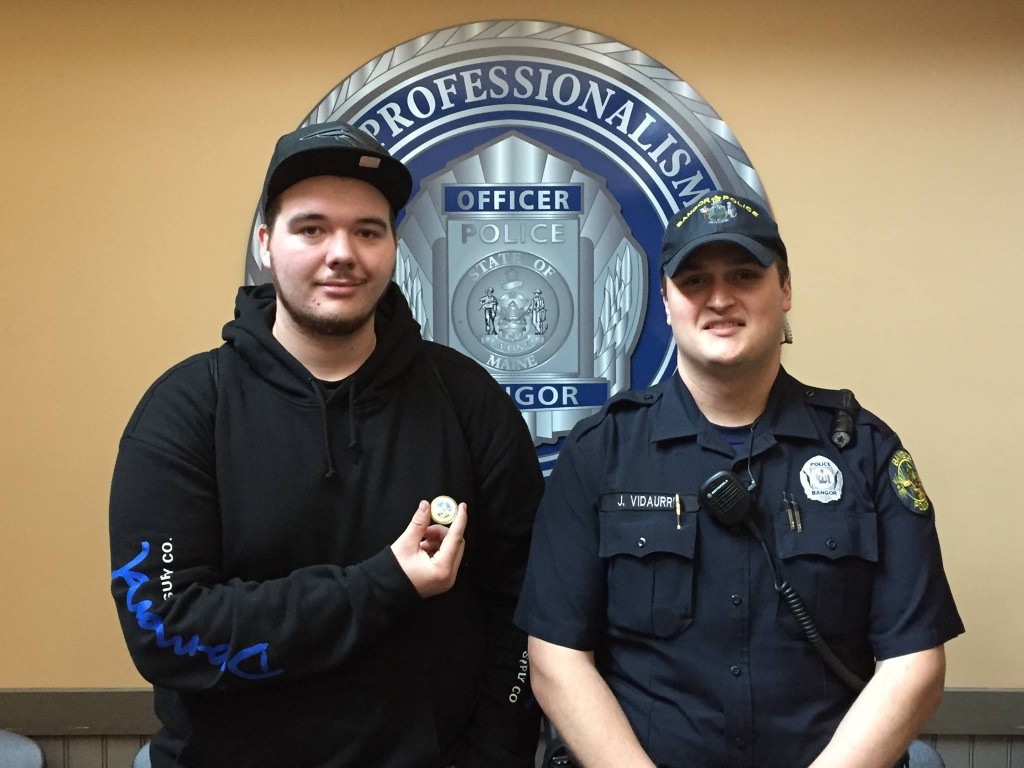 Check out the full post. You guys will definitely enjoy it.
When you are 12 years old, there is no better way to get around than climbing on a bus and just relaxing. Just letting the guy in the front take you where you need to go.

The issue that we see here is that a 12 year old is DRIVING the bus. Yes, he stole it.

Now, he would not win one of those school bus rodeos nor would he get cookies and cakes from adoring parents at the end of the year for how he conducted himself with all that precious cargo in the back. But, as a "glass half full" kind of guy, I say he did not do that badly. Sure, they might have to replace a mirror or get those sidewalls checked, but not half bad for the first time driving a bus. If…this is his first time driving a bus.

The good news or as they say in stupid seminars all over the country that I have been forced to sit through: "The Takeaway here"… is that John W. St. Germain III and his girlfriend observed this young man driving a bus and thought, "hey that kid is way too young to be driving a bus." Common sense runs deep in a good Mainer. These two, followed the bus and called the police department. She gave a great description and we were on the way. The description was, big blue bus with a kid driving. We knew exactly what to look for.

End of story? Nope. While John's lady friend was on the phone and driving, John waited until the school bus…(party of one) stopped at the intersection of Griffin and Ohio Streets. John bailed out of the car and ran up to the door of the bus and Ralph Kramden'd his way into the seat. "And awwwaaaay we gooooooo!" Those of you who do not know who Ralph Kramden was should just Google it. I am not answering questions about, The Great One.

John ran up to the swinging bus doors and took control of the, "blue, rolling missile of destruction." The young man was taken into custody and John continued on his day. He probably saved much property damage and even injury or death to an innocent driver or the (not so innocent) driver of the bus.

People like John roll through this city every day. Unassuming yet willing to help at the risk of injury to himself. Thank you, John W. St. Germain III.

Now I am placing a photo of John, in the comments section just below this post. He is receiving his Bangor Police Department Challenge coin from Officer Vidaurri. The photo was taken yesterday.

Yes. In a world where they let the Kardashians have access to social media, we are unable to add a still photograph to a Facebook post that includes video. I am using all the power that is mine to make sure you get a glimpse of the hero.

The sound was removed from most of the video. As you know, when the excitement breaks out, sometimes the language filter is a barrier that is broken first. It is rather funny but this is a family page and John requested that we leave some things out. I will say that he sounded like Seth Rogan throughout most of the play by play.

We urge everyone to keep their hands to themselves, leave other people's things alone and be kind to one another. We will be here!

Posted by Bangor Maine Police Department on Thursday, 5 May 2016