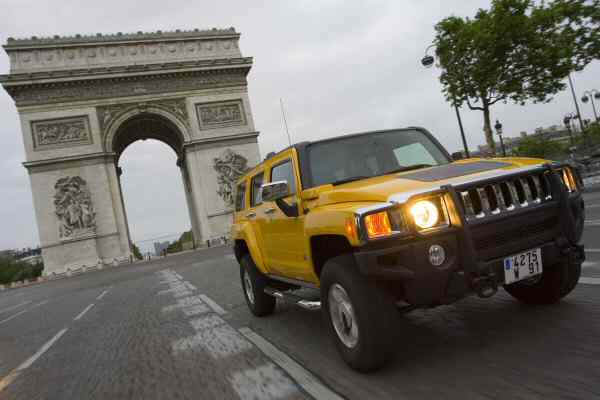 After Burqa, Paris Plans To Ban SUVs And High-polluting, Old Diesel Vehicles
Government officials in Paris are planning to put a ban on SUVs and high-polluting, old diesel vehicles from entering the city center. Details of the proposal are still being determined, however, French cities including Grenoble, Lyon and Aix-en-Provence are prepared to follow Paris' lead to reduce traffic and pollution through some form of congestion charge.
Although, the French manufacturers have not taken an official stance yet saying that the details are not defined well enough to make a comment. However, a spokesperson for Renault told that first, the discussions will begin between carmakers and French authorities by the end of this month.
I recently wrote upon the fallout of Honda Civic from Japan. It wasn't planned or forced by the Government, but the Civic fell prey to the urban cityscape which Honda couldn't foresee. The green-monster may have played its role a bit but urban congestion is the main conspirator. The very same conspirator we Pakistanis have been ignoring – we did however recognize the threat, part of it and introduced CNG buses. But it is pertinent to mention that when we talk about environment, we just don't talk about the air we breathe, a lot of time people lose consciousness due to congestion which is why Paris, even though they know it that many modern SUVs are built with the same engines found in cars, therefore it is safe to assume that the proposed legislation is not about reduction of CO2 but rather alleviating urban congestion.
Denis Baupin, Deputy Mayor of Paris told the local radio, RTL," I'm sorry, but having a sport utility vehicle in a city makes no sense, Sell it and buy a vehicle that's compatible with city life". Moreover Mr. Baupin also told that this could also include Diesels.
Instead of Qingqi's, we can utilize small electric vehicles or as they're known neighborhood-vehicles. Environmental friendly and smart as well, for example; these cars are charged by household electric sockets, and it can also generate 10KW electricity for your house as well by reverse charging with the help of device called vehicle to grid.
Recently, Government was awarding benefits to Chinese Automakers, Dynasty Motors, formerly based in Canada was bought by Karakoram Motors few years back sought the opportunity to ask the Government to allow them to import parts at 0% duty but PAAPAM opposed the proposal by saying that with a brief history of two years, the product can be unsound and unsafe for general public and that its presence is unsuitable for roads in the presence of fast moving vehicles. Whereas international Automakers are working hard on new technologies so that all the cars in future are electric powered.
CNG is a natural resource and should be preserved otherwise the whole world would have been working on NGVs (Natural Gas Vehicles) instead of EVs (Electric Vehicles). Therefore, the support for the French proposal is also very strong amongst companies specializing in electric powered vehicles.
Honda Civic isn't a big car but was defeated in urban competition by Kei cars which are small (Mini) cars, vans, pick ups, trucks, etc. The engine size does not exceed 660cc and were built to evade tax. These were small cars which did not require a lot of parking space and due to their smaller engines, consumed less fuel.
London, Singapore and Berlin have also enacted similar systems to reduce traffic and pollution through some form of congestion charge through varying fees and restrictions based on vehicle and driving time. Mayor of New York, Michael R. Bloomberg, also proposed a similar charge plan to make the city more environmentally friendly but later sought that the plan could prove to be highly controversial and was not implemented.
So what's common between Paris and Karachi? Nothing except both are referred to as The City of Light because Paris is the most-lit city in the world hence known as The City of Light whereas Karachi burns.