With new electronics being involved in the running of the modern engine, the importance of battery has increased significantly over the past few years. We have written many articles on how to increase the lifeline of your vehicle's battery, factors that lead to deterioration of battery's life etc. to help you guys keep your battery running strong to the very end. There are many brands which are offering bike batteries in Pakistan right now. And to know which battery bikers prefer, PakWheels.com conducted an auto survey in 2017.
Read Also: How often people buy a new bike?
Among many other questions regarding bike brands and products, people were also asked the following question:
Which battery do you prefer/use for your bike?
The bike users/owners in large number responded in favour of AGS battery. 62% of the respondents prefer AGS battery, whereas 16% voted in favour of Exide. The complete list is as below: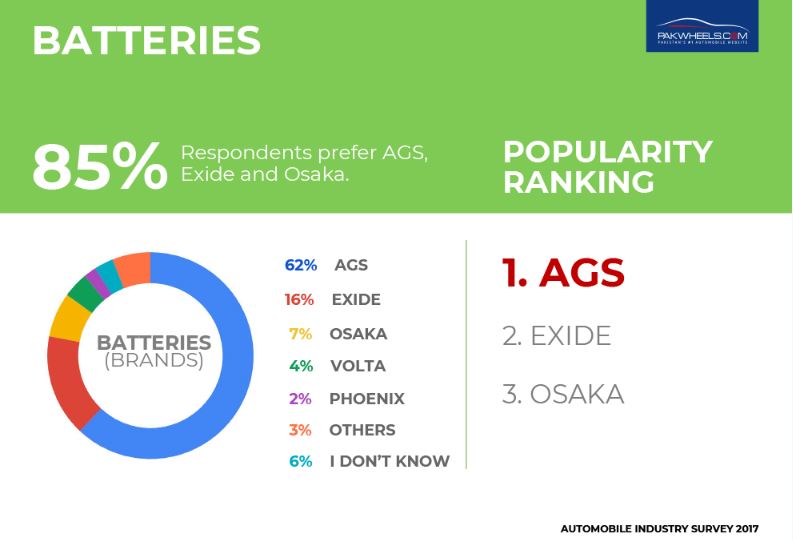 It would be worth mentioning here that AGS battery has been crowned as the best bike battery in Pakistan. Many other brands have won the People's Choice Award as well.
Click here to view the complete report and list of award winners!
From PakWheels Store: Alloy Rims for Sale
A total of 19,155 responses were recorded from all over the country. This survey covers the public's spending habits, driving behaviour, expectations and routine practices in the automobile sector in Pakistan.
That's all from our side if you have anything to say to us, mention them in the comments section below.