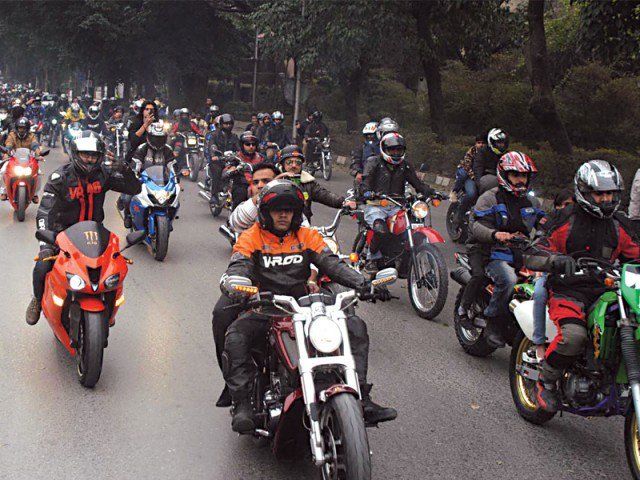 Bikers might be allowed to travel on motorways in near future
When the motorway was first built the bikers were allowed to travel through it with their 500cc above bikes; however, shortly after due to unknown reasons authorities barred bikers from using the motorway. But, now the bikers' community is trying to negotiate with National Highways and Motorway Police (NHMP) to let them travel on the motorway.
Read Also: Massive increase in the import of heavy bikes
Rumours are circulating on social sites that the heavy motorcycles riders' representatives have forwarded a proposal to the NHMP to permit them to use motorway once again. The representatives in the proposal have suggested that bikers would not travel on the motorway on bikes smaller than 500cc and only registered bikes with official number plates would run on the routes.
Moreover, they also said that age limit to drive the motorcycle on motorway routes should be kept 21 years or above. Additionally, the heavy bike users will have to get a permit before using the motorway.
Both the biker and the pillion will wear helmets and if found doing over speeding fines would be imposed as well as the authority would have full power to cancel the riding permit of the biker.
It is to be noted here that almost 9-10 years have passed since bikers were allowed to use the motorway routes freely. Moreover, it is also important to mention here that NHMP last year even didn't allow Pakistan Army to organise its peace rally on the motorway, the authority argued that if we grant the permission to the army then others will also demand the same.
Bikers community are in court against NHMP for not letting them use the motorway.
We reached out to few bikers, and they said that progress has been made in this regard and biker community in the near future might hear good news. To get the point of view of motorway authority, we have also contacted them, and their spokesperson denied any proposal being forwarded to them. Moreover, after questioning him regarding the case in court he said that the court has reserved the verdict and will announce in the coming days.
Let us know what you think in the comments section below? Happy riding!