Smuggling is a mega business, and car smuggling is a big part if this illegal business. Every year thousands of cars worth millions are smuggled across the border. Pakistan has some sensitive borders from where cars are smuggled into the Pakistani territory through various means.
Also Watch: 2019 Kia Forte goes head to head with Lamborghini Aventador
Some of these cars are bought by people who risk running an NCP (non-custom paid) vehicle, and some of these are dismantled and sold as spare parts throughout the various junkyards market in Pakistan; from Bilal Ganj in Lahore to Chah Sultan in Rawalpindi and Shershah in Karachi.
But where we have a rather lenient attitude towards smuggled luxury cars, few countries do not share the same view. The Philippines is one of those countries. A video from the Southeast Asian country went viral where the authorities took a hard stance towards the smuggled vehicles and decided to actually crush all those vehicles in a line with a bulldozer along with the dreams of the supposed owners of those vehicles.
The lineup of 20 cars is predominantly sedans, from mostly Mercedes cars to other Germans cars and even a Jaguar. Some SUVs like Land Cruiser, Prado and Range Rover also fell victim of the crushing. And what made that video actually viral was the presence of Rodrigo Duterte, the president of the Philippines, at the "car crushing ceremony".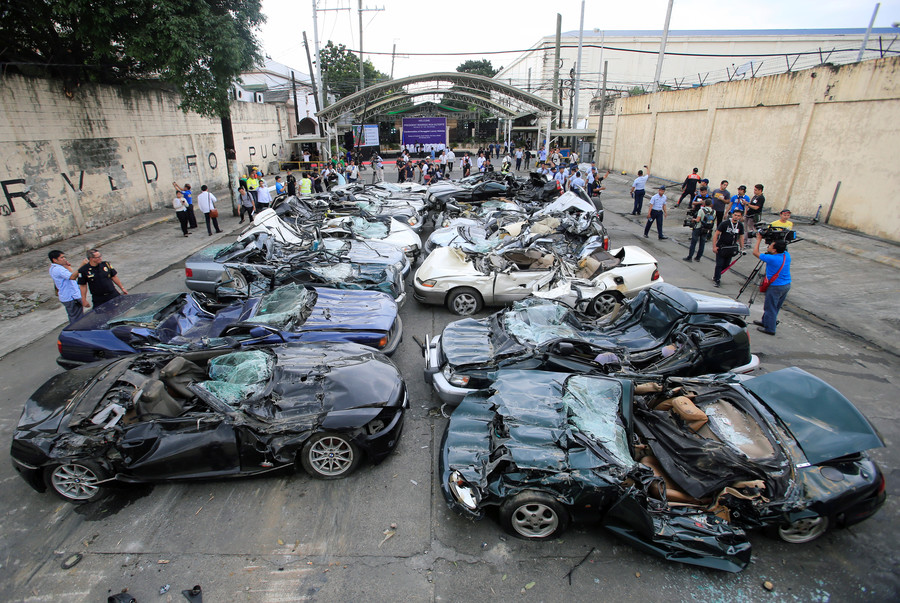 There are two different videos available of the luxury cars crushing. Watch the video, and share your thoughts in the comments section below.
Also Check Out: Cars for Sale in Rawalpindi